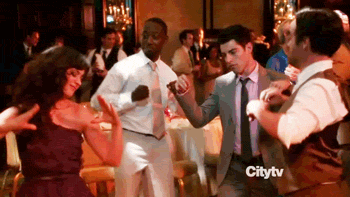 Welcome back to another week in the TV MVP Series! This week was all about the mixture of the dramatic and the comedic on television. Some impressive shows continued their seasons, while new late-night comedies returned and incredible monologues were delivered.
This week,
Alisa
joins me as we discuss some of the best performers in television!
Jenn's MVP:
Mark-Paul Gosselaar as Mike Lawson (
Pitch
)
Why he's the MVP:
Here's a fun fact about me, regarding my pick for TV MVP this week — I never watched
Saved By the Bell
. I've never, truth be told, actually seen anything that Mark-Paul Gosselaar is in. And for that, I'm truly regretting a lot of decision-making in my past. Because this week in
Pitch
, Gosselaar gave what will go down in television history as one of my favorite inspirational and motivational monologues. Mike Lawson is such a complex character already because unlike Ginny, he's not immediately likable. He's brash and unapologetic and he seems dismissive of people who don't serve a purpose to him.
But deep down, Mike Lawson has a heart. And it's a soft one. He doesn't let his insecurities or emotions show, and masks them behind jokes and one-liners and the illusion of not feeling. Because life is easier when you feel like you're untouchable — when you don't let anyone close enough to you in order to hurt you. But in this week's episode, we meet Mike's ex-wife, and when he goes to their home to pick up his things, he confesses that he misses her. Unfortunately, Mike's crushed the next moment when she reveals that the man she had an affair with during her marriage to Mike proposed to her. And she said yes. Gosselaar does incredible emotional work throughout "The Interim," setting up the complex layers of emotions that Mike has (and setting up the final act and his interaction with Amelia). What truly struck me the most though wasn't this scene, though it was great. It was the scene in the locker room, where Mike gives an incredibly moving speech to his teammates.
Mike Lawson is frustrated — with his career, with his team, with his romantic life — and Gosselaar doesn't hold an ounce of that frustration back. Mike yells and snaps, but it's the dichotomy of these really loud, intense moments and the quiet ones that made this scene such a success. Gosselaar knows exactly how and when to express the emotions. He knows which moments need to be expressed as the "tough-as-nails team leader," and which need to be expressed as the "emotionally and physically exhausted ballplayer." I love that Gosselaar can navigate these nuances, because they're not easy to do. I love that we got the opportunity to see his heart this week — to see what really makes him passionate, and what he cares the most about. It isn't the game, and it isn't winning. Heck, it isn't even being right. Mike Lawson cares about the people around him. And he may not always show it in the way that he — or they — would like, but he does. He cares so deeply that he's constructed a persona of someone who doesn't care at all in order to protect himself.
And so Gosselaar's character delivers this speech to his teammates in the locker room, and it's a doozy:
Enough! Enough! I'm so tired of this crap. I'm gonna be a 30-something retiree soon. Hell of a lot sooner than I'd like. Love of my life is getting remarried, too. So, so much for a family. And you bickering idiots are all I have to show for it! Our manager's in trouble, guys. He could get canned any day. This is the same guy who takes the blame when we lose, when it's us who plays hacky sack with the baseball. Yeah, same guy who didn't just convince Stubbs' ex not to sell their honeymoon pictures to a tabloid. He bought 'em! All to protect his own player. Is Ginny getting us more attention? Huh? Yeah. Yeah, she is, man. Which sucks, 'cause we're losing in front of sold-out crowds. I gave my life to this game! So I got a radical idea. Hear me out here. How about we start winning in front of sold-out crowds? How about we start winning for Al and his job? How about you start winning for your captain, too? We're gonna shock the world. And yeah, we're gonna do it with a pretty girl in the dugout. Yeah, pretty girl, who, by the way, works a hell of a lot harder than you lazy losers. So maybe… we all start working as hard as her. Maybe we start acting like a team instead of a bunch of spoiled brats. Then maybe I'll feel lucky that you guys are all I have... lucky to be a Padre. For every last flickering minute of my damn career.
And if this isn't enough evidence for you to watch
Pitch
, I don't know what is.
Bonus MVP:
Sutton Foster as Liza Miller (
Younger
)
One of my favorite underappreciated comedies returned this week for its third season on TV Land, and I couldn't be happier. I got the chance to screen the first two episodes of the season, and both are stellar. But what makes
Younger
such a fabulous little show and why I continue to love it is because I feel intimately connected to the main character. Thanks to Sutton Foster's wonderful portrayal of Liza Miller, I don't feel like
Younger
has dove into a trite love triangle with Liza, Charles, and Josh, In fact, I feel more connected to Liza than ever.
Foster brings charm and humanity to all of her roles. She's immensely relatable and likable as a person, so it stands to reason that her characters would absorb those qualities. Liza is a woman who is trapped in a web of lies, but who isn't bad. She's good-hearted, a sweet friend, and a hard worker. She's selfless, decisive, and smart. But she's made mistakes, too, and that's part of what makes her such a well-rounded character. We can rationalize her decision-making, which makes it difficult for us to choose whether or not she's right or wrong in any given situation. The moral ambiguity that Liza occupies is impossible to navigate. So when presented, at the end of last season, with either Josh (Liza's 26-year old on-again, off-again boyfriend) or Charles (her 40-year old boss with two kids) as romantic prospects, Liza is understandably confused as she tries to decide whether she should be with someone who is her own age, like Charles, or with someone who knows her age (like Josh) and accepts her.
But there is so much more to Liza than just her romantic prospects, and I'm glad that Sutton Foster was able to convey this during the season premiere. While a lot of the episode focused on the #TeamJosh versus #TeamCharles debacle, the point wasn't that one was better than the other — the point was that romantic relationships can often be our downfalls, but only if we let them consume us. The brilliance of Sutton Foster is that she's able to make us believe in the depth of Liza's feelings, so we feel invested in all that she does. Whether it was the comedic work this week (Liza shoving the paper into her mouth will forever make me giggle), or the dramatic, more emotional work (that final shot of Liza being hurt by Charles' words), Sutton Foster continues to bring her A-game to a show that — in the hands of a lesser actress — just wouldn't work.
Younger
is what it is because of Sutton Foster's dedication to and understanding of her character.
Alisa's MVP:
Kate McKinnon as various characters (
Saturday Night Live
)
Why she's the MVP:
Watching the season premiere of
Saturday Night Live
feels a bit like reuniting with old friends at the start of a new school year. All these familiar faces, all in one place after a summer hiatus. When I tuned in last night, I was especially eager to see Kate McKinnon reprise her role as Hillary Clinton, and tackle the recent presidential debates in the opening sketch. She didn't disappoint. She never does. Kate is easily one of the most talented actors to grace the
SNL
stage in years — and that's saying something, because
SNL
actors are all pretty fantastic.
Not only did Kate kill it as Secretary Clinton, but she also played an uncanny version of Trump's campaign manager, Kellyanne Conway, who battled it out on celebrity
Family Feud
. Then, late in the show, Kate played fictional Hollywood icon, "Debette Goldry," an ancient, doddering actress serving on a roundtable of actresses discussing sexism in Hollywood. It's a testament to Kate's prowess as a comedian that at least once per episode, her characters cause someone on the cast to crack up. This time it was host Margot Robbie, who just couldn't keep from laughing as Debette Goldry rambled off tales of her time receiving opiate injections, trading sex for roles, and a studio-arranged marriage to a chimp.
I can't wait to see more of Kate's genius week after week as
SNL
continues in its new season. Whether she's playing Hillary Clinton, or the bevy of other people — both real and fictional — that she excels at impersonating, I'll be tuning in to watch.
Who were some of your TV MVPs this week? Sound off in the comments below!