I was at the beach a few weeks ago and the Olympics were on at the restaurant's bar. Jokingly, I turned to one of the people I was with and said, "Every four years, everyone in America suddenly becomes more patriotic than they've ever been." And though I can't speak for other countries, I would assume that they're probably similar. We watch the Olympics to cheer on our athletes, to root for the underdogs, and to display pride in our country. In light of the fact that the Olympics are still in full swing and important to so many of us for so many reasons, this week we are going to be celebrating the incredible athletes whose stories and wins (and/or losses) have inspired us.
Joining me are: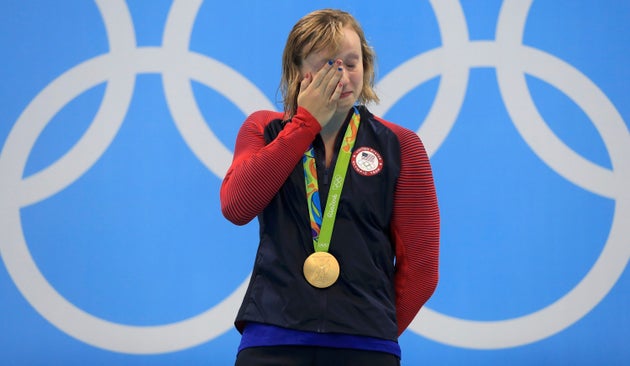 Who Jenn's lovin':
Katie Ledecky
Why she's lovin' her:
We all know the people who are incredible achievers of goals they set for themselves (or are set for them). I admire those people — the ones who can seamlessly smash whatever goal they set. But Katie Ledecky blows my mind because not only does she seamessly smash Olympic, but consistently tries to be better than she was the day before. That's admirable. No, that's more than admirable: it's passion and drive that has not been seen before in the likes of such a young person. When I heard that Ledecky was only 19 years old, I had to seriously evaluate my own drive and desire. Because everything that Ledecky is screams "ambition." And every race I watched her swim in, I thought I couldn't be more amazed. Then I was.
To put her Olympic Games into perspective,
"Ledecky [is] the first woman to sweep the Olympic 200, 400 and 800 freestyle events in 48 years and only the third U.S. woman in history to win four gold medals in a single Olympics."
This girl is literally making history and she's doing so with such grace and such drive that it puts everyone else to shame. Seriously, if you haven't watched her swim, just watch her 800m freestyle where she is
a solid 12 seconds
ahead of everyone. Ledecky is incredible, and her smile whenever she finishes a race is just too precious for words. You can tell that this girl honestly and truly is passionate about what she does.
But she also puts everything — her heart, soul, and mind — into being the best possible version of herself that she can be. It's not enough for Ledecky to be good; she wants to ensure that she is being the best. And it paid off for her incredibly in Rio this year: she has four gold medals and a silver, and is already talking about the next Olympics. I'm convinced that Ledecky is a mermaid in disguise. Her poise, grace, and drive to be the best version of herself have inspired not just the United States but people from countries all over the world. I cannot wait to see hat this talented, incredible woman does next and will be cheering her on no matter what.
Who Mel's lovin':
Carli Lloyd
Why she's lovin' her:
Carli Lloyd became a household name last summer when she contributed three of the USNWT's five goals against Japan in the World Cup Final for an iconic hat trick. She then showed off her levels of class when she passed her captain's armband off to veteran player Abby Wambach (who then in turn passed it off to even more senior player Christie Rampone). And while these Olympic games may not have gone the same glorious way as last July's spectacular finish on a world stage, Lloyd has shown exactly why she is the USNWT's captain of choice.
I may be writing this with moderate levels of salt, but first and foremost it needs to be pointed out that Carli Lloyd did win the game against Sweden on Friday. It sounds like poor sportsmanship to chalk up a loss to third party circumstances (re: referees) and Hope Solo's blunt and unforgiving comments, while not really role model material, were not entirely unwarranted. The keeper watched the 90+ minute game as Sweden, shortly after halftime, started playing choppier and choppier a game. By minute 55, commentators noticed several questionable challenges by Sweden and the refs were slow to start doling out cards. That's not to say Team USA didn't have its own fair share of questionable calls. It seems like both sides were angry at the refereeing of the game.
However, in one of the most anxiety-inducing, grueling overtimes seen in a while, Carli Lloyd delivered an expert header into the back of Sweden's net. And as she turned to celebrate cementing her team's place in the quarter final... the referee waved off the goal as offsides. It was heartbreaking to watch as Lloyd slumped to the ground. And it's safe to say the audience watching, and the commentators, didn't agree with the call. No angle shows Lloyd offsides (in soccer defined as a player positioned behind the defensive line when the ball is passed to them). Not to mention she was flagged several times this game as being offsides before she even had a chance to score. It seems a little fishy, but I'll stop short of claiming some kind of bias or conspiracy. Like I said, both sides had qualms with ref calls on Friday. And she's had a tough go of it during these Olympic games. I joked on Twitter during their match against Columbia that every defender in the southern hemisphere seemed to appear every time Lloyd was on the ball.
And it's true. Gaps close quickly in soccer, and none boxed in faster than when Lloyd found herself in a rare open position to make a shot. While she may have been brushing off her World Cup hat trick as "old news," her opponents have not and it showed through these games.
So why then is the captain of a losing team my MVP? Well, Lloyd continued to show her level of class and sportsmanship on this world stage (made stronger by her teammate's vicious comments in regards to the loss). She was robbed of a goal and took it in as much stride as you can. Lloyd, 34, plans to retire from the team sometime around 2020 which will give her two shots at cementing her place with U.S. soccer greats like Mia Hamm. With this team, not even medaling for the first time in decades, rankled by their robbery and once again denied a win by their former coach Sundhage (who left the U.S. to coach in her home country of Sweden), we can only hope Lloyd and her team are out for blood when they look to defend their championship in 2019 and redeem their loss in 2020. On this, Lloyd said: "You best believe in 2019 and 2020, we're going to be back for the gold." O captain, my captain.
Who Jaime's lovin':
Ryan Lochte
Why she's lovin' him:
For me, the summer Olympics is about one thing: watching national treasure Ryan Lochte swim his way to medals and smile his big, goofy smile at reporters who ask questions he just can't quite understand. I mean, sure, I love gymnastics, and the rivalry between athletes facing off against each other in yet another head-to-head competition, but I mean, I'm here for the Lochtenator. I first became a fan during the 2008 Olympics in Beijing, when I noticed that the other American swimmer being highlighted by NBC (you know, in the few moments here and there that Michael Phelps wasn't the main topic of discussion) was pretty hot. And, you know, that's really all it takes for someone to earn my lifelong allegiance.
Well, that's not totally true. My eternal Lochte love was sealed after the 2012 London Olympics when E! gave him a tragically short-lived reality show.
What Would Ryan Lochte Do?
was the gripping portrayal of a young, successful athlete as he battled his own mortality and growing fame. Ha, no, I'm just kidding. It was mostly just Ryan partying and going to charity events and throwing out labyrinths of sentences that had no clear beginning, middle, or end. Even he got lost along the way. It also introduced the most important word in the English language to my vocabulary. You all know it, Reezy fans. Say it with me: JEAH!
So needless to say, I have been eagerly anticipating these Rio games. Of course, I'm not really a sports-oriented person so I don't follow what happens leading up to the games themselves, so it wasn't until after the opening ceremony that I learned that my great love (I've been calling him LoMLRL on Twitter. It stands for Love of My Life Ryan Lochte, obviously) was only competing in two events: the men's 4x200m freestyle relay (along with teammate Michael Phelps) and the 200m individual medley. I may have had a small Twitter meltdown when I found out my time with Ryan (alternatively known as puppy) was limited.
But even though he was only competing in two events, he started them off strong. The 4x200m relay took place on Tuesday night, and the team won gold. More importantly, that medal solidified many people's claim that Lochte is the best swimmer of all time (you know, who isn't named Michael Phelps): it was his sixth gold medal, making his Olympic gold medal count the fourth highest in the sport. And, even more importantly, it brought his total Olympic medal count to twelve — second to only Michael Phelps.
Sadly, his second and final Olympic event didn't go as well. He came in fourth in the 200m individual medley, making it the first time he's competed in the event without medaling. Ever. It's even more disheartening considering that this is very likely his last Olympics. He's said on multiple occasions that he'll keep swimming as long as it's still fun for him, and judging by his bright smile and constant Instagram photos behind the scenes, I think it's safe to say that he's still having fun. I don't know if he's got another four years in him, but even if we don't see him in Tokyo in 2020, he's competed his heart out over the last twelve years. He's been the highlight of the Olympics for me since 2008, and certainly this past week. Hopefully we'll see you in 2020, Reezy. If not, one more time for the road: JEAH!
Who Marilyn's lovin':
Nathan Adrian
Why she's lovin' him:
Where do you start with this guy? While hardly a new face in Olympic swimming, this is the first year that Nathan has really broken out and been noticed by the world at large. And it's well overdue. Not only is he an amazing swimmer (medal count total and this Olympics here) with eight Olympic medals, four of those in Rio (and two of those gold!), but he's also just a great guy. No, really, he is.
Check out
this video
of the U.S. swim team doing their own version of Carpool Karaoke before leaving for Rio. This goofy guy gives it his all on "Party in the USA" and I, for one, am super appreciative of that. But that's not all. Did you know he knows how to
knit
? And
sew
? And play the piano?! Because his parents believed he should not only have a well-rounded education, but practical life experiences too. Check out
this amazing article
on the swimmer for more delightful insights into this gentle giant.
Not to be forgotten, though, is that this man is a hunk and a half. He's six feet, six inches tall (pardon me while I scoop my jaw up off the floor), with muscles for days. He showed off this body in a recent photoshoot for ESPN that has an accompanying video that any Nathan Adrian fan worth their salt will want to see (beware if you watch it: there's booty!) I hope he returns in four years to the next Olympics in Tokyo, if only so that I can see his smiling face again.
In the meantime, I will be following
his Instagram
to get my big smile fix, and you might want to too!
Who Lizzie's lovin':
Simone Biles
Why she's lovin' her:
The thing about Simone Biles is not that she's the best gymnast in the world — perhaps even of all time — but that she came into the Olympics with, perhaps, the highest expectations of any athlete, and so far, has fulfilled those expectations and more.
2013 seems a long time ago, and that was the last time someone who wasn't Simone Biles won... well, anything that had to go with gymnastics. The level of domination she's had over the sport is the stuff you write editorials about. I'm not here to talk about that, though. I'm here to talk about the smiling kid who, despite a rough life, presents herself not just as the best in a sport where differences are sometimes, measured in millimeters, but as a role model of how you can rise above your past, how you can be better, and do better.
She is a shining example, needless to say, of how you can be a role model.
Simone Biles is younger than me — and shorter than me — and yet, I still feel comfortable in saying that I want to be her when I grow up. Now imagine what that means to kids who actually have an opportunity to follow her footsteps.
Who Lizzie's (also) lovin':
Rafael Nadal
Why she's lovin' him:
A week before the Olympics, the chatter in the Rafael Nadal camp was that he wanted to participate, but didn't know if he could. Then came the announcement — he would be participating in the Olympics, and in three events: doubles, mixed doubles, and singles. The strategy, for him, was clear then. It was as if he was saying "I'm coming back from an injury. I'm not the player I was a few years ago. I'm sure to lose early in one of these, so let's maximize Spain's chances of winning a medal by competing in more categories."
Only... he didn't lose.
Not in his first singles match since he had to retire during Roland Garros, the tournament he's won nine times. Not in his second. Not in his third. Not in doubles either, where he played with countryman and friend Marc Lopez and won gold. So the inevitable happened, as it does when you're playing three categories: you find yourself with three matches scheduled for the same day and, of course, you have to pick which to compete in. And this is from the player who, two weeks ago, was sure he was going to lose early.
But the thing about Nadal isn't that he's a good player. It never has been. The thing about Nadal is that he's a good player who really,
really
cares. Nadal wants it more than anyone, whatever that elusive "it" might be. He wants it, so he fights for it. Often he's more heart than ability, and yet, he's also one of the most talented people in the sport. And that's the combination you want. That's why people often care about his results as much as he does.
He cares, so we care.
Who Jennifer I.'s lovin':
Aly effing Raisman (yes, she gets an "effing" now)
Why she's lovin' her:
Aly Raisman qualified for her first World Championship All Around final in 2010. Just sixteen years old, she was at her first World Championships and there was her name up near the top of the qualification list behind her American teammate Rebecca Bross and a Russian athlete who'd exploded onto the scene that year named Aliya Mustafina. Aly finished in 13th place in that All Around competition after she fell on bars. Most gymnastics experts shrugged their shoulders. They didn't expect much more than reliably average and sometimes not so pretty gymnastics from Aly.
Then in 2011, she finished 4th. In 2012, during the London Olympic Games, she earned the third best score, tied with that same Russian, Aliya Mustafina. But the tie was broken, and she was relegated to 4th place again. In 2015, she was "two-per-countried" at the World Championships, behind Simone Biles and Gabby Douglas.
But if you told Aly Raisman all of that and then told her she'd leave Rio de Janeiro in 2016 with the All Around silver medal, behind only the greatest gymnast of all time — her teammate Simone Biles — that she would accumulate five (probably six before these games are done) Olympic medals and four World Championship medals besides that, that she would be known for her insanely difficult and consistent gymnastics and that she would be the Captain of two Olympic teams. If you told all of that to sixteen year old, 13th-place Aly Raisman in 2010, I don't think she would have believed you.
And yet there she is, a living, breathing testament that you don't have to be the most naturally-gifted athlete to become great. That dedication and perseverance pays off and that dreams come true if you're willing to work hard. Aly didn't lose a gold medal in Rio. She won a silver and it was beautiful.
Who Julia's lovin':
(USA Men's Swimming Captain and Olympic Medal Record Holder) Michael Phelps
Why she's lovin' him:
Only once in a generation do we get to see an athlete compete at a much higher level than the rest of the competition. The world has been lucky enough to have seen the world's greatest athlete of all time compete at the Olympics for the past 16 years. With Michael Phelps's career coming to a close, he has once again put on a huge show over the past week in Rio.
The five-time Olympian has had some major accomplishments over the past few days. First, he was named USA's flag bearer for the Opening Ceremonies and attended the event for the first time in his career. Phelps has always had an event on the first day of competition, but he wasn't scheduled to compete until day two in Rio. It was all smiles and excitement from Phelps as he walked with the other 566 athletes competing for Team USA. Phelps also received another first-time honor by being named USA Men's Swimming Team captain for the 2016 Games.
Phelps decided to come out of retirement to compete one more time on the Olympic stage after having some regrets from the 2012 London Games. He has had a busy schedule to fulfill by competing in six events over seven days. Even though he was constantly competing, Phelps looked better in the pool than he has in years. He has brought a different demeanor to Rio, as he has been more emotional, focused, humble, and happier than ever to be competing.
Phelps ended his Olympic career in style on Saturday night by being part of the gold medal, Olympic record-setting 4x100m IM relay team. Swimming the third leg of the race, Phelps gave the USA the lead by edging out Great Britain in the butterfly stroke. The emotion at the pool was overwhelming, as Phelps knew that he had done enough for teammate Nathan Adrian to secure the win. With tears in his eyes, Phelps got up on the podium one last time to accept his fifth gold medal of the Rio Games.
His new attitude toward competing definitely paid off big in Rio. Phelps won five gold medals (4x100m IM relay, 4x100m freestyle, 200m butterfly, 4x200m freestyle, 200m medley) and one silver medal (100m butterfly) this week, which helped extend his extremely impressive medal totals. Phelps finishes his career as a five-time Olympian winning a staggering total of 28 medals. Out of those 28 medals, 23 are gold, with three silvers and two bronzes. He has overwhelmingly destroyed the record for most gold medals and most overall medals for an Olympian. This should be the one record that will never be broken. It would take another once-in-a-generation athlete to be as dominate as Phelps has been in every aspect of their prospective sport to even have a chance at coming close to Phelps' numbers.
Even though it's sad to think that Phelps is actually going to retire, he will not be forgotten. Every swimmer and athlete has to live up to the high standards that he has set over his 16-year professional career. He has changed the sport of swimming and the Olympics for the better by being the greatest athlete of all time.
Who Chels's lovin':
Aliya Mustafina
Why she's lovin' her:
Real talk: I am convinced that gymnasts are super humans. I am in awe of their dedication and talent, but they are not mere mortals. I'm currently working on a script of all the lady Olympic gymnasts as an Avenger-type group. These women are insanely talented and wonderful people. Props to all of the ladies in the games this year.
As Jennifer I. mentioned above, back during the 2012 London Olympics, one of my favorite competitors to watch was Russian gymnast Aliya Mustafina. She wasn't getting as much coverage and praise as her fellow teammate Viktoria Komova, but her sportsmanship and skill on the floor routine and uneven bars was just mesmerizing. When she tied with American gymnast Aly Raisman for the bronze in the all-around and won the tiebreaker, she got a lot of unnecessary flak, but still continued to be a fierce but kind competitor throughout the Games. Leaving the London Games, she was the most-awarded Russian gymnast.
Cut to 2016, and me being happily surprised to see Mustafina back at the Games. We didn't know if Russia would even be there this year until the day before they started because of the doping scandal. In the years since London, Mustafina herself had suffered multiple injuries, giving herself little time to recover and qualify for Rio. Always the fierce fighter, she managed to make it back to the Games, and as team captain, no less.
It was during qualifications that I became worried about how far she could make it in Rio, after placing 6th with a particularly bad stumble off the balance beam. She brought it back though during the team events, helping pull the Russian team to silver with her incredible uneven bars and vault scores. Though I haven't had a chance to watch today's vault and uneven bars events, I know she took home the gold in bars — and rightfully so.
Mustafina brings a calm elegance to the sport that athletes twice her age only wish they had. Not only is she proving to be a great leader for team Russia, but she continues to build great relationships and be supportive of competitors from other countries. Her continuous dedication to gymnastics (as evidenced by the insane injuries she has overcome) makes her a competitor you'll respect and remember years from now. For that and so much more, she is who I'm lovin' this week at the Olympics.
(Sidenote: I will never not be salty about the Olympics failing to award both Mustafina
and
Raisman the bronze all-around medal. They were both amazing and they should have let the tie be.)
Who Megan's lovin':
Aly Raisman's parents
Why she's lovin' them:
Ah, the time has finally come. The Opening Ceremony transfixed us, the events are underway, and our American pride is surging, both in our living rooms and across our social media accounts. We frantically text our friends and ask if they saw certain events and want to discuss them at length while we dig our hands further into our chip bowls.
We watch as Team USA destroys their competition. We cheer on Phelps and Lochte and Ledecky as they swim their way to the podium. We cheer on basketball's biggest stars, the fabulous women's soccer team, and watch as Simone Biles does the most insane gymnastics work known to the sport. We also rejoiced as returning Olympian Aly Raisman flipped her way to the silver medal after placing fourth in the London Games.
But those are not who truly won our hearts this year. Sure, the athletes are great and some of them even made Olympic history this year. But let's be honest: the real MVPs are Aly's parents.
As they watched their daughter in her second round of intense competition, they literally were all of us watching at home. They sunk down into their seats, they brought their hands to their mouths, and dug their fingers in their hair. They leaned back as she did her hardest tricks and hoped for the best. But the best part of it all truly is how after all of their nervous energy was displayed on screens around the world, they would stand up, lightly golf clap and act like they were cool as cucumbers. I mean, how could you totally not cheer for that?
Not only that, but I felt a deep connection to their behavior. We sit and watch our favorites and hope for their wins. We see ourselves in Aly's endearing parents and understand that if there was a camera on us, we probably would look exactly the same. It's refreshing to see an Olympian's parents not pretend to be totally chill for their child. I absolutely loved it.
Bonus MVP:
Leslie Jones. Again, not an Olympian, but her commentary has been so entertaining that you wish she would run commentary on every major event.
Who are YOU lovin' in the Olympics? Let us know in the comments below!