Welcome back to our Summer Lovin' Series! We're so excited to get the chance over the next few months to discuss everything that we're lovin' when it comes to pop culture. From incredible musical albums to heartbreaking films, from our Netflix binges to our favorite page-turners, we've got a lot to say about the stuff that is already occupying our summer.
To kick off the first week back, some of our staff would also like to share what they're lovin'! Joining me are:
Let's get started. :)


What Jenn's lovin':
Ben Rector's album
Brand New
Why she's lovin' it:
I'm that person in the car — the one who listens to top 40 radio pretty much non-stop, flitting between three different local stations. I have one CD currently in my car (Taylor Swift's
1989
) and so I revel in the chance to listen to new music on the radio. Ben Rector's single, "Brand New," hooked me in a way that very few singles on the radio have recently. Perhaps it's because the song literally just feels fun and lively, like Rector's charisma and energy just cannot be contained. Whatever the case, I immediately looked him up on Spotify and spent the better part of last week listening to his 2015 album,
Brand New
. I actually am struggling to compare Ben Rector to anyone at the moment. The best description I could give is "sorta-Jason Mraz, but happier."
Brand New is a compilation of fantastic songs, from adorable and sweet love songs like "Paris" (whose adorable
video
features Rector and his wife, Hillary) to really powerful songs like "Note to Self" (which is a list that he makes, but notices that he rarely think of other people while writing to-do lists) and "The Men Who Drive Me Places," about Rector telling the life stories of ordinary men who have brought him to and from gigs but who will never get the kind of recognition they deserve. "Favorite Song" is a delightful little anthem, and contains references to popular songs within it. Meanwhile, "Crazy" — which might be my favorite song on the whole album — is a hilariously wonderful anthem for people who find that songs about partying and spending money don't resonate with them. "Crazy" contains references to appetizers, Netflix binge-watching, and going to bed early. It's perfect.
Ben Rector has a fantastic voice and he's an excellent songwriter. I'm immensely grateful that "Brand New" has taken off on the radio, thus introducing me to his talent. Even more exciting is that he will be performing in Orlando on July 3! Seriously, go listen to this album on Spotify. You won't regret it, I promise.
What Marilyn's lovin':
Me Before You
Why she's lovin' it:
Before I start, I should warn you that I didn't read the novel, written by Jojo Moyes, that this film is based on. To be honest, I wasn't even planning on seeing the movie. My niece came to me on Friday afternoon and asked me to go with her. I agreed, even though I'd heard it might be a bit of a tearjerker and crying for fun isn't one the things I enjoy. But the movie had a good cast, consisting of Emilia Clarke of
Game of Thrones
fame and Sam Claflin, who broke my heart in
The Hunger Games
franchise. They played Louisa Clark and Will Traynor, respectively.
The story is about a quadriplegic man named Will Traynor who falls in love with his young, vibrant caregiver, Louisa Clark. And without giving anything else away, there is some controversy about what message people believe the movie is advocating. I had no opinion going in, and walking out, I'm now of the opinion that whatever message you glean from the film is far more personal, rather than the movie itself decidedly making any overt statement. I would invite anyone who is concerned about such elements to read the book or see the movie and decide for themselves.
Because what I found at the heart of this film was a story of two people who desperately needed one another at this particular moment in both of their lives. To me,
Me Without You
wasn't about disability or medical rights at all — it was about a woman who needed the freedom to live her life the way she deserved, and a man who, well... basically needed the same thing. But Will also needed love and support. Louisa gave that to him and he gave it to her in return. The end result was beautiful.
Yes, this movie will make you cry. I'm a tough nut and even I had tears leaking down my cheeks toward the end. But it's more a testament to how much this film touched my heart. Give it a shot.
What Mer's lovin':
Silicon Valley
Why she's lovin' it:
Silicon Valley
is HBO's comedy about a tech genius and his buddies in, well, Silicon Valley, who come up with a new and innovative algorithm for streaming video — or something. I don't really understand the tech stuff, and you don't really need to. What matters is this awkward nerd is now, presumably, worth millions of dollars. He and his algorithm are the next big thing. But — together with his ragtag crew of coders and friends — they manage to make a total mess of everything. Over, and over, and over... and over and over and over again. And the results are nothing short of hilarious.
Silicon Valley
is whip-smart, laugh-out-loud funny, awkward, and doesn't shy away from anything. Racism and sexism in coding and business are just two of the topics this show touches upon without the viewer even being made consciously aware of it. The casting is spot-on, the performances by all are pitch perfect, and the result is a show both real and outlandish at the same time. You will never
not
be entertained while watching. Now, to be fair, this show is chock full of moments of secondhand embarrassment. You will cringe, multiple times an episode, and sometimes cover your face with your hands and peek through your fingers, declaring: "I can't watch I can't watch I can't watch." But you will do it while laughing so hard you might actually pee a little.
If you like to root for the underdog, if you like things that are funny and well-written, if you like an over the top but still real look into a world many of us really don't know much about, you will love
Silicon Valley
. This show can and should be at the top of your must-watch, must-binge list. Seasons one and two are available to stream, while season three is six episodes in and possibly my favorite yet. Do yourself a favor and give this one a watch. It's the perfect lighthearted, fun summer series.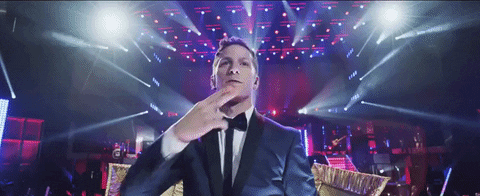 What Jon's lovin':
Popstar: Never Stop Never Stopping
Why he's lovin' it:
In the last few years, The Lonely Island (consisting of Andy Samberg, Akiva Schaffer, and Jorma Taccome) has been steadily rising to comedy superstar status. Their first feature together (unless you count 2007's
Hot Rod
),
Popstar: Never Stop Never Stopping
is a brilliant satire on pop music and the entire music industry in general.
The film focuses on rapper Conner4Real (Samberg), one of the biggest musicians in the world. When his second album, CONNQuest, gets critically panned, Conner sets out to do whatever it takes to become dope again, including wardrobe changes and hiring an opening act (a scene-stealing Chris Redd).
Part of the reason that this film works so incredibly well is the writing. The film takes a pretty biting look at the pop industry and some of the insane practices that have happened over the years (if you're still mad that U2 put a whole album on your iPhone that you didn't want, the movie spoofs that brilliantly). All three members of The Lonely Island wrote the script, while Schaffer and Taccome took on directing and supporting role duties. Their writing meshes together to create something dazzlingly absurd. This writing also translates well to the songs. The trio is known for creating "fake rap," and they bring those skills here. The result is some of their best work to date, as they toe the line between clever wit and wonderfully stupid. The lyrics range from topics such as being humble (when in fact it's the opposite) to things in a Jeep.
Popstar
is the best comedy of the year and easily one of the best films of the year thus far. In addition to clever writing and songs, the film is bolstered by a game Samberg, who has a blast, and a wonderful sense of self-awareness. Everyone, from the main cast to the countless cameos, looks to be having an absolute ball. This sense of fun is infectious, as it allows the audience to have a blast too.
What Lynnie's lovin':
Three Scientists Walk into a Bar
Why she's lovin' it:
It's lucky that with the American school system failing so epically, there are programs on PBS, the Discovery Channel, and the Weather Channel to get children and their parents excited about art, reading, math, and science.
Three Scientists Walk into a Bar
has a good mixture of fun, educational material, and sarcasm in its three-episode run, making it the perfect program for kids to watch with their parents.
Starring Anthony Carboni, statistician Tara Long, and multiple-degree-wielding-rocket-scientist-all-around-smarty-pants Travis Taylor, the show takes a fun, practical approach to questions we ask ourselves every day or things we often take for granted. The fun of it is that the hosts are willing to embarrass themselves, be ridiculous, and be sassy with their guests — all to prove a point and help the viewer understand the science behind weather. (Also, Tara is the best. I will fight you on this.)
What Jen's lovin':
James Blake's album
The Colour in Anything
Why she's lovin' it:
I am not a fan of electronic music. I'm just not. The appeal is completely lost on me. I deeply appreciate big, swelling orchestrations that leave me weepy and prefer those sounds to ones that a synthesized by computer.
However, I might be willing to look into more electronic music if it all sounds as great as James Blake. James Blake's new album
The Colour in Anything
came out a few weeks ago post his collaboration with Beyoncé on
Lemonade
. Perfect timing too, because the piece on
Lemonade
is a breathtaking introduction into the world he creates on his solo album.
The Colour in Anything
is classified as electronic, but there are beautiful, haunting pieces that are a capella, just piano, or just guitar. The synthesized sounds don't detract from the beauty of this beautiful album full of depth and soul.
James Blake's voice was described by my favorite YouTube persona as "British Aaron Neville." He is soulful, his music is so personal even through the synthesized sounds. He's really spectacular. (My favorite songs? "The Colour in Anything," "Love Me Whatever Way," "Waves Know Shores," "Meet You in the Maze.")
What Megan's lovin':
All the Way
Why she's lovin' it:
I am an HBO superfan. I absolutely love the network. Its original programming has always been fantastic, they always have great movies, their documentaries are so addicting and always interesting (I highly recommend the Gloria Vanderbilt documentary currently running), and they also have really great original movies/miniseries.
This is how I came to discover
All the Way
.
A few years ago, I remember Bryan Cranston starring onstage as Lyndon B. Johnson and hearing that it was incredible. He went on to win a Tony award — theatre's highest honor in America — for his depiction of the president during the signing of the Civil Rights Act, and all that followed after. I was sad to have missed it, but thrilled to learn that HBO would be making a TV adaptation of it.
I finally caught
All the Way
this past week and let me tell you, it was absolutely fantastic. There are certain things, like the way LBJ would corner people and offer gifts and compliments to get what he wanted, how he would take meetings from the oval office to the bathroom and get upset when people wouldn't follow him, how he would scare the daylights out of people by taking his car from the road to the water and then laugh at them, that were so important to nail. Of course, in true Cranston fashion, he absolutely crushed it. He brought the president to life in such an amazing way that you almost wondered if it was really LBJ reincarnated.
But Cranston wasn't the only shining star. One of my personal favorite actors, Anthony Mackie, brought his own take on Martin Luther King Jr. that was strong and determined and entirely his own. The Emmys and Golden Globes would be remiss if they overlooked either performance in the next award season, I'll tell you that. It also included amazing performances by Melissa Leo as Lady Bird, Bradley Whitford as Vice President Hubert Humphrey, Stephen Root as J. Edgar Hoover, and Frank Langella as Sen. Richard Russell.
This film is important to see the struggle that LBJ and MLK faced when trying to keep the Civil Rights Act bill alive and get it passed. America was in the throes of tearing each other apart over race (a time not so unlike the time we see ourselves in now) and change was necessary. It was an important time in our history and we should all understand the struggle it took even from within the White House to see a giant step in equality. I could not recommend this movie more. The performances are astounding, the story is important and you were laughing, crying, angry and thrilled throughout the film. Go watch!
What are you lovin' this week? Hit up the comments below and let us know!