Holy crap, you guys.
I just... this is one of very few times that words fail me because I can't believe I've been doing this for four years now. I literally didn't expect to make it through four weeks of reviewing
Community
on a weekly basis. Now I've done four years of that (and more).
Last year
, I bid my blog a very happy third birthday. And between that time and right now, I've transitioned from calling it a "blog" to a "website." Someone asked me recently whether or not this was a blog or a website. Before I answered, a friend jumped in and said that since I have people who write for me, it's a website. (I like that definition so we'll go with it.)
Honestly, sitting back and looking at all that has happened in the last four years is mind-blowing in the best way possible. We've grown more in the last year than I ever dreamed was possible and I know we're not going to stay here for much longer either, as more and more amazing people contact me and want to write for the website.
But I'm getting ahead of myself. Because in order to really appreciate where you are, you need to first know where you've been. Most of you know that this site started out as a
Community
-centric one and it was, primarily, that until not too long ago.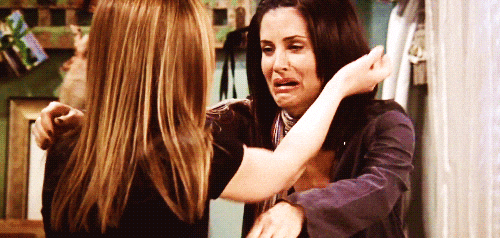 THE LADIES WHO CHANGED MY LIFE
(and this website)
Anne
was the first person I reached out to in order to write for the blog. I began following her on Tumblr, as more and more people on my dashboard seemed to be reblogging her commentary on
The Mindy Project
. I recognized how talented and smart she was (I once likened her passion for
The Mindy Project
to mine for
Community
). So I asked her to write a few guest posts for me and she did, which quickly turned into her writing weekly reviews for me. I wanted to give Anne a home -- a place where she felt comfortable writing about the show she loved -- and I'm glad I was able to do that for her. Also, Anne is amazing. She's so funny and smart and delightful and adorable.
Soon after that (and in very quick succession, I might add), more and more people began reaching out to me about writing for the website. I brought Deborah and Deena aboard, fandom friends who ended up reviewing
Community
,
Sleepy Hollow
,
Once Upon A Time
, and
Supernatural
for me.
Deb
has always been such a strong writer, but she's also a really amazing person. I got to meet her this year at a Joel McHale stand-up show and I don't know if there's a better way to meet someone than like that.
Deena
is honestly one of the sweetest and most humble people I've ever met. She's talented and passionate and I adore her.
I plucked up
Laura
, whose love for well-written television rivals my own. I also got to spend the weekend with her at MegaCon this year where we met Robbie Amell together. Laura is wonderful. She's kind and funny and supportive and talented and the only person I want to eat cheese fries and watch
The Soup
with.
Jaime
has always been a part of this site and was my very first reader and still #1 supporter (we're going on nine years of friendship already), but I brought her aboard officially to write
Parks and Recreation
reviews. She's honestly the best fandom friend I've ever had, not because we flail about TV or One Direction (though we obviously do), but because she's legitimately become a part of my life. I text her exciting news. I send her niece presents. I video chat with her when I can. We love each other and that's that.
We also added
Connie
, a frequenter in the comments on
Arrow
reviews to our site. She joined the team and contributed to the TV MVP series when she could and truly, I have SO much fun talking with Connie about everything -- faith, television, shipping. She's awesome.
Jen
-- my beautiful soul sister and name twin -- came aboard after I began following her on Tumblr. She did a few guest posts and then we began talking more and more. Now, I count her as a lovely and dear friend who is super talented at writing just about anything I ask her to. She's really an exemplary human being, a devoted mom and wife, and a supportive sweetheart. (Plus, her commentary on Oliver Queen is simply the best there is.)
Alice
reached out shortly thereafter and wanted to write for the site, too. Her email revealed that she was a Marvel girl and... well, with a site full of primarily DC ones, I was really interested to read her reviews of
Agents of S.H.I.E.L.D.
Alice has proven to be a great fit on our team, adding humor and insight to everything she does.
Rae
's email really got me when she talked about how she loved that the site was fun, but that it really took TV criticism seriously. I love hearing her thoughts about
Hannibal
and
Orange Is the New Black
. But Rae's also extremely passionate about fashion -- something she told me early on -- and I loved that this made her unique among our writers. Plus, Rae is beautiful and smart and such a joy to be friends with.
Chelsea
has -- like Jaime -- been unofficially part of the site for a long time. In recent months, Chels has proven to be one of the biggest supporters not just of the site, but of me as a person. I've turned to her for encouragement and collaboration. Honestly, she's an amazing human being and if I could smother her with hugs, I would. Chels, much like Jaime and Lynnie, is really passionate about film. She knows what makes a film award-worthy -- what technical aspects are desirable, what storytelling elements work, and what separates "good" from "great." I love that about her. I love her passion for feminism. I love her devotion to friendship. I love her for sharing #top3 with me. I basically just love her, okay?
Isabella
and I have been friends since the
Community
fandom (we Jeff/Annie shippers stick together) and she recently reached out, asking if she could contribute to the site too. Her passion for female characterization is what really set her apart, and her piece on
The 100
's Raven Reyes was a great start to her stint as a guest poster with us! Plus, we met at Comic-Con and she's the CUTEST human being ever.
Ashley
and I have been friends for a while, and I asked her to do a guest post for me about the strong women of
Parenthood
. Since then, Ashley contributes to the TV MVP or Summer Lovin' series when she can and I contribute to her site,
Tell-Tale TV
when I can as well! I admire her and all the women who write for her site. Lately, I've realized how important it is to support good, wonderful women and their work. It can often be competitive when you're a little site among all of these huge entertainment outlets. I feel that I've chosen my friends well and I'm so thankful that I've gotten to know an array of amazing, strong female writers over the past year. I count Ashley among them. #LadiesSupportingLadies
Even though I haven't gotten a lot of time in which to know them yet,
Mel
and
Jon
are two of the newest contributors and they're both wonderful people with great ideas and a love of what they write about.
Lizzie
and
Lynnie
reached out to me via email at around the same time which is wonderful and even though they're not remotely related, sometimes I pretend they're twin sisters because of that (and their names). Lizzie wanted to write about
The X-Files
and her passion for the series was so evident that it would have been absurd to turn her down. Plus, she's the best to live-tweet movies with. She really is. And she makes me smile a lot. Lynnie loves television but her passion and heart is with cinema. As someone who knows little to nothing about what makes a film technically good, I was stoked to have her aboard. She's such a kind and thoughtful person who values friendship. I love that about her.
Megan
contacted me about writing
Pretty Little Liars
reviews, which was an answer to prayer since the girl who had been doing them had to drop due to school commitment. I actually read a
Pretty Little Liars
piece Megan had done for Hello Giggles and loved its wit and snark so much (and laughed a lot) that I immediately said yes. She's proven to be such a great addition to our team and is just as insightful as she is funny.
Hope
was -- and is -- such a sweet human being. She emailed me and said that she loved the tone of our site and wanted to officially contribute to it by providing
Rookie Blue
reviews. These are Hope's first published reviews and I'm so glad we were able to give her a home. She fits right in with everyone perfectly and is totally and completely prepared for #worlddominationdoneWRITE.
Maddie
was a follower of ours who recently reached out and asked to write for the site. She and Jen are good friends and I just love when fandom connects you to mutual friends, don't you? Maddie has been an amazing addition to our team and is so sweet. Her writing is solid and her passion for friends and fandom is evident. We all love her (and her affinity for pink lipstick).
Mer
sent me one of the sweetest emails ever in her request to contribute to the site, and I nearly started crying when she wrote:
I absolutely adore that your site is about women working together, and supporting each other. I would be incredibly honored to become part of the Just About Write family.
Hearing Mer say that she looked at our site as the representation of women working together and supporting one another seriously made me feel like I was doing something right in life, after being told repeatedly a few months prior that I was doing everything wrong (and was not, indeed, a strong woman). Mer isn't just a talented writer, devoted mama, and super
Arrow
fan. She's also hilarious. She's strong. She's -- in the little time I've gotten to know her -- proven that she's the kind of friend who will always be on your side and will help fight your battles with you. I need women like Mer in my life. We all do.
Look at those amazing women (and our token male), won't you? Look at how diverse they are. Look at how intelligent they are, how kind, how funny, how sweet, how wonderful they are. Because I wouldn't be here if it wasn't for them. I would have a site, sure, but I wouldn't have grown and learned and become a better writer and person this past year if it wasn't for them. I love them all, I consider them friends, and I'm thankful we are on this journey together.
(I'll pause now so we can all cry into our tissues. Okay? OKAY.)
GOALS, GOALS, AND MORE GOALS
I love setting goals and the only thing I love more than setting them is completing them totally unintentionally. Last year in my birthday post, here are all of the things that I wanted to accomplish. It was a just-for-fun, dream list. So let's see how I did:
Attend GeekyCon 2015 as press and, eventually, either SDCC or NYCC (Attended MegaCon 2015 as press and then ATTENDED SAN DIEGO COMIC-CON AS PRESS.)
Have the opportunity to interview at least three more television casts/writers (At SDCC, I got the chance to interview the casts of Zoo, Scorpion, and Limitless!)
Have the ability to expand and "hire" writers for the site -- intelligent meta critic fans on Tumblr, Twitter, etc. Be able to somehow reward or pay them beyond a byline. (I think we covered that, though I still can't technically pay them.)
Expand the blog to include even more television shows, movies, and books (As of this upcoming TV season, we will probably be covering at least 40 shows)
Gain at least 300 followers on Twitter and hit 500,000 page views (We now have almost SEVENTEEN HUNDRED Twitter followers and are approaching one million page views.)
Become a member of the BTJA
Print out and distribute my own business cards (My amazing graphic designer friend and former college suitemate Jennifer made me some customized business cards for SDCC.)
Continue to watch television critically and extend my reach/scope of TV viewing (DONE and DONE.)
Yeah, I can't believe it either. It feels like the most hilariously random accident that nearly all of those have been crossed off. I never (really I didn't) think I would get the chance to do them all THIS YEAR. But I'm so completely and utterly blessed that I did and that I had the support of so many of you which allowed me and my team to get there. Instead of setting another lofty list (that was accomplished by a happy accident, I'm still convinced), for this upcoming year, all I want to accomplish are a few of these things:
Work with my designer friend on the overhaul of this site. (This has been in the back of my mind for so long, but with limited HTML skills, this layout was the best I can do. My friend at work approached me and said he wanted to help me make this site better -- to commit to doing that, look and feel-wise. I'm stoked he wants to tackle this project and it's my goal next year to have a totally redone site that feels even more professional.)
Continue to foster a spirit of #LadiesSupportingLadies, even if men join as writers. I want this place to feel welcoming, not exclusive. Though I do have certain journalistic standards for writing quality, I want this place to be inclusive to fans and writers alike. I want women to feel supported here even if we disagree. I want people to celebrate their differences and flaunt them proudly. Love, you guys. Love, not competition will drive Just About Write.
Upward trending for the number-y stuff and ways to monetize. This is obviously always a goal. Summers are usually slower numbers-wise, but because of our first ever Golden Trio Awards, we got some more traction on our posts and site itself this year. Numbers aren't everything because I don't monetize this. I'm not dependent on ads to fund me because there are no ads running. And that's a good and a bad thing. This goal ties into the first and hopefully after we figure out how the site will be redesigned, everything about monetizing and such will become easier. It's a goal!
This year, thanks to San Diego Comic-Con, we've had the chance to do a lot of cool things. We got to attend the MTV Fandom Awards. We got to spend time in the CBS press room and hang out in the reserved seating section during their panel. We got an advanced copy of
Digging for Fire
and had the opportunity to participate in a virtual roundtable with Jake Johnson and Rosemarie DeWitt to promote the movie. We have access to ABC screeners and will have access to Warner Brothers DVD titles for review. This past year, our posts have been recognized by fandoms and by friends and by Internet strangers, but they've also been recognized by actors like Jaime Camil, Justin Baldoni, and Gina Rodriguez (
Jane the Virgin
), Grant Gustin (
The Flash
), Neal Shusterman (author of
Challenger Deep
), the
Arrow
writers,
The 100
writers, etc. etc.
We've kept busy and as a result, we've had a lot of fun along the way.
I don't take what's happened with this site for granted. There are not many people who can sustain a blog on their own, much less grow it. And honestly, I know that this isn't about me. I'm not seeking out praise or accolades with this post. I'm genuinely surprised, every single day, that I have the opportunity to know and work with the amazing ladies (and guy) I do and that we've been given the opportunities that we have to showcase our talents and passion.
Over the last year, that's became really evident, and seeking out true female friendship has never been more important to me. I've learned a lot about myself and about what I deserve as a woman in the company of other women. I've learned my value -- learned that being strong is not the same thing as being a bully; learned that feminism doesn't mean every woman has to like and be friends with every other woman; learned that when people tell you that you
can't
do something, the best way to respond is by succeeding. I've been told that I'm a lot of things throughout my life already, some good and some bad.
And while I ultimately don't place all of my value in what people tell me (again, either good or bad), I can't express how it feels to be surrounded by a community of women who are the kind who extol each other even when they don't agree. I still get a bit weepy whenever I see these amazing writers tweet each other encouragement on social media or leap to defense if someone is being attacked or just comment on someone's outfit because they know it would make their day.
We're
ohana
, here at Just About Write and I think what I've realized over the last year is that there's a difference between surface level friendships (both on and off the Internet) and real ones. I think I have real ones with each one of these people.
I know that I'm not perfect. I know I've messed up. I know I will never do and say everything right. But I learned this year that life is short and instead of being surrounded by people who seek to build themselves up and make themselves feel better at the expense of
you
, you should be around people who do things like plot world domination with you or start a "Bad Blood" GIF thread on Twitter or text you when you need encouragement.
Those are the people who are the most worthwhile.
LOOKING FORWARD
Dear, sweet Just About Write -- you're still a toddler. That means you're still learning who you are and what you'll become. That's perfectly fine. You're still growing and you're still maturing. You've done a lot of amazing things during your time as a little one and you know what? I feel like you're not done yet -- not by a long shot. Remember where you are, remember where you've been, and remember who has been beside you. These are the ones who will mean the most to you. These are the people who are important.
Cherish them, treasure them, and allow them to help you, even if you're scared.
To everyone who has ever supported this site or me in any way, shape, or form... thank you. This is my side project, my hobby, and my baby. Thank you for watching us grow and thank you for carrying us when it's been difficult for me to do so adequately. Thank you for tweeting us, for emailing us, for complimenting AND critiquing us. Thank you for agreeing, for disagreeing, for remaining neutral. Thank you for silly email threads and for late-night talks about life. Thank you for texts and photos, for hugs -- both real and virtual.
Thank you for loving us.
We love you.
Happy fourth birthday, Just About Write. <3