In this age of
Peak TV
, it's hard -- really, impossible -- to watch every great show out there. However, there are always TV shows that don't get the recognition that they deserve. Some are critically acclaimed but have a small audience; others may have a big following but never get any love come awards season. There are also a handful of shows that I watch that friends don't even know exist.
As we enter a new year, here is a list of my underrated television shows that should get more attention -- or at least some dedicated binge viewing.
Superstore
Superstore
is a workplace comedy enriched by standout performances by its ensemble cast, led by America Ferrera. It takes place in a Walmart-like store, called Cloud 9, so there are always opportunities for laughs -- whether they come from the employees or the customers themselves. There are plenty of jokes, but
Superstore
-- like
black-ish
-- takes on some big issues (immigration, marriage equality, gun control) all while making us laugh. There is also some dark comedy, which is surprising for a network sitcom, but I appreciate it.
The first season of
Superstore
was only 11 episodes, but season two is thankfully double that size. There were a few teething problems in the first season (clunky episodes, contrived situations), but it's easy to quickly fall in love with the quirky characters.
Superstore
keeps getting better.
Fear the Walking Dead
Fear the Walking Dead
is by no means a perfect show and, in some ways, it stumbles in
The Walking Dead
's footsteps. The momentum gets going but then it's halted to discuss humanity or feelings of abandonment. The characters whine and are self-righteous, but still, the early days of the zombie outbreak are appealing.
Season two took
Fear the Walking Dead
into the open sea and south of the border to Mexico. I wish more time was spent on Abigail and the yacht, but some of the best bits of the series took place in Mexico. The characters started to evolve into survivors of the apocalypse and the kind who will do anything to survive and to protect their own.
I understand why viewers get frustrated with
Fear the Walking Dead
, but if you go into it without constantly comparing it to
The Walking Dead
, you'll find a good show that has family drama, some amazing characters, and visually stunning scenes with zombies that haven't been done before.
Younger
I must admit that I am late to the
Younger
party, but I have recently binged all three seasons in about a week's time. Hardly anyone I know watches it, which is a shame.
Younger
flies by in thirty minutes and because it is so short, there is no time for filler storylines. Within one episode, I was hooked watching Liza Miller navigating the exhausting world of the publishing industry, lying about her age, and in a love triangle. Liza is a complex character who we all root for, even though her actions hurt those around her.
Although it would be easy to categorize
Younger
as guilty-pleasure viewing (hot guys, beautiful but artsy Brooklyn loft, gorgeous clothes), the writing is sharp and the characters are multi-dimensional.
Younger
is a TV show about love, friendship, and careers. I found myself getting so invested in these characters and thinking about them even after my binge-viewing had ceased.
It may not win any awards, but watch if you want something a little sparkly but with real wit and warmth.
The Exorcist
On paper, a TV show based on an iconic movie and book,
The Exorcist
, should not work -- and yet, it does. The TV series succeeds in making something entirely horrifying and new, but still pays homage to the original. I don't want to spoil too much, but the series connects to the film and book in a way that is surprising, but not out of left field. The big reveal is actually earned and I can see the breadcrumbs leading to it.
The Exorcist
is also a psychological drama and that is one of its strengths. It gets into your head, and there are some genuinely disturbing and scary moments. There are spectacular performances by Geena Davis and Ben Daniels. Hannah Kasulka, who plays the possessed for much of the season, is completely skin-crawlingly creepy and believable.
Fox hasn't renewed
The Exorcist
for a second season yet, but it's definitely worth a watch if you're a fan of the horror genre or atmospheric thrillers. But be warned: you may not sleep for a week after watching.
Lovesick
Lovesick
is a British sitcom on Netflix that, thankfully, changed its name from
Scrotal Recall
. It's about a guy, Dylan, who learns that he has chlamydia and needs to tell all of his former past lovers about his STD. Each episode features a girl who Dylan has slept with and shows Dylan in the present and in the past. There's also his best friend, Evie -- who Dylan is in love with -- and Luke, who is kind of a jerk but hilarious.
You would think that this would be one of those gross-out comedies like
The Inbetweeners
, but it is surprisingly sweet. All the characters bring a different dimension to the show and I'm thankful that the name changed because otherwise, I may not have watched it.
Lovesick
became one of my favorite shows in 2016.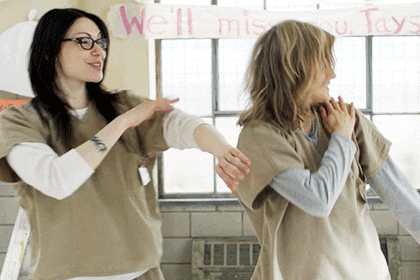 Orange is the New Black
Orange is the New Black
has certainly garnered attention for its past four seasons, but it is not getting the sort of accolades it used to get. I think that season was not only the best season of the series, but also the most devastating. It wasn't only a shocking death that made it so grim -- you could see the whole season was building toward something huge.
OITNB
is brilliant at showcasing complex characters (guards and prisoners) and tackling topics like racism and mental health.
The show completely captivated me and the cliffhanger left me yelling at the TV, cursing, that I have to wait until June to see what happens next.
It's Always Sunny in Philadelphia
It's Always Sunny in Philadelphia
may be the most politically incorrect TV show full of narcissistic and horrible people, but it's also one of the funniest. For years, I resisted watching, but finally succumbed and never looked back. It's about "The Gang," who run a dive bar in South Philly, and their antics. You can easily drop in on an episode of
Sunny
and you'll be able to follow along. However, there are plenty of long-running jokes and recurring characters that pop up.
It's Always Sunny in Philadelphia
returns to TV early this month for its twelfth season and has already been renewed for a thirteenth and fourteenth season, making it the longest running live- action comedy on TV.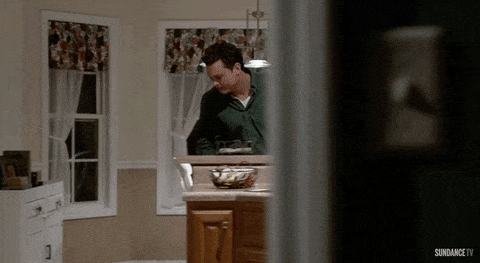 Rectify
I can't say this enough:
Rectify
was the best show on TV in 2016. Now that the series has wrapped up, it is a perfect time to watch it if you haven't already. The show is about a man released from death row on a technicality and follows his journey outside of prison as well as his family's.
Rectify
is always on "Best of" lists but has criminally never been nominated for any big awards like a Golden Globe or Emmy. It is rich with complicated, but always compelling, characters, gorgeous cinematography, and powerful performances. Never has a show made me feel so much before.
Rectify
will be sorely missed and guaranteed to be one of the best underrated shows of all time.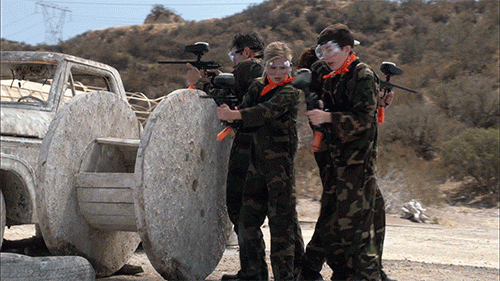 Speechless
Speechless
is not even halfway through its inaugural season, and yet, it has become one of my favorite new shows of last year. However, no one I know actually watches it! This ABC comedy is about the DiMeo family, as they move to a new school district so that their son -- who has cerebral palsy -- can go to an inclusive school.
Minnie Driver (who thankfully keeps her British accent in the series) is the domineering matriarch and delivers comedic and heartfelt performances each episode. Another bright spot of
Speechless
is JJ, played by Micah Fowler, who actually has cerebral palsy. The subjects the show touches on can be tricky, but
Speechless
treats them with respect and humor.
Love
Love
premiered on Netflix without much fanfare -- surprising, considering it was partly created by Judd Apatow and husband and wife team, Paul Rust and Lesley Arfin.
Love
's premise is not exactly ground-breaking: it's about two opposites falling for each other in Los Angeles. Things could have gone predictably, but they don't. Some episodes are depressing but others are genuinely funny and fun. Paul Rust and Gillian Jacobs play Gus and Mickey, respectively, and both make sure their characters aren't caricatures. I loved
Love
and I'm surprised at how many people don't know that it exists. It's definitely worth it to catch up before season two premieres this year.
What shows are you looking forward to binge-watching in 2017?