It's hard to believe that in just a few weeks, we'll not only conclude another year but an entire decade. While it's hard to believe that 2000 wasn't just yesterday, the truth is that we're about to enter 2020. A new year (and decade) holds a lot of promise, but it's always fun to look back on the years that have passed to see how much has changed.
Over the years, there has been a lot of television. With the boom of streaming services, more and more people have shifted their viewing habits from traditional cable models to solely consuming content on Netflix, Amazon Prime, Hulu, Disney+, etc. But at the beginning of the decade, everyone was still in a frenzy for live television: we rushed to finish our dinners so we wouldn't miss the beginning of our favorite shows.
And speaking of favorites... some of our writers thought it'd be fun to discuss our favorite television shows of the last decade. This is by no means an extensive list, as I'm sure most of us could talk for hours about the best television moments and series that have emerged in the last year alone, but it's a snapshot of some memorable television shows. Settle in as we discuss our favorite comedies and dramas from the last decade! Then take to the comments section and talk about your favorites too.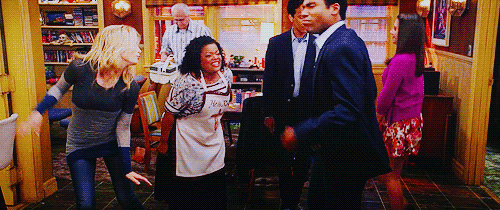 Community (Jenn)
On any given week,
Community
could be a paintball action/adventure, an 80s homage, or a stop-motion animated Christmas special. That's pretty incredible, honestly, and no matter how good or bad
Community
was at its execution, one thing is sure: it always took risks.
I fell in love with
Community
during one of its "normal" episodes early on ("Football, Feminism & You"), and it was the show that spurred me to start writing television reviews and thinking critically about things I loved. So when I think about shows that made their mark on the last decade, of course this one stands out. "Remedial Chaos Theory" is perhaps one of the most brilliant episodes of television to exist in the last 10 years. It managed to be a "choose-your-own-adventure"-style episode, with the writers crafting six different timelines depending on which character left the apartment to get pizza. It gave us one of the most iconic GIFs of the last decade too.
Community
wasn't perfect; it stumbled a lot in later seasons to establish what it wanted to be and how to get there. But there is, perhaps, no other show that tried as hard as this one did to think outside of the box and boundaries of what a network sitcom could be. In the end,
Community
will always be a special, brilliant show. New Girl (Jenn)
Honestly,
New Girl
is one of the most iconic comedies of the last decade. Its ensemble-centric focus, recurring jokes and references (True American, anyone?), and focus on love and friendship makes it so significant. Additionally, behind the scenes, the fact that the show retained so many talented female writers and directors will always be admirable to me.
New Girl
, at its best, was a hilarious show about people living together who often had little to nothing in common. Jess was idealistic. Schmidt was materialistic. Nick was a slacker. Winston didn't know who he was. Cece was tough.
But then the show decided to flip those stereotypes on their heads too. Schmidt could be sensitive and compassionate. Jess could be tough and fearless. Nick could be driven. Cece could be quirky. Winston could be... well, whatever Winston wanted to be!
New Girl
always did an incredible job of calling back jokes, displaying character growth, and proving that romance and comedy can always go hand-in-hand. Not much makes me cry as hard as that final game of True American. I'll always be grateful for this beautiful gem of a comedy and count it as one of my "forever faves."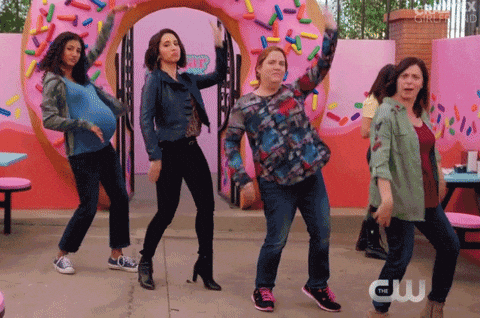 Crazy Ex-Girlfriend (Jenn)
Few shows broke barriers in primetime comedy like
Crazy Ex-Girlfriend
did. I've written about this show extensively and one of the things I keep coming back to is how brilliantly it discussed mental health and stigmatized issues with humor and grace and genuine respect. The amazing part of the series was that it was able to have those deep discussions within seemingly silly premises. There were musical homages aplenty, callbacks for days, and character growth that was immensely impressive. To see what Rachel Bloom could do with Rebecca Bunch makes me grateful that she won a Golden Globe for her performance; that woman deserved all the awards possible. Rebecca was such a complex, deep character and Rachel Bloom kept drawing from her time and time again.
I've rewatched various episodes and seasons of the show and I'm continually amazed by just how snappy, funny, and smart the comedy is. The music is extraordinary, and the story of a girl in love who comes to realize who she is and accept herself is one that deserved to be told.
Crazy Ex-Girlfriend
managed to mash up light and darkness, silly and serious, and humor and heart in a way that not many shows could. It was a brilliant musical adventure that will live on long beyond this decade.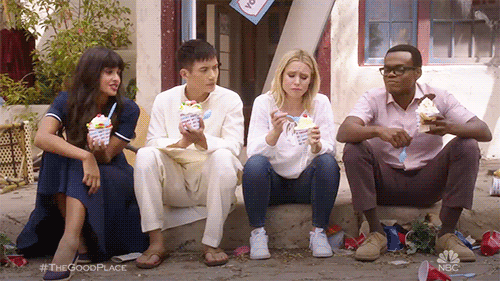 The Good Place (Deb)
I started watching
The Good Place
for two primary reasons, the first of which being that I had just lost
Community
the year before and there was a witty comedy-shaped hole in my soul that needed filling. The second reason was simply because I like Kristen Bell. The point is, watching
The Good Place
was an idle thing for me that I just kind of fell into with a shrug and a "I guess this'll do." I wasn't eagerly awaiting the show's premiere and, in fact, it was about halfway into its first season before my friend reminded me that I should probably check that show out since there was really nothing else on.
Even after I caught up with the episodes I missed,
The Good Place
hadn't fully latched onto my heart. The next episode didn't do it either, or the next, or the next. Not even the amazing twist in the finale of the first season totally cemented my love for the show, at least as far as I was aware — but then the second season rolled around, and suddenly I realized that I loved this show. When the second season was over, I realized I really, really loved this show. I even wrote about my love for this show
here on Just About Write
, in an article that mostly concerned itself with the astounding character-first writing the
The Good Place
focused on:
"Where other shows are straight lines, The Good Place is like a Spirograph drawing: constantly overlapping in different patterns to create a beautiful, unique whole. The more loops it makes, the stronger the design becomes, and the variations derive from the show's focus not on the linear A-to-B success story, but on the intricacies of human behavior and the chaos that erupts from that."
Since I wrote that post (just after the second season wrapped up) I've noticed a greater focus on the show's larger philosophical ideas. Sticking to the Spirograph pattern metaphor, it's as if the frame around a beautifully intricate drawing were removed to reveal an even larger pattern to which the first, smaller pattern belonged.
The Good Place
turned its story from a rather close-knit narrative about the only four real humans (plus a demon, plus a not-a-robot) in their world to a narrative about all humans. About what it means to be human. About how the fundamental point of humanity is to help each other, to improve each other, and to improve ourselves.
With incredible writing, acting, directing, and a large helping of honest-to-goodness heart,
The Good Place
hammers home the idea that we are all a part of the same incredible, complicated Spirograph pattern of life — that "We are not in this alone," as Chidi put it — and it does so within a whimsical framework that makes its beats of philosophical thought and realness somehow more poignant. Despite the show's propensity for irreverent silliness, it still manages to be reverent at all the right moments, pulled along by a thread of compassion and the idea that trying is always better than not trying. It is the anti-cynicism, the call to action for benevolence and empathy and constant improvement. It is nothing like I expected when I decided to watch halfway into its first season and it is everything I didn't know I wanted from a TV show at this point in my life.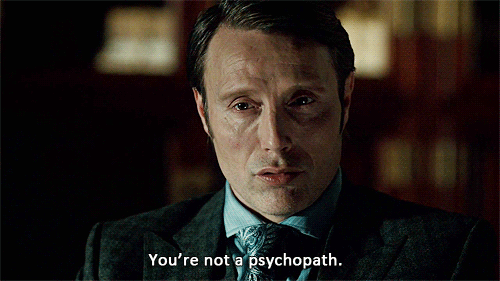 Hannibal (Jaime)
On the surface,
Hannibal
should not be as good as it is. It's the TV version of a popular film franchise, set before the first film and creating a storyline for two characters that is otherwise hinted at in both the film and Thomas Harris' novel
Red Dragon
, but not seen. It would have been very easy for it to become another in a long string of NBC Thursday night dramas, with a case of the week format and shallow characters who feel like cardboard cutouts. But under the deep affection of showrunner Bryan Fuller,
Hannibal
immediately proved itself to be so much more.
The show follows Will Graham, an FBI profiler with the unique ability to put himself in the mindset of a killer and empathize with them in order to understand why they did what they did, and follow the steps backwards to catch them. His work takes a massive toll on his mental state, and he begins relying more and more on his psychiatrist, Dr. Hannibal Lecter, a name that might be familiar even to non-fans. The series is dark and more often than not, brutal, with an unflinching look at madness and how easy it can be to succumb to the voices in your head. The true art of this show, and I would dare to call the entire show a work of art, is in its construction. Every week has a murder more grisly than the one previous, and yet, each crime scene (called a "tableau" by Bryan Fuller) is gorgeous to look at. Each aspect of every repulsive crime (and there are some repulsive things on this show that would feel much more at home on a paid cable network than on regular old NBC) is arranged artfully and cinematically, enticing the viewer to keep looking even though they want to look away.
That balance is the key to the whole show and permeates every aspect of it, including in the relationship between its two main characters, Will and Hannibal. It becomes harder and harder to watch as Hannibal's psychological hold over Will grows, but it is impossible to look away.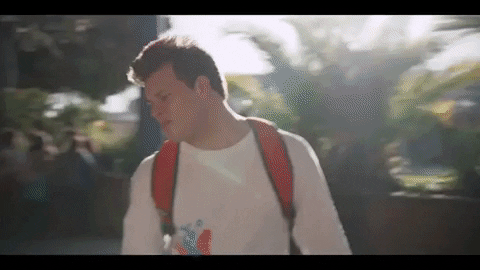 American Vandal (Jaime)
The mockumentary format was everywhere in the 2000s, and inspired some of the most iconic shows of recent years. The 2010s saw the rise of true crime documentaries, where filmmakers follow a crime and try to piece together evidence, often either to identify a suspect or clear an accused suspect's name. But those shows don't matter, because both formats were combined and perfected with
American Vandal
, which follows two high school students, Peter and Ben, aspiring filmmakers who begin making a documentary about a recent incident at their school, in which somebody spray painted a penis onto every teacher's car. Dylan Maxwell, a burnout who would rather smoke pot with his friends and goof off in class than actually learn anything, is accused of the crime, and due to most teachers' prejudice against him, he is expelled and facing criminal charges. The documentary hopes to explore the events of the spray painting incident, while seeking to humanize Dylan and prove whether or not he is actually guilty.
It's one of the biggest tragedies of my life that Netflix only gave this show two seasons (the second sees Peter and Ben going undercover at another high school to investigate an incident in which cafeteria food was tainted and caused mass diarrhea). The concepts of both seasons are, at face value, solely comedic, paralleling every major breakthrough scene in true crime investigation shows. And this show is, without a doubt, one of the best comedies of the decade, if not ever. But as each season goes on, so much more is revealed. It aims to represent its teenage characters fairly and thoroughly, with ample time spent on characters' insecurities and how they inform their actions. This show could not exist before this decade because the use of technology and how teenagers interact with technology is vital. One massively impressive sequence in season one uses snippets of character-recorded Snapchat videos to piece together the events of a party; small events in the background of one video prove to be hugely important in following the night's progression, and the direction and production of this sequence is breathtaking. If you want to laugh, watch
American Vandal
. If you want to cry, watch
American Vandal
. If you want to watch the most accurate representation of youth today, watch
American Vandal
.
One Day at a Time (Araceli)
Norman Lear has been at the helm of some of the most iconic and groundbreaking comedies in American history and, at 97 years old, he's still making history. In 2016 he gave the go ahead to Gloria Calderon-Kellett and Mike Royce for a reimagining of the classic
One Day at a Time
, this time focused on a Cuban-American family. What makes this show comedy gold is not just that it took an old story and made it new or that it is one of a handful of shows in ALL of television focused on Latinos. I would even argue that the topical issues such as diversity, mental health, and LGBTQ+ rights aren't totally what make this comedy so special. It is the fact that at its core, this is a show focused on a typical American family. That the Alvarez family happens to represent a high population of the country that has been severely underrepresented in mainstream television is whipped cream on this sundae. Said whipped cream comes in the form of the Spanish language and traditions that so naturally flow into the dialogue.
And Rita Moreno and Justina Machado are the cherries on top of this all! EGOT legend Moreno is comedy gold as the proud matriarch who never lets anyone forget that a) she is Cuban, b) she is still in her prime, and c) she is always right. As a single mom struggling with post-war anxiety and depression while trying to raise two teenagers with the constant influence of her own traditionalist, and fabulous, mother you can see the comedic frustration dripping off Machado in every scene.
The audience clearly agrees, since their vocal outrage at the show's Netflix cancellation is the reason the show will be returning to Pop TV with new episodes in 2020!
Arrow (Araceli)
The proof is in its fandom. Truly, and no offense to
Game of Thrones
fans, but you will find no more impassioned fandom out there than the superhero fandom. And DCTV has been very good to its fans over the years! When
Smallville
went off the air in 2011, DC fans might have been skeptical of bringing in a new hero so soon. But Marc Guggenheim and Greg Berlanti took the vigilante that is the Green Arrow and turned him into a beacon of hope so bright, Arrow turned out to be just the beginning. The little superhero show that could has burgeoned into an "Arrowverse" with a multitude of superheroes who represent the spectrum of color, creed, as well as sexual and gender identity.
While there will be many articles in the coming weeks praising the brilliant work of the show that started it all, I'd be remiss if I didn't single out the Green Arrow himself, Stephen Amell. From the beginning, Amell has worked tirelessly on and off-screen to elevate the show. From his memorable fan convention appearances to his championing of guest and recurring stars alike, Amell has shown that a true hero's work is not done when the cameras are on. It is the tireless work ethic, commitment, and appreciation for every single cast and crew member, creator, and fan that Amell has shown, which has made the difference between
Arrow
being a simple DC show, and the lasting legacy that it is.
What were some of YOUR favorite shows of the last decade? Sound off in the comments below!