It's been a weird few months. While March seemed like it was an entire decade in itself, April has appeared to fly by. And with May creeping up behind us, it's hard to believe that 2020 is nearly half over already. Whether you've been doing well in quarantine, are going a bit stir crazy, are suffering from anxiety and depression, have gotten sick or know someone who is, this is a very weird time to be on planet Earth. And it might be really hard for you to watch anything remotely sad or dramatic at the moment. I talked with my best friend recently and we both agreed that in these uncertain times (a phrase everyone likes to use now), it's hard to watch anything that doesn't make us laugh or lift our spirits.
So I wanted to provide you with a few "lift my spirits" options as you navigate the rest of this pandemic. These are all movies, shows, and specials that I've watched over the last few months, and I hope that they provide you with as much joy as humanly possible.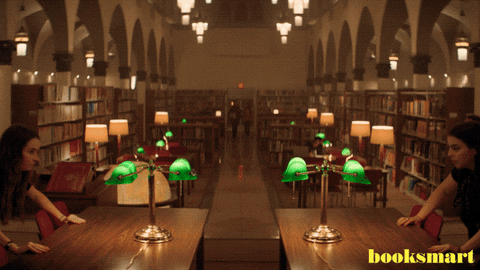 10. Booksmart (Hulu)
I got the chance to watch
Booksmart
virtually with my friends Chels and Jen. It's a charming, funny, coming-of-age film that features some wonderful women. Beanie Feldstein and Kaitlyn Denver play Molly and Amy, respectively, who are high-school overachievers. They don't party and they've spent the last four years rigorously planning out the rest of their lives (well, Molly definitely has). But on the last day of school, Molly discovers that even the kids who spent the last four years partying and seemingly not caring managed to get into good schools. What was it all for, then?
Booksmart
proceeds to follow the best friends through the night before graduation: their chance to make up for four years' worth of lost time by being wild and crazy. As you might expect, shenanigans ensue and friendships are tested. I really enjoyed the fact that this movie features female friendships and also that it portrays them realistically. Not everything with Molly and Amy is good and the movie's tipping point is a really dramatic fight between the two. While
Booksmart
brought the laughs, there's definitely real heart at its core and that's what made it so endearing.
9. The Way, Way Back (Amazon Prime)
I decided to re-watch this movie recently and man, does it hold up. Written and directed by Oscar-award winning duo Jim Rash and Nat Faxon (long live
Community
and
Ben & Kate
), this charming and quiet comedy about a shy boy named Duncan who's forced to accompany his mother, her boyfriend Trent, and Trent's daughter to Trent's beach house in Cape Cod for the summer. This is a place where all the adults go wild and crazy and the kids act like adults. But Duncan soon discovers a water park where he meets a ragtag group of adults who befriend him and help him grow in his confidence.
This sweet, charming, funny coming-of-age story has an all-star cast: from Steve Carell playing the truly awful and abusive Trent, to Sam Rockwell playing the slacker-but-kind mentor, Owen, to the incomparable Maya Rudolph and Allison Janney, this film has it all. It truly stands up as a coming-of-age comedy that's earnest, fun, and sweet.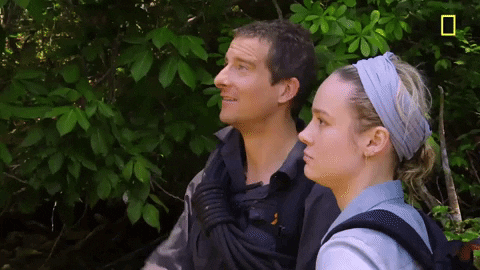 8. Running Wild with Bear Grylls (Disney+)
Sometimes you want to watch an escapist show like a sitcom because the world is in chaos. And sometimes you want to watch other people do things you'd never, in a million years, be willing or able to do. That's where the newest season of
Running Wild with Bear Grylls
comes in! Bear takes his celebrity guests on adventures in different environments: from beautiful cliffs to caverns and canyons, you get the chance to watch him and his guest traipse through the wild. But Bear also gets honest with his guests, asking them about their stories. It's a really cool, disarming way to get to the heart of who a person is.
The season currently on Disney+ features some incredible people: Brie Larson, Joel McHale, Channing Tatum, Cara Delevingne, and more. Watch as they rappel off the side of mountains, skydive, scuba dive, and eat things they'd never eat in a million years. It's fun, it's engaging, and it has nice heart to it.
(I would not make it in the wild, which makes this extra fun for me: I get to watch someone do things I never could from heights that make me dizzy just watching.)
7. Not Another Happy Ending (Amazon Prime)
If you'd like a predictable rom-com, I've got just the thing for you!
Not Another Happy Ending
is a British romantic comedy that stars the lovely and talented Karen Gillan as Jane Lockhart. Jane writes a successful, best-selling novel and her publisher Tom (Stanley Weber) is waiting for her follow-up. The only problem? Jane is so happy and in such a good head space that she's blocked. And that doesn't bode well for Tom, who needs another smash hit of Jane's in order to keep his business afloat. So Tom decides to do what any reasonable person would: he tries to make Jane as unhappy as possible so she'll be inspired to write.
Not Another Happy Ending
unfolds in pretty predictable ways, but also fully develops Jane's relationships with others, including her father. One of the most unique things is that Jane's main character, Darsie, comes to life for Jane. And she's the only one who can see her. Their interactions are a highlight of the film.
It's cheesy, it's fun, it features great accents and clothing... give this one a shot!
6. Isn't It Romantic (Hulu)
Speaking of rom-coms,
Isn't It Romantic
combines two of my favorite things: rom-coms and meta commentary. Starring the very funny Rebel Wilson, Priyanka Chopra, Adam Devine, and Liam Hemsworth (with additional hilarity by Betty Gilpin), this story is about Natalie, a woman who's living in New York as an architect and is just trying to be taken seriously. Living in New York is not as glamorous as rom-coms make it seem, which is something Natalie rants about to her best friend and coworker, Witney (Betty Gilpin). Natalie has hated rom-coms since she was a child. They're fantasies and give people unrealistic expectations about love.
Then one day, Natalie gets mugged and knocked out at a subway station. And she suddenly wakes up in New York: Rom-Com Version! Everything else that follows is a hilarious meta commentary on all the tropes rom-coms have (a clumsy leading lady, an idealistic setting, no sense of time, random musical numbers, a flamboyant best friend, etc.), and Natalie soon realizes what's happening. She decides that the way out of the rom-com has to be to fall in love. So she tries to do just that.
Isn't It Romantic
is so charming and cheesy and if you love rom-coms, you'll love the fact that this movie points out how tropey they are. Plus, take note of some of the perfect background details. Grab your favorite snacks and enjoy this little gem.
5. Onward (Disney+)
Full disclosure: This one WILL make you cry but it's also a really fun twist on an adventure tale from Disney and Pixar. Elf brothers Barley (Chris Pratt) and Ian (Tom Holland) lost their dad when Ian was so young that he doesn't remember him. On Ian's 16th birthday, the brothers discover that their father left him a magical staff with a way to bring him back for just one day. The spell fails, unfortunately, and only bring Wilden's torso and legs back. The boys go on a quest to find another gem to complete the spell so they can bring their dad back.
Onward
is unlike most Disney/Pixar films I've seen. It features a completely different world and I love the fact that the movie features a quest. The theme of family runs deep in this movie, and let me tell you that there will be some moments that make you a little choked up, especially if you have siblings. The animation in the film is great, and though I found parts of the middle act a little slow, the final act makes up for it in spades.
Like I said, bring tissues. But you'll ultimately leave this one with a sense of hope.
4. Love Wedding Repeat (Netflix)
A friend of mine told me to watch this movie because she knows I love rom-coms. True to her word, it was almost exactly what you'd expect it to be. Miscommunications and misunderstandings abound as the story centers around a few hours at a wedding. What's pretty unique about the film happens right before the third act, so I won't give that away. But the main focus of the film is missed chances and complex relationships.
The entire story is set against the backdrop of main character Jack's (Sam Claflin with a bad haircut) sister's (Eleanor Tomlinson) wedding day. Jack's sister, Hayley, just wants to have a normal day without any issues. Unfortunately, a guy named Marc shows up who tells Hayley he's in love with her and threatens to ruin her big day. Meanwhile, Jack has issues of his own to deal with: Hayley's former roommate, Dina (Olivia Munn), has showed up to the wedding. Jack and Dina met three years prior and had an amazing connection. But Jack never told her how he felt or made a move. He lost his chance.
What happens after is chaos as exes meet, new relationships form, secrets come out, and someone gets slipped sleeping pills in their champagne.
Love Wedding Repeat
isn't revolutionary, and I wouldn't say that it's the best rom-com out there, but it's incredibly perfect for what it is: a shenanigans-filled, predictable romp through a rom-com.
3. The Duff (Amazon Prime)
If you're looking for a fun teen comedy with just enough rom-com to satisfy your shipper heart,
The Duff
is the film for you. Starring the incomparable Mae Whitman, Robbie Amell, Allison Janney, Ken Jeong, and more, this film is a nice twist on a high-school tale. The best part too is how the movie wove technology and fantasy sequences into its storylines. Because at its heart, this is a movie about Bianca (Whitman) who has two best friends named Jess and Casey who are more popular than she is. One night at a party, Wesley (Amell) tells Bianca that she's the DUFF of the group: the designated ugly fat friend. Bianca is rightly horrified and she begins to research the term, soon pushing Jess and Casey away for befriending her knowing that she was their DUFF.
But Bianca and Wesley team up: Bianca to help him pass science, and Wesley to help Bianca shed her DUFF status and go on a date with her crush, Toby. Of course, there are mean girls and misunderstandings, hidden feelings and shenanigans... and the movie is a gem because of it. It's a sweet, endearing tale. Mae Whitman and Robbie Amell have great chemistry and the film is so enjoyable to watch. Go check it out on Amazon Prime.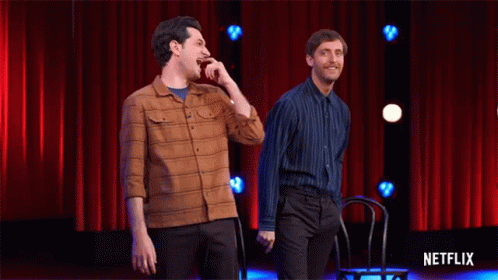 2. Middleditch & Schwartz (Netflix)
Improv can be hit or miss. Either you're laughing hysterically or cringing in awkward secondhand embarrassment. I'm delighted to say that
Middleditch & Schwartz
, for me, is the former. I knew of Ben Schwartz primarily through
Parks and Recreation
, so seeing him at home in improv was an utter joy. There are only three episodes of this improv special, but they're so worth your time. Thomas Middleditch and Ben Schwartz perform one elaborate improv each episode based on a conversation they have with an audience member about something they're excited about or looking forward to. They then build the story on stage around that plot and develop characters along the way.
Guys, I laughed so hard that my stomach hurt after I finished episode three. These guys play off one another spectacularly and manage to move around the stage (and even into the audience) with ease. They craft some truly hilarious stories and play a wide variety of characters whom they often forget. They break the fourth wall, they pause to explain the plot to each other, and they're genuinely just so dang funny.
I can't recommend
Middleditch & Schwartz
enough. Their creativity and hilarity is insane. Go watch it right now.
1. Never Have I Ever (Netflix)
Mindy Kaling's newest endeavor is so fun from start to finish. Does it occasionally frustrate me? Of course. Do I then have to remind myself that these are mostly high-school sophomores? Yes. Never Have I Ever is filled with wonderful representation, tells a tight story in 10 episodes, features the actual best voiceover narration, and manages to give us some really wonderful emotional moments. Don't say I didn't warn you: the final two episodes will leave you crying, but mostly happy tears.
Never Have I Ever
tells the story of Devi (Maitreyi Ramakrishnan) a sophomore in high school who wants to improve her social standing in the wake of some painful memories from her freshman year: her father died in the middle of an orchestra performance and she was so traumatized that she lost the use of her legs for months. But she has a plan: she's going to get a boyfriend and she wants her best friends, Eleanor (Ramona Young) and Fabiola (Lee Rodriguez) to do the same. Devi decides to try to sleep with the most attractive guy in school, Paxton Hall-Yoshida (Darren Barnet) to achieve peak "cool" status.
This show was such a quick binge that I managed to start and finish it in one day. I'm not kidding. I got so invested in the emotional core of the story (Poorna Jagannathan is going to break your heart in scenes as Devi's mother, trust me), and I love that the show is witty, smart, and fun. There are so many fun pop culture references, great treatments of coming-of-age stories, a real and hard look at grief and the way different people, including teenagers, process. And it's got incredible character development in the course of just 10 episodes.
Never Have I Ever
is a great little comedy and I highly recommend it during these crazy times.
What are YOU watching during this pandemic to lift your spirits? Sound off in the comments below!