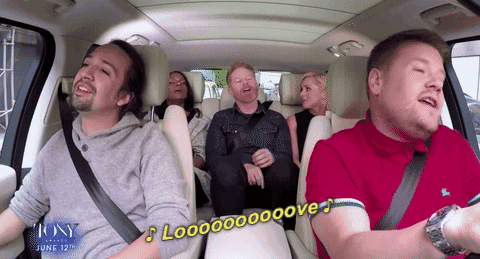 Thank you all for making the second year of the #GoldenTrioAwards such a huge success! We could not have imagined how well you all would respond to the awards this year, after we had a little bit of a trial-and-error experience in our inagural year in 2015. I was so proud of how diverse the nominees were this year — from miniseries to Netflix shows, comedies of all walks and dramas that ranged from superhero shows to sci-fi gems. After all was said and done, we had 69 different shows represented in our nominees this year. That's amazing! Kudos to our incredible staff for providing such wonderful contenders.
The #GoldenTrioAwards were based on a Twitter game that Chelsea created called #Top3. So, just like the Olympics, we award gold, silver, and bronze to the three nominees with the most votes in each category.
I love our Special Category nominees, and the category itself. While comedy and drama are tight, awards-show-esque races, this category is a bit looser and more fun. It was really cool to see everyone get along in the fandoms this year (especially when it came to OTPs) and enjoy voting. There were some clear winners and some surprise upsets, too. Who won and what were our thoughts on the winners? Check out our commentary below!
OTP OF THE YEAR
WALTER/PAIGE, SCORPION
Jenn:
Walter and Paige are this perfect example of how two people can become better people and better one another in a friendship (and relationship). She forces him to think about more than just facts and figures, and endlessly supports him -- even when he doesn't deserve it. Walter, meanwhile, has become a more well-rounded, better version of himself because of Paige. These two are drawn to one another and continue to make each other better. The chemistry between Walter and Paige is obviously helped by the real-life chemistry between Elyes Gabel and Katharine McPhee, and I loved watching the two unfold from tentative partners to trusted confidantes and then to two people who genuinely love one another. Their relationship continues to evolve with each episode and I look forward to where else it will go.
HAUGHT/WAVERLY, WYNONNA EARP
Chelsea:
Wayhaught is quite possibly the healthiest relationship of any media. What started off as a cool and confident Officer Haught flirting with the seemingly straight Waverly grew into a beautiful love story that didn't fall into any of the harmful queer tropes (bulletproof lesbian FTW). Nicole respects Waverly and gives her time to figure out her feelings. She doesn't push her in any way but she lets Waverly know how she feels and puts the ball in her court. They have lives outside of each other but know they're on solid footing as a couple. There's a real honesty to their relationship that you don't see with many queer characters. Having spoken with the actors at SDCC, they have embraced the relationship, respecting the characters and not wanting them to fall into stereotypes. For all that and more, they deserve their silver medal.
HARVEY/DONNA, SUITS
Jenn:
What can I say about Harvey and Donna that hasn't yet been said? They are, quite simply, the perfect example of an equal partnership. Harvey and Donna know one another inside out, even though they're technically not a couple. She knows what he needs to say and do, and she's unafraid to tell him the truth and tell it to him forcefully. And Harvey, meanwhile, has proven time and time again that he would literally do anything for Donna. If she is in danger or trouble, he will be right beside her fighting for her. Donna loves and supports Harvey, but she also knows what he needs to make him a better lawyer and person. There is such a level of trust and loyalty between them, that it's almost impossible (okay, no, it IS impossible) to believe they're not officially together yet. When two people are this perfect together, it's a disservice to keep them apart. I'm looking at you, Aaron Korsh.
GUILT-LESS TV PLEASURE
PRETTY LITTLE LIARS
Jen K.:
There's really nothing more delicious than
Pretty Little Liars
. The plot dances at the edge of ridiculous at times. Nor is logic consistently adhered to in this show. And yet we keep coming back for more. Why? Because the web of lies, murder, and mystery
Pretty Little Liars
has created is addicting. We have to know who "A" is (or "A.D.")! We also care about these women and their friendships with one another. Not to mention their perfectly shippable romantic relationships on the show as well. I stopped watching
Pretty Little Liars
for a year or two, but the time jump and the approach to the final season brought me back, and the show is better than ever. In the immortal words of Michael Corelone, "just when I thought I was out... they pull me back in."
GIRL MEETS WORLD
Bibi:
This is a lighthearted, cute, and wholesome show that reminds me of why I fell in love with
Boy Meets World
to begin with. While they keep it PG, they are still not afraid to tackle tough and real issues, while putting their own spin on it.
THE BACHELOR FRANCHISE
Chelsea:
Before this year, I had NEVER watched the
Bachelor
franchise, knowing it to be garbage and thinking it a waste of time. After some convincing from a few friends, I embraced this beautiful garbage and could not get enough of it. Yes, so much of it is fake and has terrible editing. They took a storyline straight from
UnReal
. The winners are pretty obvious, and so much of the franchise is repetitive. And yet, it's insanely addictive and has great production value. It's the perfect way to unwind and waste two hours before going to bed. I cannot wait to see what Nick Viall's season brings us next year. Congrats on your bronze,
Bachelor
.
FRIEND-TP OF THE YEAR
RACHEL/QUINN, UNREAL
Jen K.:
UnReal
is a show about reality television that grounds itself by connecting the audience to the emotional arcs of the two main characters — Rachel and Quinn. Even those these characters do atrocious things all the in the name of ratings, the show makes us root for them. You want Quinn and Rachel to succeed; but more than that, you want them to find what's real in their own lives... starting with their friendship. Rachel and Quinn accept one another for who they are. Even though they bicker and occasionally play nasty games with one another, at the core is a deep loyalty and unconditional love. They are more than best friends. They are family, and the entire show revolves around their relationship. Their friendship is what makes
UnReal
... well,
real
.
WYNONNA/WAVERLY, WYNONNA EARP
Chelsea:
Real talk — Waverly and Wynonna are the real love story of
Wynonna Earp
. From the moment Waverly bursts onto screen (literally), you know the two characters haven't had the best relationship, and so the writers take the season to explore and fix their fractured family. What makes their dynamic so strong as characters is that they actually behave like sisters. They fight, they gossip, they meddle in each other's lives. They're all each other has left, and will do anything to protect the other. I look forward to seeing what season two brings after that big revelation in the finale (and that insane cliffhanger). I have faith the Earp sisters can get past anything, and am proud to see them get this silver medal in this category.
GRETCHEN/LINDSAY, YOU'RE THE WORST
Chelsea:
These hot messes are a magical disastrous duo. They're both incredibly selfish but are always there for the other. Gretchen supports Lindsay's craziest schemes, and Lindsay understands her friend's depression. They don't judge or ever try to change each other. They're more loyal to each other than they are to their partners or sisters. Together, they're the worst... but that's friendship: someone who will stick by your side and help you hide the bodies. I look forward to all the trouble season three brings Gretchen and Lindsay separately and especially together.
VILLAIN OF THE YEAR
KILGRAVE, JESSICA JONES
Lizzie:
There have been good villains on TV before. Scary villains, the type that make you want to leave the light on when you go sleep at night. But there has probably never been a villain who was as creepy in a way that felt this real. Yes, this is a comic book show. Yes, you will probably never be mind-controlled by a guy with superpowers. And yet, I'd still run the other way at the mere sight of Kilgrave. I really would.
DAMIEN DARHK, ARROW
Deb:
Damien Darhk was, without a doubt, my favorite thing about the latest season of
Arrow
. His bizarre combination of intimidation and whimsy made him the best part of pretty much every scene he was in.
SIN ROSTRO, JANE THE VIRGIN
Jenn:
There aren't very many female villains on television these days, which is a shame. But what I loved about
Jane the Virgin
was that it, a show that celebrated women and the relationships between them, decided to include a female villain. Sin Rostro is shrouded in mystery, but it's that mysterious side that really makes her more terrifying. And although the re-reveal of her this season was a little bit campy (in tune with the soapier elements of the show), she was a welcome presence on the show again.
OUTSTANDING LATE NIGHT TALK SHOW
THE LATE LATE SHOW WITH JAMES CORDEN
Chelsea:
A lot of us in the U.S. fell in love with James Corden on
Doctor Who
, on Broadway, and even the
Into the Woods
film. He was the cute bumbling dad in both that was just trying to figure things out. So when he was chosen as Craig Ferguson's replacement, we were excited — albeit a tad confused — by the choice. Corden has somehow broken away from the gimmicky late night pack and brought a genuine sincerity and flair for fun to the show. His games are fresh ("Drop the Mic" and "Carpool Karaoke" are obviously favorites), and he has a respect for all guests — not just the film or TV stars. He brings Broadway and Internet talent to late night and lets them be goofy, but never the butt of the joke. He's everything late night has needed for a long time, and for that, he deserves his gold.
LAST WEEK TONIGHT WITH JOHN OLIVER
Jenn:
In our previous year's awards, John Oliver and his team won gold. This year, they received a valiant silver for their hilarious, witty, and informational programming. Whether he's urging us to make Donald Drumpf again, discussing the fate of journalism, or talking about the absurdity that is Ryan Lochte, John Oliver constantly brings his A-game and deserves all of the awards for it.
THE TONIGHT SHOW WITH JIMMY FALLON
Megan:
Honestly, what's not to love about Jimmy Fallon? Even before he took over this slot, he was crushing the late night game. He is so excited to have this job and it shows. There isn't a guest on that show that he isn't genuinely excited to be talking to and it shines right through the screen. Not only that, but he has fun doing what he's doing. He takes it seriously, but also just has the most fun ever. Guests and audiences alike love being part of the fun and we love watching all of the ridiculous sketches, the over-the-top games, and we wish we could be part of it. Jimmy Fallon keeps it light, he keeps it fun and he's just so great to watch! Fallon/Timberlake 2016!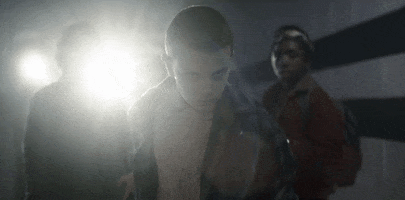 BEST NEW SHOW
UNREAL
Jen K.:
The best new shows shake up our TV landscape. They give us something new, exciting, and different to be entertained by. No show did that better this year than
UnReal
. I never know what to expect and that's because the show manages to surprise me at every turn. Just when I think they won't go any further in the writing or plot, they do. And just when I think the show is all about twist and turns, they capture an emotional depth most dramas only dream of. The crazy is addicting, but it also poses some great moral questions.
UnReal
is truly one of a kind.
WYNONNA EARP
Chelsea:
I'm the worst TV viewer. I get bored easily and give up on things quickly. I'm surprised Jenn keeps me around! So after seeing a bunch of GIFs on Tumblr of all these characters and reading AfterEllen writer Dana Piccoli rave about this little show, I thought "why not?" Best. Decision. EVER.
Wynonna Earp
is the perfect balance of comedy, drama, cheese, family, and fandom. It's heart-wrenching, with characters who will make you laugh one moment before breaking you. It's a little cheesy but has so much spunk and you just feel good watching it. It doesn't try to be prestige television but
Wynonna Earp
manages to overcome the silly and be a thoughtful and respectful show viewers can identify with. This is the-little-show-that-could and it deserves its place at the table.
STRANGER THINGS
Jenn:
I don't like scary or suspenseful television (or movies), but
Stranger Things
was in a league all its own this year. Part-80s nostalgia akin to
The Goonies
, and part creepy science-fiction, this show provided some incredible stories, amazing acting, beautiful camerawork, and a satisfying conclusion.
Stranger Things
is one of the best shows I've seen recently, and deserves a place among the best new shows of the year.
OUTSTANDING VARIETY/SKETCH SHOW
FULL FRONTAL WITH SAMANTHA BEE
Chelsea:
Much like John Oliver in the late night category, Samantha Bee brings a sharp humor to the news and isn't afraid to call people out. The real heir to Jon Stewart's legacy, Bee manages to be the funniest host on television, while also making you think. What makes her show great is how she did blind gender/race hiring for the writers and ended up with half women. She also doesn't have guests to pander to, which allows her to focus on injustice. And, as the only woman in late night, she's the perfect person to call it out. Samantha Bee has a powerful platform, and never misses a beat. And for that, she gets the gold.
DRUNK HISTORY
Alisa:
I don't even remember how or when I was first introduced to
Drunk History
, but I no longer remember life without it. This show is genius in its simplicity, and the celebrity guests they bring on have probably taught me more about history than I learned in grade school (and made it far more interesting in the process).
SATURDAY NIGHT LIVE
Maddie:
By letting the amazing talents of its female cast shine,
Saturday Night Live
has had some hilarious moments in the past year. Moreover, SNL deserves the bronze solely for the best digital short since Andy Samberg left the cast: "The Day Beyoncé Turned Black". The sketch was the perfect blend of humor that is both topically relevant and wickedly smart. It's gems like that which give me hope for
Saturday Night Live
's future.
MOST BINGE-ABLE SHOW
UNREAL
Jen K.:
The test of a good binge is whether or not you can wait to find out what happens next. The best binges are the ones where you HAVE to know, or else you'll go nuts. You hold the power of "what happens next" in your hand... so you press play on the remote and pretty soon you've stayed up all night, devouring every episode.
UnReal
is one of those shows. Every episode raises the bar. Just when you think it can't get crazier, it does.
UnReal
is a wild ride you don't want to get off of.
ORPHAN BLACK
Chelsea:
Binge-watching might be the only way to watch
Orphan Black
without having a complete stress attack. Tatiana Maslany continues to be mind-boggling amazing in her 4876592 roles, with the supporting cast helping her fully create these individual clones. The mystery remains just as addictive as it was in season one, and fans cannot get enough of each of the clones. Simply watching it week to week doesn't cut it with all the nail-biting twists and cliffhangers this show leaves you with. We anxiously look forward to the final season next year and will miss
Orphan Black
deeply.
ORANGE IS THE NEW BLACK
Chelsea:
The past five years have brought a show that, for three weeks, is the only thing that matters to me.
Orange is the New Black
changed the way we watch television. Among the first of Netflix's original binge shows, it's the one that caught on and captured the hearts of the masses. With an inclusive cast of predominantly women,
OITNB
fills a spot that the rest of television is completely missing.
MOST TRAGICALLY CANCELLED SHOW
FAKING IT
Chelsea:
It's hard thinking about how
Faking It
ended, knowing that the creator had another seasoned outlined that would wrap it all up perfectly. This show was a little ridiculous and over-the-top at times, but gave us great, relatable characters and some groundbreaking stories. Amy's journey figuring out her sexuality, Karma learning to listen, and Lauren coming to love herself are stories that were fun and important. I'm going to miss Amy, Karma, Lauren, and their secrets.
GALAVANT
Jenn:
I will never be over the cancellation of the hilariously meta, musical delight that was
Galavant
. It brought Timothy Omundson back to my screen after
Psych
, and it gave us all the music of one fantastic Alan Menken. The writing of the show was impeccable (flipping the trope of Madalena being a fair maiden on its head was one of the smartest decisions the show could have ever made), and the songs were just as wonderful. Thankfully,
Galavant
was able to give us some closure before they were cancelled, but I definitely wouldn't mind if we had a reunion (or another season) at some point down the line.
AGENT CARTER
Maddie:
At its start,
Agent Carter
was another way to have more of Hayley Atwell's magnificent portrayal of Peggy Carter back in our lives. However, the show developed into so much more. Atwell got to dig a lot deeper into her character and gave it shades beyond "badass who looks amazing in period clothes." The show allowed Atwell to truly shine by giving Peggy complexity and vulnerability. Moreover,
Agent Carter
gave us interesting and compelling characters who audiences grew to love. The show used its period setting to enhance its tone and aesthetics. The action was fun, the moments of comedy were delightful, and the relationships between characters (both platonic and romantic) will be severely missed.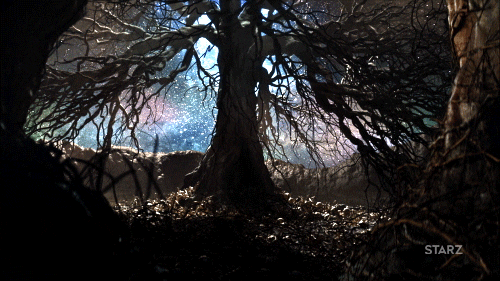 MOST ANTICIPATED NEW SHOW
AMERICAN GODS
Deb:
I can't even tell you how many times I've watched the promo for
American Gods
. It's a lot. And not enough. Everything that comes out about this show makes me want to see it more and everything makes me believe it's going to be amazing.
LUKE CAGE
Amir:
In a time where the relationship between black people and police is rife with tragic headlines, heated discussions, and bullet holes, it's refreshing to hear from showrunner Cheo Hodari Coker that "the world is ready for a bulletproof black man." Ready or not, here comes Luke Cage.
POWERLESS
Jenn:
Having seen the pilot at Comic-Con this summer, I can barely contain my excitement for the rest of this show. Hilarious, refreshing, and fun,
Powerless
boasts an incredibly funny cast with an equally incredible premise. It's one of those shows you definitely don't want to miss.