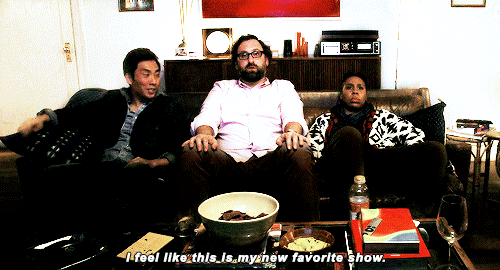 Thank you all for making the second year of the #GoldenTrioAwards such a huge success! We could not have imagined how well you all would respond to the awards this year, after we had a little bit of a trial-and-error experience in our inagural year in 2015. I was so proud of how diverse the nominees were this year — from miniseries to Netflix shows, comedies of all walks and dramas that ranged from superhero shows to sci-fi gems. After all was said and done, we had 69 different shows represented in our nominees this year. That's amazing! Kudos to our fantastic staff for providing such wonderful contenders.
The #GoldenTrioAwards were based on a Twitter game that Chelsea created called #Top3. So, just like the Olympics, we award gold, silver, and bronze to the three nominees with the most votes in each category. Though the comedy nominees started off slowly, soon many of you surged to the polls to vote for your favorites. Who made the podium? You're about to find out! Check out your 2016 winners and what the writers on staff had to say about them!
(And be sure to check out the winners in the
DRAMA
and
SPECIAL CATEGORY
too!)
OUTSTANDING COMEDY SERIES
YOU'RE THE WORST
Chelsea: With its third season premiering this past week, You're the Worst continues firing on all cylinders. This unconventional love story about two terrible people who hate relationships is somehow the most romantic show on television. Aya Cash and Chris Geere are the perfect hot mess humans that fell into bed and, later, love together. The way the show handles mental illness as well and respectfully depicting how the realities of depression or PTSD is another highlight. The only thing better than watching the main characters is watching the supporting cast ruin lives and make terrible choices too. In ways, you don't want the characters to become better though, since they're perfect as themselves. Even when Lindsay (portrayed by the absurdly wonderful Kether Donohue) casually stabs her boring husband Paul, you're on her side and happy she stayed true to herself. These people will make you want to embrace your inner "worst" and, for that, have earned their gold.
CRAZY EX-GIRLFRIEND
Jenn: Hilarious, filled with catchy songs (don't lie, you've totally busted out with "The Sexy Getting Ready Song" at some point this year too), and slightly edgy for a primetime comedy, Crazy Ex-Girlfriend is one of the best shows on television — comedy or drama. I absolutely love that the show isn't afraid to talk about difficult things in smart, inventive ways. Whether they're discussing relationships, mental health, or sexuality, Crazy Ex-Girlfriend is literally marching to the beat of its own drum. There is no show quite like it on television, and I'm hopeful that its success and critical acclaim will pave the way for more inventive comedies in the future. Rachel Bloom is an incredible lead
—
funny and talented, but with the ability to make you cry and empathize with her messy, broken, beautiful Rebecca Bunch
— and the rest of the supporting cast is just as amazing, too. There is no weak link in this show, and
Crazy Ex-Girlfriend
definitely deserves a place on our winners list.
BROAD CITY
Chelsea: The ladies of Broad City really opened up a new world for women on TV and film to be messy and crass. So much is owed to Abbi and Ilana for bringing these crazy characters to our screens. The show continues to explore the complexity of feminism, whether it be dealing with their sexuality or volunteering for Hillary Clinton. They've raised the bar for guest stars, taking that mantle from 30 Rock, and manage to milk every real and messy moment for laughs. These ladies, and the show itself, are something special.
OUTSTANDING LEAD ACTRESS IN A COMEDY SERIES
AYA CASH, YOU'RE THE WORST
Chelsea: There aren't many actors who could realistically portray depression and manage to make it funny. Aya Cash continues to break new ground about this comedy about terrible people, giving real depth and understanding to Gretchen's mental illness, but not making it her entire identity. On a show with people that are the worst, she continues to be the best.
RACHEL BLOOM, CRAZY EX-GIRLFRIEND
Jaime: On the surface, Rebecca Bunch could very easily be perceived as an unlikable character. She's sort of a trainwreck, her life a never-ending parade of terrible decisions. But every move she makes is underlaid by serious issues caused by anxiety and depression, which makes Rebecca unlike any other character on television today. Her likability, vulnerability, and reliability is entirely due to Rachel Bloom's brilliant and energetic performance. You root for Rebecca, even if you don't necessarily want her scheming to pay off, because it's impossible not to.
CONSTANCE WU, FRESH OFF THE BOAT
Chelsea: What makes Constance Wu on Fresh Off the Boat so great is that not only does she play an awesome mom, but being a mom isn't the only thing that defines her character. Yes, she gets to be a no-nonsense smart woman but Jessica also has her insecurities and faults. She's hilarious and reminds me of my mother when I tried to outsmart and get away with something. Wu is the heart of the show and continues to be the highlight each week. She's a positive voice for Taiwanese community and is exactly what TV needs in this age of poor representation and inclusion. For her general awesomeness on-screen and off, we are happy to see her take the bronze.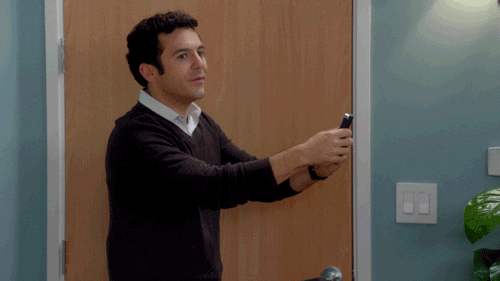 OUTSTANDING LEAD ACTOR IN A COMEDY SERIES
CHRIS GEERE, YOU'RE THE WORST
Amir
: It's one thing to be a likable jerk within the romantic comedy narrative, it's another to be a likable jerk that grows into something better. Chris Geere plays Jimmy with such charming (and hilarious) charisma that overlooking his flaws becomes easy, but it's Chris' ability to add a beating heart to his character that makes him so memorable and great.
FRED SAVAGE, THE GRINDER
Lizzie:
It's hard to make people focus on you when you're acting opposite Rob Lowe in most of your scenes, and yet Fred Savage not only managed to do that, but he was the highlight of a show that was canceled tragically early. And he did all of it while playing the everyman! After this, we need Savage back in our screens for good. Someone give him a show. Stat.
AZIZ ANSARI, MASTER OF NONE
Jenn:
Aziz Ansari's character in
Master of None
is a far cry from his
Parks and Rec
alter ego Tom, but in the best way possible. This series allows him the chance to really display the depth of his range -- from comedy to romance to drama -- and the freshman season of
Master of None
was nothing short of spectacular, thanks to his performance.
OUTSTANDING SUPPORTING ACTRESS IN A COMEDY SERIES
ALLISON JANNEY, MOM
Chelsea:
There's a reason Allison Janney wins every Emmy ever. She's Allison-freakin'-Janney. Nobody can really compare; she's the Meryl Streep of television. Janney can do drama, comedy, action, and more. You name it, she nails it. And in
Mom
, she rises above the usual low-brow Chuck Lorre comedy and brings something genuine to this dysfunctional addict and matriarch. There are scenes in which you overtly weep for Bonnie and the rest of her family. You couldn't find a better actor to play this broken, messed up woman if you tried. You get all those awards, Allison Janney, and keep being the coolest woman around.
LAUREN ASH, SUPERSTORE
Alisa:
Superstore
was my favorite new show of last season. All of the actors are fantastic, and it's truly an ensemble effort, but Lauren Ash is a unique and adorable gem. She is a fearless and hilarious actress and I can't wait to see the antics she brings to season two.
KETHER DONOHUE, YOU'RE THE WORST
Chelsea:
What makes Kether Donohue great is that Lindsay is truly the worst of them all. She goes to extreme and insane lengths in order to feel alive and less lonely. She'll trick her child into having a child one minute, then casually stab him the next. Donohue's commitment to playing this hilariously messed up person makes you cheer for Lindsay to the point where you're actually wishing she would succeed. For that and more, Kether Donohue deserves the bronze.
(Sorry Anna Chlumsky. We still love you!)
OUTSTANDING SUPPORTING ACTOR IN A COMEDY SERIES
SANTINO FONTANA, CRAZY EX-GIRLFRIEND
Jenn:
Santino Fontana deserves to win gold for "I Gave You A UTI" alone, honestly because it is probably the weirdest and most hilarious thing I have seen on television ever. But his portrayal of the curmudgeonly, perpetually sour Greg who really is sweet and soft and has a heart took me by surprise this year. He brings such genuine depth to a character who could have easily been unlikable in the hands of a lesser actor. Greg really has depth because of Santino Fontana (and his incredibly nuanced facial expressions that never fail to make me laugh and/or break my heart). I'm so excited to see what's next for our favorite self-sabotaging bartender in season two (#TeamGreg), and know that Santino Fontana will continue to shine just as he already has.
TITUSS BURGESS, UNBREAKABLE KIMMY SCHMIDT
Jaime:
Titus Andromedon is truly one of a kind. He's a very particular kind of self-absorbed, with only the occasional hints of self-doubt and neuroses peeking out. He's a star in the making and he'll do whatever it takes to achieve what he knows is an inevitability — a character trait that requires a very specific kind of actor to pull off in a way that's both endearing and consistently entertaining. Tituss Burgess embodies Titus so fully, and always performs with such crazy levels of energy and confidence that it's no wonder he's become the standout performance on what is already a standout show, filled to the brim with memorable characters who are unlike anything you've ever seen before.
ANDRE BRAUGHER, BROOKLYN NINE-NINE
Alisa:
Never has there been a character as amazing as Captain Holt on
Brooklyn Nine-Nine
. Andre Braugher delivers his deadpan snark week after week and it never gets old. He is magnificent and counterbalances the character of Jake to perfection. I need a life-size cutout of him in my life. Or the real him. I'd be happy either way.