After the voting, they are finally here — the winners of your 2017 Golden Trio Awards! This year we had so many incredible nominees that it was difficult to narrow them all down to just three per category. But you chose, and here are your Comedy/Variety category winners!
We'll be releasing our Drama and Special Category winners soon!
OUTSTANDING COMEDY SERIES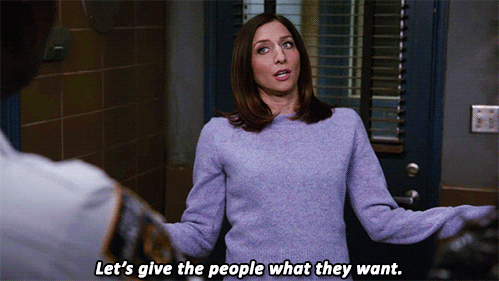 GOLD — Brooklyn Nine-Nine
Jenn:
After binge-watching the entire series of
Brooklyn Nine-Nine
to get caught up to this year's season finale, I have to say that this show is just delightful. But the thing that I love about this show is the same thing that I love about
New Girl
— the characters are so fleshed-out that you actually believe they hang out when they're not on-screen together. I love the Nine-Nine and the fact that they all actually love each other (a hallmark of Mike Schur's comedies, to be honest). I'm really interested to see what happens next season!
SILVER — One Day At A Time
Chelsea:
One Day At A Time
was supposed to be a throwback for Norman Lear but ended up being one of the most heart-tugging, beautiful family shows on television. It's wholesome and doesn't have a cynical bone in its body, but it's also not saccharine like other family comedies and doesn't shy away from issues that affect the everyday family. It gives us strong Latina women dealing with racism, immigration, sexuality, Catholicism, and veterans affairs without ever becoming an after-school special. It's so easy to fall in love with Alvarez family, and I suggest checking them out ASAP.
BRONZE — Sweet/Vicious
Chelsea:
Sweet/Vicious
is everything that's right in a television show. It's hysterical and heartfelt writing, killer acting, and wants to make society better. It's not disposable television that we have in the background. It demands to be watched and for the viewers to fall for these strong women and go out and try to make the world safer. All I can say is thank you to this show for existing and I only wish it could have been around longer.
OUTSTANDING LEAD ACTOR IN A COMEDY SERIES
GOLD — Andy Samberg (Brooklyn Nine-Nine)
Jenn:
If you didn't already know that Andy Samberg was funny pre-
Brooklyn Nine-Nine
, then this FOX show just proves it. I love that Samberg has been given the opportunity to evolve in his performance as Jake Peralta though. Throughout the seasons, we've seen him grow from a lovable, but lazy detective to someone who's willing to sacrifice anything and everything for the sake of his friends. He fell in love, and continues to live from that place. In it all, Samberg has given a great performance and continues to make me cackle just by his facial expressions.
SILVER — Donald Glover (Atlanta)
Ashvini:
Donald Glover's Earn Marks is clever, and someone who doesn't mind the grind, but is always willing to walk away. Glover has always had the ability to exude a controlled nonchalance, that remains inspiring to young people out there who just want to be weird, yet are determined to make a name for themselves in a world that often rejects outsiders. In
Atlanta
, the audience sees this characteristic ten-fold. Whether Earn is hustling to get his rapper cousin (Paper Boi) a gig or trying to source some fast food without a fight, he stays compelling, charming, and ever-resilient in a tough, chaotic industry, maintaining a mellow bravado that frankly no one else but Glover can pull off.
BRONZE — Jake Johnson (New Girl)
Jenn:
This season of
New Girl
was incredible — it was, in fact, one of my favorite seasons. And that is thanks in part to Jake Johnson's performance. Johnson is a versatile actor on a show that primarily uses him for silly plot shenanigans. But this season, Nick Miller got the chance to really grow and figure out who he is and what he wants out of life. This season saw the restoration of Nick and Jess' relationship, and Jake Johnson played those scenes with the perfect blend of humor and heart.
OUTSTANDING LEAD ACTRESS IN A COMEDY SERIES
GOLD — Kristen Bell (The Good Place)
Jenn:
I've always loved Kristen Bell — from the cheesy rom-com
When In Rome
to the animated
Frozen
— because of how versatile she is. Her facial nuances are what really sell her comedy and boy, does she make some of the absolute BEST faces in
The Good Place
. I love watching Eleanor evolve as the series progresses. Bell plays an unlikable heroine in this show. We know we should probably root against Eleanor and all of the terrible things she does (or did in her life on earth). But there's something so inherently likable and charming about the way Kristen Bell manages to extract the humor and humanity in each of her characters. I have to believe that's why she was voted into the coveted gold spot.
SILVER — Justina Machado (One Day At A Time)
Chelsea:
When I think about all the storylines Justina Machado had to play during the first season of
One Day At A Time
, I always end up forgetting just how hilarious she is between bouts of tears. A single mother and disabled war veteran trying to keep it all together is already so meaty but you can't have the tears without a little laughter. Watching her bust her kids' chops, spar with her mother, and be an icon to her daughter's best friend is a treat to us all. She holds this show together in a special way that wouldn't work if the character was broader or more reserved. Machado never misses a beat while perfectly balancing Penelope's humor, hopes, and struggles. I cannot think of a more deserving actress to be recognized and look forward to seeing her grow even more in season two.
BRONZE — Issa Rae (Insecure)
Chelsea:
After years of hard work and crushing the YouTube space, HBO ordered Issa Rae's
Insecure
to series and brought the Awkward Black Girl we all loved into our homes. The first season was hilarious, poignant, and just important. I do have to say that I am not the best person to be writing about this show and how important it is to black women. I'm a pasty white queer girl from the Midwest, and the best thing this show does is not only give a voice to the women that see themselves in Issa Rae, but that we all can relate to Issa's awkward relationship moments or her friendship with Molly. The themes of the show are both universal and specific, and that's the mark of great television. Rae is not only a wonderful actress but a brilliant creator, and I cannot wait to see what she does next. If you haven't caught Insecure, go binge it on HBO and fall in love with this delightful world.
OUTSTANDING SUPPORTING ACTOR IN A COMEDY SERIES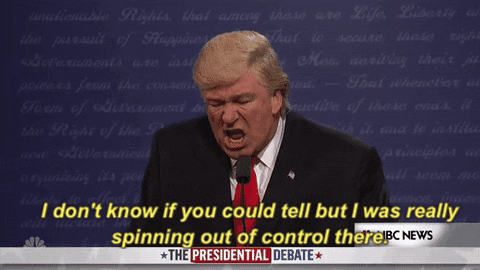 GOLD — Terry Crews (Brooklyn Nine-Nine)
Chelsea:
Terry Crews is a treasure and we do not deserve the adorable teddy bear that is Terry Jeffords. He's a man in touch with his feelings and the strongest person in any room. He stands up for his fellow cops and isn't afraid to stand up to them when they're in the wrong. Crews takes this adorable persona he's cultivated since
White Chicks
and develops this guy into the dream best friend, boss, and father. For this and so so much more, he earned this golden spot.
SILVER — Alec Baldwin (Saturday Night Live)
Chelsea:
I don't think we would have survived the election or this post-election without the brilliance that is Alec Baldwin's Trump impression. It's so sharp and biting that the real Donald Trump can't help but tweet about it. Baldwin has always been a staple at
SNL
but this year really allowed him to grow and create a character that was bigger than all of us. Without it, so many of us would have gone mad with fear and anxiety over the world being on fire, but Baldwin took this monster that we all underestimated and really got under his skin. And somehow along the way, gave us hope that we can get through this mess of a time. If that's not worthy enough of an award then I don't know what is.
BRONZE — Ted Danson (The Good Place)
Jenn:
Okay, if you didn't watch
The Good Place
this year, you're missing out. It was one of the smartest, funniest shows on television this year while also containing one of the best twists in recent memory. Ted Danson is a gem throughout the series, playing The Good Place's friendly neighborhood architect with ease. He's charming and slightly aloof, and that's the kind of character Danson fits naturally with when it comes to comedy. But the show's twist (which I won't spoil for you) allows Danson to explore a totally different side of his acting range and man, was it just brilliant to watch. Catch up on this show — it's on Netflix now! — and enjoy Ted Danson as much as I did.
OUTSTANDING SUPPORTING ACTRESS IN A COMEDY SERIES
GOLD — Stephanie Beatriz (Brooklyn Nine-Nine)
Chelsea:
The best part of Mike Schur television shows are how the women are allowed to be different kinds of people. Rosa Diaz is the toughest and coolest gal on television, and Stephanie Beatriz is a gem. She embodies the Ron Swanson archetype of curmudgeonly co-worker with a heart of gold. She'll do anything for her friends, and you better not cross her. She doesn't fall into the "I'm not like other girls" stereotype or the girl who is only friends with guys. Beatriz takes this type and transforms her into this complex cop that you want on your side at all times. Always a stand-out in this golden cast, it's finally her time to shine.
SILVER — Kate McKinnon (Saturday Night Live)
Jenn:
Look, Imma let you finish but Kate McKinnon deserves to have won an award in this year's race — and I'm glad she did! If nothing else, she needed this because of her heartfelt in-character rendition of "Hallelujah" (which still brings a few tears to my eyes). Thank you, Kate McKinnon for getting us through this hellish election season with your incredible wit, ability to perfectly embody any character you play, and your devotion to your craft.
BRONZE — Rita Moreno (One Day At A Time)
Chelsea:
If I'm even 8% as cool as Rita Moreno is when I'm her age, I know I'll have lived a glorious life. The woman has the sharpest wit and timing than any other comedian, but more heart than all of them combined. Lydia's not only the coolest grandmother in the show but her daughter's rock and the voice of reason. She loves God but she loves her family more. Moreno's performance gives religion a good name and gives
One Day At A Time
an elegance and flair that most sitcoms can only dream of having.
OUTSTANDING LATE NIGHT/VARIETY SERIES
GOLD — Last Week Tonight
Ashvini:
Watching
Last Week Tonight
with John Oliver is always cathartic. He often finds himself confounded by the world's daily societal dilemmas; in turn, the audience gets to watch him yell in agony at controversial figures like Donald Trump and Paul Ryan for the lunacy of their actions — actions that he disavows and spins into pleasing punchlines. Yet, unlike other late night/variety series hosts out there, his journalistic approach isn't one born out of entertainment, rather it's hard evidence and methodical research that solidifies his place as an effective show host. And that is something to be revered — in a time where journalists and seekers of truth are being considered pariahs, Oliver still chooses to analyze taboo topics and put them on the audience's radar, and he does so exceedingly well. His video thinkpieces gain "trending status," but they hold a quality and depth that is so hard to find in the vacuous nature of his profession. Perhaps it's British accent or his genuine demeanor. Either way, it's easy to trust his rationale.
SILVER — The Late Late Show
Chelsea:
James Corden is the treasure we do not deserve. From his Carpool Karaoke's that somehow still seem to surprise me to his crazy in studio games, he has not only revitalized late night but the variety comedy format that has been missing for decades. He can have biting commentary on our politics as an outsider or belt a showstopping tune while dressed as Belle. He's a voice of positivity (but not so positive he let's hateful people get by). His platform is for more than just silly games and he brings so much heart to television that we really need. Years ago people thought it was crazy that this rando Brit was taking over and now we can't imagine the late night landscape without its new king.
BRONZE — Saturday Night Live
Jenn:
Truth be told, I stuck around with
Saturday Night Live
this year for the election skits — and they delivered in spades (often making me laugh at the absurdity so hard that I wanted to cry). In spite of some of the cast transitions and occasionally bumpy jokes and sketches,
SNL
remains a source of comedy and consistency for a lot of people. Congrats on the bronze medal!
OUTSTANDING HOST
GOLD — John Oliver
Jenn:
Dear John Oliver, thank you for getting me through the election season with your hilarity and sharp truth bombs.
Last Week Tonight
was a saving grace for a lot of us, and Oliver continually delivered his A-game. Whether he was talking about Russia, the elections, or the Dalai Lama, Oliver's impeccable wit and pursuit of journalism was utter perfection. I love that he's able to eloquently deliver truth and news, while still making it accessible to us all. Thank you, John Oliver. We'll need you for the next few years.
SILVER — James Corden
Jenn:
James Corden has consistently been such a bright, fun host. He's charming and sweet and you can tell that he's always genuinely interested in his guests. He has the kind of personality that is perfectly suited for late night television, and what always strikes me is that Corden doesn't really delve into mean-spirited jokes (apart from those rap battles), and treats his guests and audience with the kind of class and respect that they deserve. He's funny and talented and I'm glad he won the silver medal in our awards!
BRONZE — Samantha Bee
Chelsea:
In the sea of late night testosterone, it's Samantha Bee's voice I trust in these absurd political times. While Colbert and John Oliver are great voices, sometimes you just need to hear certain political statements from a woman. It just has more meaning hearing things from her than regurgitated feminist statements from white men that feel a little hollow. With Samantha Bee, you feel her frustration, her grit, her fight because she's had to work so much harder to get where she is compared to those other dudes. Those are the women I look up to and for all that and so much more, Bee deserves this award.
Stay tuned later in the week for our Drama winners!