It's hard for me to even know where to begin with this post. And the funny thing is that I pretty much say the exact same thing every year. This year, however, the fifth birthday of my little website seemed to sneak up on me. Between my work life, personal life, freelancing, and running the website, I've been busier than ever this year — in a good way! I feel extremely blessed to work alongside an immensely talented staff who grows larger with each passing year. Currently, we have 28 people who are either full-time, part-time, or guest contributors. That is absolutely mind-blowing to me, considering when this blog adventure began, I wasn't even sure I'd have 28 views on a post, let alone people writing for me! Our site cannot continue without these incredible people, as well as the people who will join us in the future.
And though every single writer has been instrumental in this website's success over the past five years, I have to give a special thank-you to
Rae
, who — in addition to her full-time job — serves as our site's managing editor. That means that Rae formats articles, steps in as an editor when necessary, and works hard whenever I'm out of town to ensure that Just About Write keeps running and bringing you great content. She stepped up this year and has been totally invaluable to me. I'm grateful for her help, but also for her as a person.
In the continued spirit of celebration, I thought that this time around, I would talk about five of the biggest and most important things to me that have happened to Just About Write over the past five years. Some of these might be familiar to you, and some of them are just silly little things that I've loved. So sit back, grab some birthday cake (it's our birthday, after all, and you're entitled to cake!) and let's talk about some highlights of the last five years.
Some of the staff at SDCC this year!
5. GETTING TO ATTEND CONS AS PRESS
The first con that I attended as press for Just About Write was LeakyCon when it came to Orlando, Florida a few years ago. I was so excited to get my badge, to be able to attend the
Open at the Close party
, held in the newly-opened Diagon Alley, and to meet my friend Audrey. The convention was small-ish, but boasted big names like Maureen Johnson and John Green. It was also the first chance I got to interview someone in the press room — actually, multiple people. My
first interview as press
was with the cast of the hit web series
Emma Approved
. Absolute delights, we had the entire room to ourselves and got to sit and chat about characters and plot and romantic comedies. LeakyCon was pretty calm, and set the bar high for the cons I would attend in the future.
(But it wasn't just at cons where I got the chance to interview people. We've participated in roundtables with
Jake Johnson
, interviewed
Tara Subkoff
, and talked with
A Bigger Splash's screenwriter David Kajganich
.)
Speaking of the cons I would attend, I've now had the chance to attend Comic-Con twice. My first year was in 2015 when I unexpectedly (my acceptance was sent out extremely late) got the chance to attend the convention as press. It was an incredible experience, and one that is so difficult to put into words for those who have never attended. SDCC is fast. It's a few days jam-packed with panels and parties and little to no sleep for some people. You stand in long lines, eat greasy fast food, and hope that you get incredible scoop from your favorite movie and television stars.
The first year I attended, I was only in one press room: the CBS one. But that meant I talked to a few different casts, including those from
Zoo
,
Limitless
, and
Scorpion
. It was an incredible, large-scale press experience for me, made better by the fact that my table was filled with people who asked really interesting questions. I hung out with friends from
4 Your Excitement
for most of the weekend, and attended the MTV Fandom Awards, as well as various panels with them. I vowed that I would return the following year, and I did.
But this time, I brought reinforcements. Blessedly, SDCC let me take three other staff members with me to the con this year, so I brought along Maddie, Chelsea, and Jen K. Laura, one of our other writers, also hung out with us while we were there, and we got the chance to meet up with a few of our other writers and friends (like Lizzie, Connie, and Isabella) as well. It was an amazing weekend, made even more amazing by the array of scoop that we got from casts of new shows like
Time After Time
,
Frequency
, and returning casts like
Wynonna Earp
. I loved every moment of it (okay, minus the whole being sick thing), and am thankful that I was surrounded by such an incredible, supportive group of women the entire weekend.
These women have taught me more this year than most friendships have. The ladies and men on staff have taught me how to stand up for myself, how to be a better writer, how not to invalidate my feelings, and how to listen. The women — and men, too! — that I have beside me are all so unique in personalities and writing styles, and that's honestly all I ever dreamt about when this website began. I couldn't be more grateful to have them beside me.
Oh, and one more bonus from SDCC this year? We got to attend a rooftop party, hosted by NBC. That was the moment I finally went: "Yeah. We made it."
4. THE COMMENTS SECTION
It's pretty much a hard and fast rule of the Internet that you don't read the comments section. Nothing good can happen there, after all. People belittle one another, badger one another, and generally criticize everything. But one of my hopes in starting this site was that it would be a place where people could expand the conversation regarding their favorite ships, shows, and movies. And, to my happy surprise, it really HAS been that place. The
Suits
fandom in particular has taken to the comments section with glee, discussing plot points and ships with one another and speculating future episodes. In fact, our most-commented posts is a
Suits review
! The comments section was how I really got to know Connie and Becca, two women with extremely intelligent insight into characters and writing.
I'm hopeful that unlike most of the Internet, the comments section at Just About Write will continue to be a place that fosters the spirit of inclusion and good conversation.
3. THE PASSION OF FANDOM
This whole blogging adventure began with the
Community
fandom — one of the toughest, most resilient fandoms I've ever had the pleasure of being a part of. It's been over 13 years now since I've been involved in fandoms online, and that means I've seen a lot. I've seen the best and the worst of humanity, I can tell you that. I've seen people given death threats over their love for a fictional character, and I've seen people rally around Internet friends who are grieving the loss of someone close to them. I've seen it all, for the most part, and though it's really easy for me to slip into cynicism and bitterness because of that, I constantly still cling to the hope that fandom provides.
It's what has kept this and every other site out there dedicated to television afloat. You're the reason we can keep doing this, day after day. I would write even if I was the only person writing, but you all are my cheerleaders. You encourage my team, you provide your input, and you genuinely — most importantly — care about the characters you watch on television. Though
Community
was a tiny show by Nielsen standards, it ruled Twitter for the brief flicker of time that it was on NBC (and then Yahoo!), which — in actuality — was six years. We latched onto the hashtag #SixSeasonsAndAMovie, and it became our rallying cry whenever we were on the brink of cancellation. We found creative ways to drive support for the show, including tweeting the advertisers we saw during commercial breaks. We came up with a
Community
fanart show which drew the attention and attendance of some of the cast and crew, and one of our own created and planned a convention strictly for
Community
fans. That fandom gave me so much life, and continues to do so, as it has brought incredible people and friends to me.
Arrow
's fanbase is incredibly passionate, and they really fell in love with our character appreciation piece on Felicity Smoak. The determination and drive that consumes the fandom, especially the shippers, can — at its worst — be toxic. But, again, whenever I recognize the pure joy that they get from the show and the way that they care, it's incredible and overwhelming and impressive. Suits has a passionate fanbase, as do many of the shows that we cover here. We've been incredibly blessed to have gotten the chance to know so many amazing people in fandom (including people like
Jen K.
and
Anne
who were and continue to be mouthpieces for the shows they love), and look forward to getting to know more of you!
2. THE CELEBRITY RESPONSE
If I tried to list all of the celebrities who have ever replied to our posts over the years, we would be here for the next five years in celebration. And though I don't fangirl every time someone with a blue verified check mark favorites or retweets our posts, there are some people whose responses have impacted me because of how genuine and down-to-earth they are. So let me just briefly discuss some of the highlights:
Of course, Dan Harmon was the first celebrity to respond to me almost five years ago.
The Community cast was extremely supportive of our reviews and the site, but specifically Yvette Nicole Brown and Danny Pudi. Writer Megan Ganz was also a supporter in the early days.
Grant Gustin's tweet about our TV MVP Series post will forever be one of the most important things that has happened to me.
The response from the Lizzie Bennet Diaries cast when I wrote their goodbye letter was extremely positive and, to this day, fills me with warm fuzzies.
John Stamos recently retweeted one of our posts, and the child in me jumped around screaming, "UNCLE JESSE READ OUR POST. UNCLE JESSE READ OUR POST." Because, you know, professionalism and all that.
Gina Rodriguez is always such a sweetheart and has read and commented on many of our posts. Her co-star Jaime Camil is incredibly sweet and humble as well.
Krysten Ritter recently promoted our 2nd Annual Golden Trio Awards, and even gave a shout-out to winner Shiri Appleby. Aya Cash's tweet in response to her win is probably my favorite.
Speaking of, the UnReal cast has been absolutely delightful in their responses to the posts, specifically Constance Zimmer and Shiri.
The cast of Crazy Ex-Girlfriend has been warm and welcoming to us and responsive to our articles as well.
And last but not least, Patti Murin who is an incredible human being, singer, and actress recently joined our team to discuss the Bachelor franchise. We love Patti almost more than we love puppy GIFs (and we REALLY love puppy GIFs).
I could list more, but these incredible human beings — as well as numerous others — took the time out of their busy schedules to read something that we wrote here. And that will forever earn them my respect and gratitude.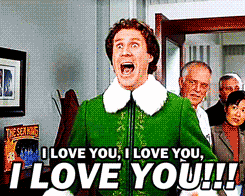 1. THE STAFF
Haven't I talked enough about them? No?
I don't make money doing this job. I freelance on the side and work full-time as a writer, but Just About Write is my non-moneymaking hobby. And I still can't believe that almost 30 people are willing to write for me even when I can't pay them. As I've said before, there are so many different people who work for us — college students and recent post-grads, young professionals, moms, and people who even live outside of the United States. One of the biggest blessings in my life over the past five years has been THEM.
I started out doing Just About Write alone. And if it was just me still running it, it would be extremely difficult to even keep up with everything that's happening. Heck, even if it was just two people, it would be difficult. My dream, in starting this site, was that someday I would be able to sit back and let the staff take over. They'll tell you that I've done that more and more over the years (Jaime, who has been with me since the beginning, knows how much I've loosened my grip on the site since then). I want people to come alongside me on this journey, and my ultimate hope is that this will be a place where they can make friends, find community, and become better writers. Everyone here is passionate about what they do and what they love. I could not ask for anything more.
My staff — or my squad, if you prefer — is so important to me, and every day they continue to impress me with their devotion to Just About Write and with the way they live their lives. They're the reason that we have over 1.3 million pageviews as of today! So if you happen to see someone's name in the title of a piece you really like, or find that you're drawn to a certain reviewer's pieces, please let them know you appreciate them. They hear it from me all of the time, but I know they would love to hear it from you all too.
Most of all, I want to thank every single one of you who supports and has continued to support this site. I hope that in five more years, I'll have an office somewhere in our headquarters and I'll actually be able to pay for my staff to write for the site. Until then, we'll continue to bring you great, quality content about the shows, movies, and books you love.
Thank you for caring about us.
We care so deeply for you!