Is there a fictional mom that you absolutely adore? One who has made an impact on your life? (Or multiple ones, perhaps?) It doesn't matter if they're from television, film, webseries, or books — mothers impact us. Well-written female characters are so important (in life in general and especially to us here on staff), and they can often feel more personal and real to us than our family sometimes.
It's Mother's Day, and we thought that in lieu of a TV MVP Series post, we would celebrate fictional moms in addition to our real-life motherly figures. There are so many amazing fictional moms and we know that we can't celebrate them all, but we thought we would highlight some of the most important and influential ones for each of us. Some of these are from the 90s — moms we literally grew up with — and some are from the present-day. But one trait is shared among them all: they have all influenced us for the better.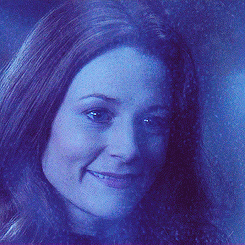 LILY POTTER
(Harry Potter)
Mel:
When people think of motherly influences and figures in
Harry Potter
, it is likely that Molly Weasley comes up first, and for a good reason. But Lily Potter has always been a lingering favorite of mine both as a character in her own right and her role as a mother. She's a constant presence in Harry's life and often her memory is used as a source of comfort for both him and those that knew her. She gets little live screen time in the series, but her aura of protective motherhood is what truly defined her character. After all, it was her sacrifice that saved Harry and granted him lasting protection throughout his life, even when she wasn't physically there to help him. At the young and tragic age of 21, she gave her life for her only child, knowing the lasting affects it would have. The moment in which Dumbledore informs Harry that the "far more ancient magic" of love protected him from Quirrell and Voldemort in the dungeons is poignant and is a motif that returns multiple times throughout the story.
Lily's sacrifice pervades the story and serves as the catalyst for Harry's own ability to provide the same sacrifice for his fellow students the night of the Battle of Hogwarts. She is more a presence and symbolic character than an active mother like Molly Weasley who represents a different, but no less important, form of motherly protection. And I've always been drawn to Lily — how the mention of her name seems to quiet rooms and the reminder that one brave young woman, who wanted nothing but to see her son live, could topple the greatest dark wizard in history with something so simple but so deeply felt. Lily Potter is a grade-A mom, despite the tragedy that prevented her from ever truly getting to live out her potential as such.
BEVERLY GOLDBERG
(The Goldbergs)
Maddie:
The interesting thing about Beverly is that there is an actual, real Beverly Goldberg (and she is hilarious on Twitter) — which is part of the reason why I think the character is written so well. Beverly could easily fall into a stereotype, but the show conveys her with nuance, depth, and heart. Furthermore, Wendi McLendon-Covey embodies the role so well that she is not just one of the best fictional moms, but one of the funniest characters on television. In my opinion, the core of the humor just comes from the innate truth in the story and her performance. Sure, with a personality even bigger than her hair sometimes, Beverly is a little over-the-top and obsessive, but it doesn't feel forced. That's just who Beverly is. She loves so deeply and believes in her kids so much. The show does a good job of show both perspectives. From her kids' point of view she is "The Original Smother" but we also see that Beverly just wants the best for each of her kids and will not let anything prevent her for being for them every step of the way (even when they don't ask her to be) or she "has failed as a mother."
But I love that she is so unapologetically confident in who she is. One of my favorite episode of the show ever is "The Kremps" which contrasts the Goldbergs with their much quieter and seemingly perfect neighbors. At first, Beverly tries to be more like them but realizes that is not who she or her family is. She's loud, a little overbearing, and drops the F-bomb a little more than occasionally, but on the other hand she is confident and unafraid to stand up for herself or her family. Furthermore, McLendon-Covey plays Beverly with such earnestness and warmth that you can't help but love her.
CLAIR HUXTABLE
(The Cosby Show)
Amir:
Watching Clair Huxtable with her children is to truly understand not only the mechanisms of motherhood, but the mechanisms of black motherhood. Stern, assertive, funny, loving, intelligent, scary, independent, and — most importantly — fair, Mrs. Huxtable manages to balance all of these traits to bring a character who both immensely loves her children, but also has no qualms setting them straight if she has to. She shows care and affection for everyone who crosses her path, but will never allow herself to be stepped over or spoken down to. She tears into a son-in-law who doesn't grasp that his wife shouldn't "serve" him, and she puts fear into her own children when they do anything she deems unacceptable like lying, dressing too provocatively at a young age, and doing anything against the law. While growing up I always sided with the children with a "but that's not fair!" attitude, as I've grown, I appreciate Clair in the same way I appreciate most adult characters from John Hughes movies. She speaks the essential truth that children don't want to hear, ranging from being their safety net to being their voice of reason. If any character has a chance of surviving the tattered reputation of
The Cosby Show
in this day and age, I sincerely hope it'll be Clair Huxtable.
LORELAI GILMORE
(Gilmore Girls)
Lizzie:
Before Lorelai Gimore, I thought mothers were supposed to be... well, more like my mother. Loving and kind and giving, but still, at the end of the day, a mother — the authority figure, and not a friend. Certainly not a partner-in-crime. A mother, to me, was someone who inspired you and showed you the way, but not someone who walked the road of life with you, side-by-side.
Oh, how very wrong I was.
Lorelai showed me that mothers don't have to be these mythical creatures who know everything — they can be like me: flawed individuals who, in spite of their mistakes, try their best. She showed me that it might be okay to one day think about kids, because, though I've never felt I could aspire to be my mother, I always did feel I could do the Lorelai thing — that this version of motherhood was attainable. And mostly, she inspired me to break the wall within my own family. She made me see that we didn't have to conform to stereotypes, and that our relationships were entirely ours. And she managed to do this all while teaching Rory how to love, how to find your way in the world, and how to be true to yourself.
DONNA SMOAK
(Arrow)
Maddie:
Plain and simple, Donna Smoak is the embodiment of sunshine. She is fabulous and I love her. Upon first introduction, Donna simply seems to be a flash of bright colors, big blonde curls, and squeals meant to serve as a foil to Felicity. But we learn that she is so much more than what she wears. She may be different than her daughter in some ways, but Donna Smoak highlights the true strength required to remain positive and see good in the world — a trait we all admire in her daughter. Donna had always wanted to be there for her daughter, but just initially didn't know how to connect with her. However, as her relationship with Felicity has deepened, the audience sees how fiercely Donna loves and how well she knows her daughter. Donna's unconditional love, as well as her warmth and wisdom is evident in each of her scenes with Felicity. She's a refreshing light in the world of
Arrow
and has been one of the highlights of this season — largely in part to Charlotte Ross' amazing and endearing performance. She truly is a character who is both delightful and admirable.
LILY POTTER
(Harry Potter)
Connie:
My love for
Harry Potter
is two-fold. There is, of course, my love for the world J.K. Rowling has created and her genius in executing it. Then, there is the big similarity between Harry and myself, which brings us to our Mother's Day post. It is well documented that Rowling wrote much of
Harry Potter
after the death of her mother. The themes of different kinds of motherly love are spread throughout the series and give the books much of their heart and magic. Lily Potter doesn't get a lot of page time, but everyone knows her story: a brilliant and spunky witch, she lived during a war, chose to have a child anyway, and sacrificed herself to save him. The magic of her sacrifice ensured Harry could not only live, but defeat the darkest wizard of their age.
Like Harry, my mother also died when I was very young. Too young, in fact, to remember her. I didn't have a Dursleyish upbringing (I was more like Neville, living with my grandmother), but the similarities in wanting to know more about someone very important to you, but who you have never met always brought me closer to Harry's story. One of my favorite moments in
Deathly Hallows
is when Harry finds Lily's letter. He reads her words, tracing the letters she wrote in her own hand, wanting so very much to be closer to her. The photo he finds, torn in half by Snape, also resonated with me. It's the one photo Harry finds where he and his mother are in the same photo — yet it is ripped apart. A few years after
Deathly Hallows
came out, after searching through the massive amounts of photos in my apartment, I came to the realization that there is not one single photo of my mother with me — she'd been too ill or in the hospital. I did, however, find a photo of my mom that she'd sent to my grandmother, where she'd written a letter on the back. I similarly traced her letters and looked to see how my handwriting matched hers — looking for the nature where there was no nurture.
Yet, there is one more similarity I have with Harry that Lily helped me realize. It seems that my mother sacrificed herself to save me. My mother was sick with cancer, off and on for much of her life, but it hit her heavily around the time I was born. That's one version of a war, isn't it? She only lived six months after my birth and was sick for that entire stretch of my infancy. The very act of having me was a sacrifice. She'd had two boys before and wanted a girl so much, but in giving that girl life, she lost her own.
Mothers like Lily and my own are actually seen quite often in media, particularly superhero/fantasy stories — it probably explains why I am drawn to them so much. Mothers like them represent the pinnacle meaning of a mother's love and sacrifice. This year, on Mother's Day, I want to thank Lily Potter (and J.K. Rowling) for showing me the love my own mother had for me, for showing me what I can never know through fiction.
MARIA VON TRAPP
(The Sound of Music)
Jenn:
I grew up on
The Sound of Music
, and in spite of the fact that none of the von Trapp children were biologically Maria's, I love how quickly and naturally she embraced them as if they were. The children didn't need someone pretending to be their mother — they needed a woman who would love them and treat them kindly. As the relationship grew, Maria truly became a mother to all of the children. And the reason that Maria is such a great mother is simply because of her patience, kindness, and love for the children. She never wanted to replace their birth mother. She simply wanted to be there for these children, no matter if their struggle was related to a relationship or tying their shoes. Her absolutely wonderful demeanor (and the fact that she's played by queen and hero Julie Andrews) and love for music is what adds to her likability as a person and a mother. A mother is one who constantly supports, loves, and teaches, and this is Maria von Trapp in a nutshell.
ELEANOR WALDORF
(Gossip Girl)
Megan:
Blair Waldorf was a very multidimensional character who was both fragile and fiercely strong. She was, after all, Queen B. But it was her mother that we should appreciate. Where Lily van der Woodsen was almost careless in a way and made rash decisions, Eleanor Waldorf was smart. She was business-savvy with her respected fashion house, she was steadfast, she was supportive but she also didn't always put up with Blair's nonsense. When Lily would lay down and put up with Serena's tantrums, Eleanor would call Blair out on them and know when to walk away from an argument. She believed in Blair and what she was capable of — of who she was destined to be. She was willing to do whatever it took to make sure Blair, even in the midst of her royal matrimony scandal, was okay. If it wasn't for the example Eleanor set, we wouldn't have been blessed with our Queen Blair Waldorf.
FRANE FINE
(The Nanny)
Maddie:
The theme song of this show kind of explains it all. Fran Fine was "just exactly what the doctor prescribed" for the Sheffield family. Long before she became the children's mother officially, Fran was exactly what each of the three Sheffield children needed. Over the course of the series, we see Maggie, Brighton, and Gracie grow from children still deeply hurting from the loss of their mother to confident young adults who knew they were truly loved. Furthermore, the love between her and the kids is just as important as the romantic love between Fran and Maxwell. Fran brought love and laughter back into the Sheffields' life, and prompted Maxwell to be a better father to the kids. Her vibrant personality and ways so different from their own helped make the house a home. It was her loving and caring nature, even though it was often conveyed in unconventional forms, that made the Sheffield family whole again.
MOLLY WEASLEY
(Harry Potter)
Jenn:
Oh gosh, when it comes to great mothers, how can I not mention Molly Weasley? Not only did she successfully raise her own children, but she also took Harry in as one of her own. When I read
Harry Potter
, all I could think was: "Molly is the ultimate in mothers." And the best part about the book series was that J.K. Rowling showcased how strong Molly was, simply because of the fact that she is a mother. She was caring, supportive, and the traditional "mother hen" figure — checking up on her children and praising them whenever they did something great... then sending them Howlers when it was necessary. The thing is, Molly and Arthur never had much. And so it would have been easy for Molly to overcompensate and be ashamed of her modest lifestyle. But she embraced her circumstances and constantly made the best with the modest that she had. Not only did Molly create a life for her family, but she also raised amazing children. She passed on her strength to every child, constantly reminding them of what was important in life and reinforcing their moral codes. She is the reason her children are heroes. And Molly became like a mother to Harry, too, which I think is fantastic. She had so many children to deal with already that it's incredible she didn't brush past Harry. She embraced him in every single way that she would have her own flesh and blood.
And if anyone ever threatened the lives of her children, Molly went from completely unassuming housewife and mother to terrifying monster. (I mean, just ask Bellatrix.) I absolutely love Mrs. Weasley and am so grateful that she existed in literature for me as a child.
MARIE BARONE
(Everybody Loves Raymond)
Jon:
Seeing as how this week's TV MVP is focusing heavily on mothers, I figured that I would go back in time to the show that first really impacted me as a young child:
Everybody Loves Raymond
, which is still one of my favorite sitcoms of all time.
Growing up, I vividly remember the shows I watched with my family on weeknights. A lot of shows came from CBS, which was a staple in my household. The big standouts for us were
Survivor
, (which my mother still watches to this day),
Early Edition
(a.k.a., the most underrated show of all time), and
Everybody Loves Raymond
. The portrayal of your average, everyday suburban American family, featuring some of the zaniest relatives of all time, really struck a chord with me, as it influenced the way I looked at sitcoms and how comedy in sitcoms could truly work.
The best parts of the show, at least to me, were never Ray, Debra, and the kids. Instead, the comedy really shone when it focused on Robert, Frank, and Marie. Out of those three, I connected to Marie the most. She reminded me a lot of my own grandmother, who passed away at the beginning of this year. Marie was always so loving and devoted to her family — always making sure they were okay and fed, and just generally checking on their well-being.
My grandmother was essentially the embodiment of Marie Barone. She was always the kindest, most caring woman, always checking in on her family, making sure we were well taken care of (she always said if we didn't finish the food, she'd just give it to our dog). My grandmother also loved
Everybody Loves Raymond
and loved Marie, seeing a lot of herself in the character. With the recent passing of Doris Roberts, paying tribute to both wonderful women seems like a fitting gift for Mother's Day.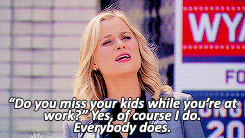 LESLIE KNOPE
(Parks and Recreation)
Jenn:
Though we don't get the chance to see a lot of her in action as a mother in
Parks and Recreation
, Leslie is such a role model and inspiration. A feminist who believes in women taking charge of their own destinies, Leslie is a wonderful mother because she cares deeply about her children. She loves them and is committed to them, just like she is committed to her marriage and her career. Leslie is everything a mother should be — caring, considerate, supportive (you just know that she'll be the embarrassing mom at every one of those debate tournaments or chorus concerts), and invested. I think this is one of the best words to describe Leslie Knope, really. She is wholeheartedly invested in the people she loves. Nothing is too silly to celebrate, no circumstance too small to be recognized. This is a woman who makes a plethora of scrapbooks of her children (proof, again, of how invested she is) and who will be their biggest support and cheerleader. I love Leslie so much, and I'm grateful that
Parks and Recreation
was able to give us a glimpse into motherhood for her.
DONNA ROSEWOOD
(Rosewood)
Alisa:
Rosewood
entered the television scene this season like a ray of sunshine. It's the show I didn't realize I was missing, but now don't want to live without. There are so many great characters on this show, but the one that holds everyone together is the Rosewood matriarch, Donna Rosewood, played by the mesmerizing Lorraine Toussaint. Donna Rosewood is everything you hope for in a mother — fierce, loyal, loving, protective mama bear, and deliverer of hard truths. She is by no means perfect, and her relationship with her two adult children reflects all of the nuances and complexities of real life. She is overprotective of her son, Beaumont (Rosie) Rosewood, who suffers from a wealth of health issues due to his premature birth. She did not react well when her daughter, Pippy, came out as gay, and though she fully accepts her now, it took them years to rebuild their relationship.
The best thing about Donna is that despite the real flaws her character is infused with, she is her children's biggest supporter and advocate. She will defend them on any issue and she backs them 100% (though she's not afraid to tell them privately when she thinks they're making a mistake).
Donna also serves as surrogate mother for Pippy's partner, Tara Milly Izikoff, known affectionately as TMI. TMI was disowned by her own family after she came out as gay, and Donna has made it her mission to shower TMI with all the love and support she should have received from her own mother.
Donna is truly the foundation that underlies not only the Rosewood family, but the entire show. If one day I am even half the mother Donna Rosewood is, I'll know I'm doing something right. I'm so thankful to have found this show, and that characters like Donna Rosewood, and actors like Lorraine Toussaint, are there to inspire week after week.
MOLLY WEASLEY
(Harry Potter)
Megan:
When I was in elementary school, a phenomenon took over the literary world.
Harry Potter
burst into my life and has been a major part since. While everyone was finding characters to identify with (I'm part Hermione, part Neville and a dash of Fred and George, with the appetite of Ron), I found myself gravitating more and more towards Molly Weasley as the series went on. She was the type of mother that I wanted, and that was perfect for the seven strong brood that she had charge over. (Later nine if you counted how often Harry and Hermione were with them.) She was sweet and caring, but also stern and commanded respect.
When we first meet her, she's ushering four of her children off to Hogwarts and has one in tow. Instead of shrugging him off, she assists Harry in getting through the barrier to the train. She could have been annoyed that he had no idea how to get on the platform, but she wasn't. She helped him in a warm, maternal way. And she only got better from there. Molly was angry that her sons had gone to rescue Harry, but understood that he needed the rescuing and was keen on doing so herself in the second book. In the third book, she made sure that Harry had everything he needed. Even when she wasn't sure how she was going to afford to send all of her children to school with all of the right requirements, she never let on that she was worried and always made sure that Ron's best friends had what they needed.
As the series continued, Molly was the mother that we all had wanted. She made sure her children ate, and also that they knew she was proud of them. She kept up tradition (knitted jumpers, anyone?) too. Even in the face of impending doom, Molly made sure that Fred and George appreciated their success, that Ron and Harry had wonderful 17th birthdays, and that Bill and Fleur had a magical wedding to remember.
Not only that, but Molly Weasley didn't hesitate to participate in the Battle of Hogwarts and fight to protect her family, screaming the single greatest line that had me jumping out of my bed through my tears — "Not my daughter, you bitch!" as she struck Bellatrix down. It was amazing, it was perfect, and in a world where love needed to triumph, she was the true heart of the Weasley family.
Who are some of your favorite fictional mothers? Hit up the comments below and let us know! And a very happy Mother's Day to all of you mamas out there. :)