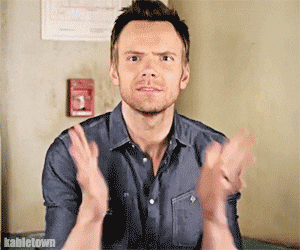 We've begun to hit that lull in television right before April and May sweeps in which shows we love are on hiatus and we're itching for their return. In spite of the fact that a lot of the television shows the staff watches are still on break for another week, there were some astounding performances that we watched this week. Between new dramas, Netflix originals, and some slapstick-shenanigan comedies, there was still plenty to celebrate on television.
Joining me for this round of the TV MVP Series are:
Let's get to it, then!
Jenn's MVP: Aziz Ansari as Dev (Master of None)
Why he's the MVP: I'm always late to the metaphorical TV party. When Jessica Jones was sweeping Netflix, keeping people awake until two in the morning or later because of binge-watching, I caught on to the new series a bit slower. I paced myself with the episodes, drawing each one out a little longer than before (except in a few cases where the episodes were far too compelling.) I did the exact same thing with Master of None — a Netflix series created by and starring Aziz Ansari. I didn't quote know what to expect upon watching and now that I've finished the entire series this past week, I'm still not quite sure how to classify this series. Most episodes can be self-contained in a lot of ways, even though there is this gentle overarching thread of plot connecting them. Master of None is a show that doesn't try too hard and doesn't force-feed morality or any sort of neat and easy "lesson" into the story or its characters.
Quite simply, it is a show about how to be alive.
I loved Aziz Ansari as Tom Haverford for years on Parks and Recreation, and he absolutely astounded me in Master of None because of how nuanced of a character Dev is, and how far-removed he is from the exuberant and extravagant Tom. It took a few episodes for me to warm up to Dev as a character and pinpoint the kind of person that he is. But throughout episodes like "Nashville" and "Parents" (both probably the best episodes of anything I've watched this year), I began to draw more and more toward Dev and his journey. That's all because of Aziz. He has this immense likability to him, where he can be calm and composed one moment and completely ecstatic and wild the next. It's in those quieter moments that Aziz's acting ability really shines through. He's so subtle in what he does, and it's such a stark contrast to his portrayal of Tom, who was always over-the-top. As a comedic actor, Aziz absolutely carries this show on his shoulders — he is witty, smart, and completely believable.
But it's the other side of Dev — the romantic lead one — that I found most impressive in Aziz's performance. It's one thing to be a believable and likable comedian; it's another to be a believable and likable lead in a romantic story. And though Master of None isn't a story only about Dev and Rachel, it IS a romance that is threaded throughout the entire series. And Aziz absolutely knocks every emotional beat out of the park without appearing melodramatic or insincere (seriously, all of "Mornings" and "Finale" are proof of that).
If you haven't watched Master of None yet, do. It's completely worth your time (featuring epsiodes about really complex and amazing issues, like feminism and racism and family) and you'll fall in love with Aziz Ansari's incredible performance.
Bonus MVP: Jake Johnson as Nick Miller (New Girl)
Look, guys, I really and truly love Nick Miller. And I'm baffled that Jake Johnson has yet to receive or even be nominated for an Emmy for this performance. In "Goosebumps Walkaway," Nick was dealing with Reagan leaving and struggling over whether or not to tell her how he feels. In the end, Nick decided that he would say goodbye to her with a "goosebumps walkaway" — a line that would resonate with her and leave her missing him. But what was truly perfect about this week's performance was how Jake balanced the line between the sincere version of Nick Miller and the hilarious, skittish, cartoonish one. I love both versions and I love when the writing of a script allows Jake to play around with Nick Miller's frantic energy. His conversation with Jess and Reagan, upon realization that they were hanging out together, was hilarious. And then there was so much sincerity at the end of the episode when Nick admitted to Jess that he missed her. I love the range that Jake Johnson has and how effortlessly he plays this messed-up, broken, hysterical, wonderful character week after week. For that, he's my bonus MVP.
Alisa's MVP: Gabrielle Dennis as Pippy Rosewood (Rosewood)
Why she's the MVP: In a season that's brought a batch of fantastic new shows, Rosewood is at the top of the list, in my opinion. On its surface, Rosewood is your standard police procedural; but dig a little deeper and there's the warmth of a bright and charismatic cast of brilliant actors portraying some truly lovely characters. Among my favorite is Pippy Rosewood, played by the fantastic Gabrielle Dennis.
I love that amongst the standard crime-solving plotlines, Rosewood delves into some pretty weighty issues involving family and acceptance. In this week's episode, we learn more about Pippy's past, specifically that after coming out as gay to her family as a teenager, she ran away and lived on the streets for several months. Pippy's pain at reflecting on this time in her life — at the pain she felt coming to terms with who she is in a family that didn't know how to deal with a gay daughter — is heartbreaking, and unfortunately all too common.
Gabrielle Dennis brings such grace and humor to her role as Pippy week after week, but in this episode, her depth as an actor was even more evident. The raw emotion and pain she brought to Pippy, as she remembers her past, and confronts her mother in the present, was both difficult and beautiful to watch. Her role on Rosewood has shown her range, and it won't be long before Gabrielle Dennis is a household name. As her Twitter bio reads, she's "that girl with the bright future," and I don't doubt it for a second.
Megan's MVP: Zosia Mamet as Shoshanna Shapiro (Girls)

Why she's the MVP: Zosia Mamet has been a standout of HBO's Girls from the moment she stepped onto the screen four seasons ago. With her flair for fashion, her ever-changing outlook on life, her brutal honesty (at some of the worst times), and her knack for one-liners, Shosh is by far the most entertaining character on the show. Hannah can be really one-note and annoying sometimes (sorry, not sorry) in her self-absorption, but there's something refreshing about Shoshanna.

And the character is brought to life beautifully by Zosia Mamet. This week's episode was focused almost entirely on Shosh and her life in Japan. At the end of the last season, she decided to take a job in Japan that would remove her from all of the pain and sadness she had come across in New York and a brand-new relationship that she isn't exactly sure about. We see her go through her daily life in the bustling city with happiness and every attempt to fit in with the people she works with. It's so eager and joyful.

When Shosh learns that she's being let go, she instantly freaks out. She can't leave this job, this place. It's taken her away from all of the drama of her former life and given her the chance to reinvent herself. Her face crumbles and Zosia goes from happy and thrilled to crushed and angry all at once. She makes you really believe that her character can flip her emotions that quickly.

As the night goes on, Shosh continues to feel depressed about the turn of events. Even when sad, however, Lena Dunham writes this characters some amazing zingers. It's fantastic the way Zosia delivers the lines so easily and in such a believable way. After Shosh calls her boyfriend in tears, she decides to make a decision and call her boss in order to hook up. Her night goes from depressed to drunkenly dancing the night away and hitting up a dominatrix den with some co-workers. She's suddenly up for anything.

She sees her life differently and — at the last second — decides to stay in Japan. You admire the almost reckless decision-making of Shoshanna and realize that her character is hard to pull off from an acting standpoint to make both relatable and redeemable. Zosia faces the heavy task of tackling a character who is overenthusiastic and self-absorbed in a way that Hannah seriously lacks. You don't mind that Shosh is a little wrapped up in her own world and isn't really looking for visitors to tell her that her way of doing things is wrong. You want to understand her perspective.

Without the right actress behind the material, this character could come off as superficial and annoying. With Zosia, you believe her. You want to see Shosh as that friend who will give you the honest advice you need to hear. Zosia does a fantastic job of balancing the endearing and the irritating. She takes a character that could be flat and gives her a more well-rounded, multidimensional appeal. It's beautiful and wonderful and one of the best parts, still, about the show.
Who made your cut as a TV MVP this week? Hit up the comments and let us know!