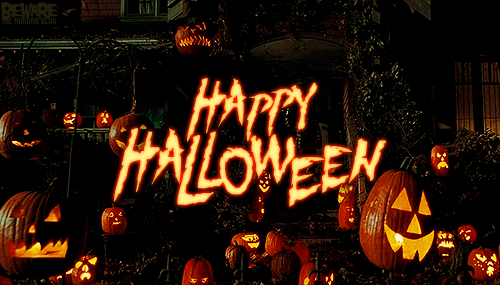 We are almost done with the month of October which means you obviously should be well on your way to spooktown and don't need me to write you this list, right? But if you slacked at the beginning of month and want to finish strong, I've got an epic list of ways you scare yourself silly by October 31st.
Trick or Treat (2007)
This is my number one horror recommendation when October rolls around. This film, written and directed by Michael Dougherty, is an anthology horror film taking place in a small Ohio town on Halloween night. It follows the seemingly unconnected stories of a homicidal school principal, a group of school kids who play a fatal prank, a young woman looking to partake in a rite of passage on Halloween night, a local shut in with a dark past, and a neighborhood couple who face the consequences of breaking Halloween traditions, all watched over by a strange trick or treater known only as Sam.
The Witch (2015)
Not only was this the best movie to come out in 2015, but it was also one of my favorite recent films period. This debut for director Robert Eggers was a foray into the most primal fears of the human mind and the unjust ways we selfishly protect ourselves. The story follows a Puritan family in the early days of colonial America who are excommunicated from their settlement for differing religious practices. They are forced to fend for themselves at the edge of the woods where something seems to be lurking nearby.
Halloween (1978)
How can you not watch
Halloween
on Halloween? Throughout his illustrious career, this has remained one of John Carpenter's most iconic films, helping launch the well-known tropes of the slasher genre and burgeon the role of the Final Girl in the horror film pantheon of characters. The film revolves around a group of babysitters who are hunted by a deranged and recently-escaped murderer returning to his hometown on Halloween night.
The Haunting (1963)
On the list of scariest films of all time,
The Haunting
generally tends to rank high, even to this day. And it's no wonder, considering Shirley Jackson's source material helped define the entire genre of terror fiction. The film follows a group of strangers brought together as members of a paranormal investigation group at country house with a dark history. As the nights go on and the strange atmosphere of Hill House begins to wear on the group, they're forced to confront whether it's truly supernatural or all in their heads.
Sleepy Hollow (1999)
This is a story we all know, and one that may have frightened you once or twice while you were out late trick or treating on Halloween night. The old legend goes that a headless horseman haunts the Upstate New York town of Sleepy Hollow, carrying a jack o' lantern and chasing you into the night. Tim Burton's take on the story is a lot more supernatural and heavier in the mythos of the story, following a young Ichabod Crane who was sent to investigate a series of disappearances in the quiet town that's under a dark curse.
The Exorcist (1973)
The scariest horror film of all time is still a must-watch for horror fans during October (and also, always). This critically acclaimed film changed the way we looked at horror films, and echoes of its influence can still be felt today in the work of James Wan and other directors. The film centers around two stories that are brought together by horrifying events: on one side, the daughter of a divorced actress has fallen under the influence of something evil while a local priest tries to reconcile is faith with his cynicism after his mother's death. As it turns out, Father Karras may need all the unwavering faith he can muster to help Regan.
Paranormal Activity (2007)
Okay, look. Listen. Look and listen.
Paranormal Activity
may not stand up so well in retrospect thanks to terminal franchise choices, but when it was released it was one of the scariest films of the past twenty years. Don't let anyone try and mansplain you otherwise. This was the best attempt at replicating the beauty of
The Blair Witch Project
by focusing in on tension and a slow burn rather than jump scares or heavy plot. Set in a quiet southern California suburb, the film focuses on Katie and Micah, a couple who decides to try and capture the strange paranormal activity of their house and soon finds a lot more than they bargained for.
The Blair Witch Project (1999)
You knew this was coming. Not only is this easily my favorite horror film ever but it's probably one of my favorite films period. It revolutionized the way films were marketed at the dawn of the internet, is possibly one of the most quintessential films of the 90s in both aesthetic and subject matter, and defined an entire twenty years of found footage films. The story is presented as the footage recovered from a doomed film crew that went into the Maryland woods in order to make a documentary about a local legend of a witch. While they are never heard from again, their footage portrays their final days.
The Craft (1996)
Okay, I freaking love this movie. If you want to point to any one thing being responsible for the witch craze of the 90s, this was probably it, predating
Buffy
and
Charmed
(the latter of which some consider to be a bit of a rip off). Since then it's become a cult classic and considered a feminist viewing requirement. The film follows a young woman who comes to a new school and finds herself falling in with a group of social outcasts with similar powers to her own. Together, the coven exacts revenge on their bullies... before the consequences come back to haunt them.
Scream (1996)
Admit it: You were scared to answer your landline (for a while, back when you still had a landline). This postmodern look at the slasher genre reignited horror films and helped burgeon in an age of meta horror is a favorite of mine virtually any time of year. And now you get double circa 1996 Neve Campbell and Skeet Ulrich for your October. The film follows a young woman one year after the murder of her mother, who seems to be stalked by the same killer.
So there you are: my recommendations for a scary good time! Hopefully you can enjoy the rest of your October as it winds down and the premature holiday season slowly creeps in to throttle us all with peppermint scents.