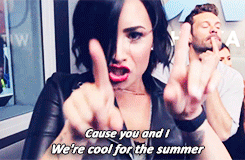 Welcome back, friends, from a mini-Summer Lovin' hiatus! Though there have been a lot of horrible things that have happened in the world over the past few weeks — including the weeks we were on hiatus — I thought it important to revive the series this week. Though it's not a life-changing blog series, it's something that I enjoy working on over the summer simply because of the fact that it is FUN. I love hearing about what my staffers are watching, listening to, and reading because anything that brings them joy also brings me joy.
This week, we'll let you know what we're enjoying and what's worth checking out! Joining me are:
Let's get started!
What Jenn's lovin': The A Word
Why she's lovin' it: I honestly don't even know how this show was first promoted to me, or on what network. But eventually, I saw so many commercials for The A Word that I figured I had to check it out for myself. And when I noticed that my cable network's On Demand channel had the first two episodes available to watch, I knew I needed to tune in. (This, by the way, was at 11 p.m. last night.) The only recognizable face in the cast for me was Christopher Eccleston, the beloved but not-celebrated-enough Ninth Doctor (and Vinette Robinson, who I realize now looked familiar because she was in Sherlock), so it was the premise of the show that really captured me. Because the truth is that The A Word is a show that's about a lot of different "a" words, as the exceptional promos expressed — it's not just a show about a child who has autism. It's a show about a family who has a lot of anger toward one another. It's about acceptance and forgiveness (okay that last one doesn't begin with "a," but bear with me). It's a show about the consequences of adultery. It's a show about adjusting to a new way of life. And after only two episodes, I think it's completely worth watching.
The A Word focuses on a family with a lot of issues and a lot of resentment toward one another. Parents Joel and Alison are raising their five-year-old son, Joe, who — as the title and commercials suggest — is diagnosed as being on the autism spectrum. They struggle with their family members and those in their small town who know that something isn't quite right with the young boy, who fails to communicate with others in favor of listening to rock music on his headphones as a way to cope. Meanwhile, Paul and Alison's adopted daughter, Rebecca, feels more and more ignored by her parents. No one else in the family knows how to handle Joel and Alison's situation either. Joe's grandfather, Maurice, is brash and tactless, believing there to be some sort of cute for autism; meanwhile Eddie and Nicola (Joe's uncle and aunt) recently moved back from London after Nicola had an affair with one of her co-workers.
If this family sounds messed up, you would be right. But that's part of the beauty of this show.
The A Word
isn't a show about autism. It's a show about a child who is on the spectrum, and a family who has to learn to push aside their prejudices, their anger, and their issues in order to all become better people. The first two episodes primarily deal with Joe's diagnosis, the family's denial, and Joe and Alison's shame regarding the whole situation. There are compelling stories for each family unit, but the major theme of the show — in my opinion — is healing. I have a feeling that as the show progresses, the family will not just learn how to cope with Joe's diagnosis, but will learn how to forgive each other when necessary and how to become better for themselves and for Joe. Check out
The A Word
on Sundance TV!
What Yasmine's lovin':
Ghostbusters
Why she's lovin' it:
Why am I loving it? Because it is just so good! I have been really excited for this movie since the announcement of a reboot came out, and then more so when all the negative reactions started pouring in about the all-female — or at least female-led — story. The comments online have been hilarious, but not even close to how hilarious the movie is.
Honestly, I came out of the movie thinking, "This is 2016's only redeeming quality so far" (it has been a horrible year). The movie is, first and foremost, so funny. It delivers on that. It delivers on being a
Ghostbusters
reboot. It was the kind of humor that had the whole theater erupting with laughter — not just a handful of giggles every now and then. It was the kind of humor that, three days later, you remember a line or a scene and still laugh at it.
It's also a great buddy movie. These four women are all amazing, and their relationships, interactions, and friendship is just great. And it is refreshing watching a movie about women being friends and bonding that isn't solely about dating, men, love, relationships, etc. (Not that there's anything wrong with that, but showing something else and breaking that mold is great and exciting.) And it is done so well. All four actresses are absolutely perfect in their roles, and no one performance overpowers the others. They are perfectly balanced, perfectly funny and perfectly human and relatable.
The movie is good. It is
good
. And it's not like "it's good for a female led film." No — it is good, solid, hilarious, action-packed summer fun. And the fact that these four remarkable women and actresses drive it is just a plus.
Also, Chris Hemsworth as the pretty yet painfully dumb, sexy receptionist? Now there's something I never knew I needed but now think is the greatest gift to mankind. So do yourself a favor and go watch this movie. It will make your life better, I promise.
What's Jen K.'s lovin':
Suits
Why she's lovin' it:
In the dreary, dismal months of summer hiatus there are a few bright spots on television.
Suits
is my light in the dark. The season six premiere brings quality television back into my life and saves me from my eternal boredom.
Last season, Mike finally faced up to his fraud. He made a deal to serve two years in prison as long as Harvey, Jessica, Donna, Louis, and Rachel were not prosecuted. It's a necessary move for
Suits
to make. Although all the reasons that led to Mike and Harvey to make the choices they did are understandable, it doesn't erase the fact that they broke the law. At the end of the day, Mike and Harvey are the heroes of the show and it's difficult to root for a heroes who continually dodge the consequences to their actions. And in the premiere,
Suits
charged headlong into Mike's incarceration. His prison counselor, Julius Rowe warns him, "This isn't a prison movie." It's a warning to both Mike and the audience. This isn't going to be a warm and fuzzy experience for Mike and there are no Rita Hayworth posters in his future.
Rowe is played by the fantastic Malcolm-Jamal Warner, who — I'm sorry — will always be Theo Huxtable to me. Mike takes a psychological exam, and Rowe comes out swinging with the results. He tells Mike he's full of crap, except unlike all the other inmates, he doesn't know it. Rowe also tells Mike he's a narcissist. What I love about
Suits
is they don't shy away from the uglier aspects of Mike and Harvey's personalities. It's true. Mike is a narcissist. He's a good man, but Mike believes the world owes him something. That's how he was able to justify his actions and that's how he got into this mess in the first place.
In spite of the rocky start in prison, things begin looking up when Mike bonds with his cell mate, Frank Gallow. Gallow tells Mike his sob story and soon Mike is sharing his. If you are thinking, "Uh oh," you'd be right. Gallow isn't Mike's cell mate. A prison guard let Gallow switch cells for a night just so he could get the goods on Mike. Mike also made the mistake of texting Rachel on Gallow's contraband phone, so now a convicted criminal has Mike's fiancee's phone number. Why did Gallow go through all this trouble? Because Harvey Spector put him in prison.
This is exactly why Harvey was afraid of Mike going in prison. Mike believes in the goodness of people and trusts freely. Harvey doesn't. Men like Gallow will use Mike's trust and goodness to hurt him. So, it really begs the question of what kind of person will Mike have to become to survive prison? Is it even someone he'll recognize at the end of the two years?
Harvey isn't getting off scot-free either. The guilt over Mike's incarceration is eating him alive and the firm is in shambles. All the partners and associates left. Only Harvey, Jessica, Louis, Donna and Rachel remain. Oh, and the IT guy. Furthermore, they are being sued over every case Mike ever touched. Both Jessica and Harvey consider throwing in the towel. Jessica doesn't know if she has enough fight in her, and Harvey can't see past his own guilt. Luckily, Donna is there to snap Harvey out of his selfish man pain. Seriously, Harvey, please just marry this woman.
Rachel also has a great scene with Jessica. To be honest, Rachel isn't my favorite character. The scene with her calling the prison like it's a Holiday Inn, requesting an update on Mike shows the entitled side of her that I dislike. But I always love her scenes with Jessica. Jessica brings out a humility in Rachel, primarily because Jessica is a goddess among mortals. Rachel wants to learn from Jessica, and I am in favor of these two women really digging deep into a mentor/mentee relationship.
Personally, I am looking forward to watching the firm rebuild. Harvey is always at his best when his back is against a wall — bare-knuckled and fighting what seems like an unwinnable fight. We missed out on Jessica's meteoric rise, so it'll fun to watch her conquer the world again. Jessica is queen, so of course she will. Louis is always his most hilarious when he's in a panic, and he was definitely panicked in "To Trouble." With Mike gone, it allows for different characters to interact who previously didn't share much screentime (I'm looking at you, Rachel and Harvey).
So thank you,
Suits
, for delivering a brilliant premiere that resets the stage and gives us fresh storylines to explore. For a show in their sixth season, that's pretty impressive. Goodbye summer boredom. Hello summer entertainment!
What Lynnie's lovin':
No Limits
with Idris Elba
Why she's lovin' it:
No Limits
, a miniseries with Idris Elba, is an exploration of boundaries, daringness, and, most of all, speed, and it is what I'm loving currently.
Each episode, Idris tackles a seemingly impossible task: to learn a new way of going fast, hopefully breaking some records, and winning some competitions while he's at it. What appeals to me the most — besides the fact that it's Idris Elba on my screen — about this miniseries is the way in which Idris approaches his tasks. He is open about his anxieties and makes no effort to hide his nervousness. His anxiety when faced with certain challenges feels human, like mine. I would be terrified to get in a small plane and do loops in the sky; and he is too, but when the opportunity presents itself to do just that, he gets in the cockpit and tries anyway. Idris has stubbornness that reminds me of myself, and I find his approach and determination to be very familiar and very relatable. He wants to be the best and because of that, he is the hardest on himself. Idris wants to do each thing properly, and I respect that immensely. It's like he gets me. He also gets to do some very cool things, go very fast, and seems to have a lot of fun doing it.
The show brings up the familiar question we've all thought about him before, though: is there anything Idris Elba can't do?*
* The answer is no.
What Jon's lovin':
La La Land
's trailer
Why he's lovin' it:
With the summer movie season winding down soon, it's time to start looking ahead to the fall award season. The season gives the audience a peek at films that have the potential to be major contenders for the Oscar race. The films entering this race include titles like
The Birth of a Nation
,
Rules Don't Apply
,
The Founder
, and
The Girl on the Train
.
But one of the most anticipated films of the Oscar season (as well as the year overall) looks to be Damien Chazelle's new musical
La La Land
, which just had its first trailer released this week.
While plot details are scarce (the trailer is under two minutes long), the footage we do see is beyond exciting. From a cinematography standpoint, the film looks stunningly beautiful. There are moments where it seems the characters are walking into something straight out of a painting.
Emma Stone and Ryan Gosling already have excellent chemistry together (again), from what the brief scenes with them show. Chazelle — who directed 2014's Oscar-winning film
Whiplash
— looks to have created a musical in the style of Fred Astaire/Ginger Rogers meets Paul Thomas Anderson. As a bonus, Ryan Gosling's song "City of Stars" will be stuck in your head all day.
Check out the first trailer above and get excited to see
La La Land
when it opens in December.
What are YOU lovin' this week? Sound off in the comments below!