"The Fallen"
Original Airdate: April 22, 2015
Come to the water, stand by my side
I know you are thirsty, you won't be denied
I felt every tear drop, when in darkness you cried
Have you ever gone away to summer camp? I have. And I still remember it vividly, actually -- there was a camp in the mountains of Pennsylvania where I used to live called Victory Valley. That was the summer camp where I learned archery and how to develop photographs in a dark room. It's the year I remember falling asleep in a giant treehouse, snuggled up in a sleeping bag, to the sound of my counselor singing to us. It's the summer that the boys and girls had a giant water-balloon fight. Summer camp is an amazing experience in the life of a child, but summer camps end. And then you return home to your friends who live down the street from you and you realize that while your life changed, theirs did too. They hung out with new friends or classmates who weren't you. And suddenly you were plopped back into your own world, having changed, and feeling a bit lost because the people you were close to three weeks prior had new inside jokes and new experiences and new friends.
When you leave and return from somewhere -- anywhere -- you have to anticipate change on both your part and the part of the people you left behind. I went away to college for two years and came back to friends who were still my friends, but now had experiences and memories that I wasn't a part of. In "The Fallen," Thea Queen dies (they never explicitly say but it appears she was brain-dead) and she comes back but she returns as a totally different person. I imagine that death changes you, but the circumstances of her death change her more than anything. As Ra's reminds us, birth and re-birth are violent processes. It only makes sense that Thea Queen would not return as the sweet young Speedy that Oliver once knew. Themes of
Arrow
-- sacrifice, heroism, identity, etc. -- always seem to come back to one giant symbol: light. Darkness and light are huge components of this series because darkness, by definition, is the absence of light. And directors on this show play with shadows and darkness and colors and scattered rays of light a lot. Why? Because there's a constant dichotomy there -- there's a constant push-and-pull within most of our characters' minds and hearts: they can choose the darkness or they can choose the light. (And then you have names like the Black Canary and symbols like Felicity and a fern that "thrives on low light" and morally depraved character like Malcolm Merlyn and the vibrant red seen throughout Nanda Parbat, shrouded in darkness and low light, etc. etc. as giant, glaring symbols.)
Arrow
is a show that constantly tackles issues of morality and heroism and whether or not people are too far gone to ever harness light again. When Sara was alive (R.I.P.), she told Oliver that he needed to find someone to harness the light inside of him and that she couldn't be that person. When Oliver and Felicity kissed, it was in a darkened hallway punctuated by a giant burst of light from a window. When Oliver told Barry he was too far gone, The Flash's alter ego told him that he was a hero and he could only be that way if there was some light left in him.
Arrow
is a show about darkness and light and "The Fallen" is just another episode that emphasizes those symbols through its characters and their journeys.
A lot of stuff happens in "The Fallen" -- a LOT of stuff -- so let's dive into it, shall we?
Thea Queen (+ Oliver, Malcolm, Ra's)
When you agree with Malcolm Merlyn, you know it's going to be an interesting episode of
Arrow
. He's one of the only people in "The Fallen" who understands what happens when someone is reborn via The Lazarus Pit. It's not a magical spring. It's not a hot tub of healing. It's a tool. Thea Queen will not return as the same woman that everyone knew and loved. And this is why -- re-birth is a dark process, just like actual birth. I've never given birth to a child, but I know from watching a lot of
A Baby Story
(my mom loved that show) and listening to real-life experiences that giving birth is not an easy or pleasant process. It's messy. It's hard. And it's very painful. It's worth it because of what happens at the end -- because of the new life that's received -- but it's not without scars and it's not without sacrifice and it's certainly not without suffering.
In order to understand why Thea is birthed into darkness (apart from, you know, being violently reborn against her own will, essentially), we need to understand what happened before she was reborn. Thea died in darkness, so it makes sense that she is raised back into it as well. She died in mourning, believing Roy to be gone forever. She died moments after crying and grieving. She died in anger, spewing bitterness at Ra's for what he had done to her and to her family. Thea Queen has had so much darkness pent up within her that it all comes to a head in her death. Think about it, this is a woman whose: mother and father died, whose biological father manipulated her into killing her family friend, whose brother lied to her for years about being The Arrow, whose boyfriend (presumably) just died... Thea is a Queen which means, as she once said:
"Well, you know us Queen women. Nothing gets to us."
But things DO get to the Queen women. The problem is that they're experts at burying their pain so that when it comes to the surface, it doesn't just bubble there -- it erupts, violently. Funnily enough, Malcolm is the person who understands this and understands what The Lazarus Pit will do to Thea if Oliver uses it on her. The woman he considered to be his sister will not come back the same person. My thoughts? The Pit (not
this pit
, though) may change people in the soul, Malcolm, but don't think for a moment that Thea Queen hasn't already been irreparably damaged in her soul to begin with. The problem is that Malcolm understands that Thea's death means she's at peace and bringing her back via The Lazarus Pit will rip her from that peaceful afterlife and violently thrust her back into a world where she can feel more pain and emotion and suffering. He doesn't want THAT Thea. And he tells Oliver that he doesn't want that Thea either.
Oliver's problem is that he doesn't
want
to listen to Malcolm and understand what The Pit will do to Thea. He doesn't want to lose her if there's any chance he could stop it. All he wants is his baby sister back and he will do anything --
anything
-- it takes. Sound familiar? It should, because "The Fallen" brings us directly back to the only two truths that Oliver vocalized in "The Climb":
Oliver: Felicity, I honestly don't know if I'm a killer anymore. But I do know two things: the first is that whoever I am, I am someone that will do whatever -- whatever -- it takes to save my sister.
Felicity: And the second thing?
Oliver: I love you.
Don't think for a second that it's coincidence that "The Fallen" brings us right back to these two truths, because it's not a coincidence at all. It's parallelism and it's poignant. Though Oliver has experienced a lot and gone through a lot since he went off to face Ra's the first time ("The Climb"), these are two things have not changed. These are two things that will NEVER change. They will be constants, just like the sun rising in the east or the tides changing or taking a breath -- Oliver will do whatever it takes, always, to protect Thea. And he loves Felicity. Those two truths are the only two foundations that Oliver Queen -- not The Arrow, not The Hood, not Al Sah-Him -- lives and breathes and dies on. On the jet to Nanda Parbat, Oliver tells Felicity a story -- a deeply personal one -- about how he returned to Starling City before, how he snapped the neck of Thea's drug dealer... how all he ever wanted to do was protect his sister and somehow he failed at that.
Oliver is characterized a lot by desperation and so are the people he loves, funnily enough. In his desperation and his grief, he doesn't care about what version of Thea returns to him, so long as one does. So the team flies to Nanda Parbat and Oliver sacrifices himself -- he dies (not literally, but metaphorically dies to Oliver Queen) so that she can live. Oliver will always pay that sacrifice for Thea because she's his life, his baby sister, and his world. He will always protect her. And I think a lot of what Oliver believes to be true in this episode is the fact that he's failed his sister so many times that he will continue to do whatever is necessary to protect her.
But what I thought is particularly interesting is the conversation he has with Felicity about the fact that maybe, just maybe, he really did die on that boat. Maybe that brother -- THAT Oliver Queen -- did. And in that case, Oliver is even more confused as to who he is and what his purpose is. What was it all for? What has he accomplished? What has he done, really? The answer: Oliver has saved lives. He's shown mercy and grace where people don't deserve it. He's learned to die to parts of himself in order to become a better brother and a better partner and a better friend.
Oliver has died to himself so that others can live. Isn't that the essence of heroism?
But now it's Thea's turn -- Thea was born into darkness, but that darkness has slowly faded (apparently a side effect of The Pit) into a blur. And now she can choose what she does with her new life, starting with whether or not she lets Malcolm help her. Thea is stubborn and always has been and she's filled with guilt after learning of what Oliver did to save her life. But slowly, Thea is going to realize that Oliver's sacrifice doesn't necessitate guilt on her part. In fact, sacrifice begs of us a question: "Now what?" Thea's life was saved, whether or not Malcolm thought it was right or smart and whether or not she thinks she deserved to be saved.
What she does next with that will define her and I'm excited to see how Thea's trajectory continues to grow and evolve.
Ray/Felicity
Since we'll spend the majority of our time discussing the Oliver/Felicity relationship and the giant leap of progress we saw in "The Fallen," let me tie up a few loose ends and discuss my qualms for a moment. Then we'll move onto the fun stuff. The loose ends I'm tying up are, of course Ray/Felicity-related. When there were whispers that Ray and Felicity would break-up, everyone was -- understandably -- elated. But my problem with how
Arrow
handled the break-up is inherently tied to my problems with Ray Palmer as a character. Namely, that the writers didn't ever see Ray Palmer as a problematic character. He was. And I plan to write an entire post about why he was this summer. Suffice it to say, though, that I'm not aboard the S.S. We Love Ray Palmer and He's Just Such a Gosh-Darn Nice Guy. And it has nothing to do with Oliver/Felicity.
The fact that Ray was the one to initiate the break-up (by citing that HE noticed Felicity's feelings for Oliver... say what you want about it being "mutual" but by logical standards, unless Ray had vocalized that fact, Ray and Felicity would still be together -- she wasn't certainly going to bring it up, even if she didn't deny her feelings for Oliver) irks me because it makes RAY the subject of the relationship and Felicity the object that he is doing something/saying something to. The show has built up the Oliver/Felicity of it all as almost this sense of inevitability -- that they
would
be together. That if they had a choice at all, they would always choose each other. My problem, then, is that when you have Ray talk about Felicity's feelings for Oliver first and how he noticed that she was in love with him, you remove part of Felicity's agency. A few episodes prior, Donna Smoak told her daughter that she had to choose and I thought: "This is good. This will allow Felicity to break away from Ray and choose Oliver -- actually stand up to him, tell him what she wants, and tell him to figure his crap out."
But the fact of the matter is that Felicity would have never let Ray go willingly -- he was the one to jump-start this amicable "mutual" break-up with
her
. And in doing so, the show managed to simultaneously try and elevate and endear Ray to us further ("Look at how sweet and noble he is, letting her go, you guys! He's allowing them to use his jet even though they're going to break up. ISN'T HE JUST SUCH A GOSH-DAN NICE GUY/HERO?") while removing the chance for Felicity to be assertive in ACTIVELY choosing Oliver. There's a difference, honestly, in a passive character and an active one. An active character is one who does the action and a passive character is one who has the action done TO them. I can hear the arguments of "But Ray Palmer didn't really break up with Felicity! It was mutual!" To that I reply:
Final thought: Would Felicity have actively approached Ray and told her of her feelings for Oliver? (I have no indication that she would, because everyone in Felicity's life has been the one telling HER that she has feelings for Oliver.) Since I don't believe she would have initiated a conversation with Ray about his feelings and since Ray was, in fact, the one to initiate that entire conversation, the break-up is not -- in my opinion -- mutual, really. It may be amicable and Felicity may not have denied having feelings for Oliver, but it was spurred by Ray, which makes him the active participant and Felicity the passive one. Anyway, with Ray/Felicity's break-up being used to prop up Ray, I'm interested to see where the rest of his story goes (please go to another show).
Oliver/Felicity
Ugh, there was
way
too much Oliver/Felicity in this episode.
..........
HAAAAAAAAAAAAAAAAAAAAAAAAAAAAAHAHAHAHAHAHAHA RIGHT. I can't even joke about that because of how well done the Oliver/Felicity stuff was handled in this episode. Before we talk about the Oliver/Felicity consummation, though (I'm trying to creatively think of ways to say things other than "sex" throughout the review so enjoy this ride, please), we need to talk about everything that has led up to it, not just in "The Fallen," but throughout this season and season two as well. Oliver fell in love with Felicity during "Unthinkable" and you'd be hard-pressed to find someone who disagrees with me. He realized in the very moment that she told him that she believed in him just how much he needed her and cared about her and loved her. And it was in that moment that the unthinkable thing came to fruition -- he would have to put the woman he loved in harm's way in order to save the city. In a beautiful bit of parallelism, Felicity realized that she was in love with Oliver -- fully realized it and
almost said it
-- in last week's episode. Gaze upon their moments of realization, will you:
Now that we've established the ~moment~ for these two, let's talk about everything in between. Oliver and Felicity in "The Calm" were... happy. They were unguarded. They were nervous during their first date, but Oliver allowed himself to feel, to love, to hope -- even for a moment -- that he could have the kind of life that would bring him joy: a life with Felicity. No, a FUTURE with Felicity. When he saw her standing there with Lyla and baby Sara, he saw what his life could be like. He saw the dream he thought was unattainable. He saw the greatest desire of his heart. And then he chose The Arrow. And Felicity walked away (as she should) because she couldn't keep dangling. She told him she deserved better -- a life that was an actual life. Because what Oliver was doing? Pushing others away because he didn't believe he deserved to or could be happy as both Oliver and The Arrow (that it was a choice)? That was not living. That was existing. And Felicity deserved more than that.
So she marched into Palmer Technologies and took a job and then was drawn to Ray. The reason that she was drawn to Ray is pretty well-established and vocalized in
"Suicidal Tendencies"
: he is a lot like Oliver, minus one crucial difference -- Ray doesn't deny himself happiness. He doesn't push her away. For a lot of season three, Oliver and Felicity clashed or didn't speak to one another about their relationship. And then, in "The Climb," when Oliver was getting his affairs in order, he told Felicity -- without any confusion or mincing of words -- that he loved her. And she watched him leave. When he returned, she realized that things hadn't changed. He was still the same Oliver who would make decisions FOR other people and not consult them; he would selfishly believe he knew what was best and stick to it, stubbornly. Isn't that the reason Oliver and Felicity were doomed at the beginning of the season? (The correct answer is a resounding "YES!")
I've talked a lot about how Oliver's biggest strength is also his biggest weakness (and how I believe that to be true of pretty much everyone ever): Oliver cares about people a lot and loves them desperately, but because of that, he also makes decisions for and not with people. Oliver made the decision FOR himself and Felicity. She had no say in their relationship. I've said this before, but even though the kiss in "The Calm" is wonderful, it's also kind of selfish on Oliver's part because Felicity wanted them to work -- wanted that relationship and the kisses and the dating and the magic -- and Oliver took that from her. Oliver confessed to her in "The Secret Origin of Felicity Smoak" (again) that he loved her, without saying those words aloud. And you could see Felicity slightly roll her eyes in the scene and flinch because she didn't want that -- she didn't want dangled maybes or half-confessed "I love you's." She didn't deserve that. She deserved a real one.
And then Oliver gave her a real "I love you," right before he went off to die and Felicity thought that maybe near-death would change Oliver and he would wake up and realize that he's not the dictator of anything -- not of Laurel or of Team Arrow or of Thea... or of his relationship with her. But Oliver didn't learn and Felicity walked away because of it, claiming that if this was what Oliver Queen's love was? She wanted no part of it. For a while, these two were bitter and guarded, and Felicity drew closer to a man who constantly talked about her as an important part of his life, who asked for her input and who treated her like an essential. But something happened recently -- Oliver began to start treating Felicity more like a woman he respects and needs. "The Offer," I think was the turning point in their recent relationship, as Oliver softened and began to think about letting other people in rather than pushing them out constantly.
From there, these two have grown in repairing their relationship again. Felicity and Oliver constantly defend and protect each other and they'll always put themselves in harm's way. Why?
As we discussed
last week
, Oliver has finally learned the art of sacrifice when it comes to Felicity and the art of loving her from a distance. The funny thing is that... he's doing all of this for her (patching things up with Ray for Felicity in "Suicidal Tendencies," etc.) without any promise of anything in it for him. And the way that Oliver has grown recently indicates that he's more than willing to let other people in -- to let them try and help HIM. He's becoming less opposed (though still opposed as we saw with Team Arrow's "Save Roy Harper" plan) to letting other people make decisions. He's learning to listen more, to talk less. He's learned (again, evidenced in "Broken Arrow") to be more honest and upfront -- to not hide from his feelings and let walls come falling down a little bit at a time.
So that brings us right to "The Fallen," an episode so full of emotion and love that it nearly imploded on itself. First off, Oliver has been emotionally vulnerable with Felicity a lot recently, but never more so than in this episode. He tells her about returning and seeing Thea. But Felicity is also emotionally vulnerable with Oliver in this episode, long before she explains to him that he caused her to open up her heart in ways she didn't think were possible (*swoon*).
The last few times Oliver has left (to face Ra's, to go to the island again with Thea), Felicity has watched him walk away. "The Fallen" was the first time she insisted upon going with him and not letting him go alone. He didn't really have a choice in the matter but I thought it was wonderful that Felicity took that journey with him. In fact, I think it's amazing that Felicity did EVERYTHING she did in this episode including -- but not limited to -- barking orders at The Dark Archer, aka The Devil, Malcolm Merlyn. (Who then obeyed like her own personal lapdog. Seriously, Ra's, are you SURE you chose the right person to take over the League of Assassins? Because "The Fallen" made a strong case for Felicity-Heir-to-the-Demon-Smoak.)
When Felicity knows what she wants, she's the most fearsome woman to behold. And when she watches Thea's rebirth and extreme confusion and pain in the aftermath, she storms out of the room and marches -- literally marches -- right to Ra's himself, demanding her opinion to be heard. I loved everything about this showdown, not just because it illuminated how intense Felicity can be, but explained why Ra's doesn't immediately order her to be executed or imprisoned. He respects her. He admires her tenacity. Moreover, he understands her pain. Hear me out: Ra's is unlike any villain we've seen before. He's calculated. He's meticulous. He's orderly and he's extremely calm while he plans and schemes. He may kill and manipulate, but he's not dominated by chaos (like Slade, for example). He has structure and order. And there's a reason he's like this -- a reason he's so unfeeling and so stoic. He explains to Felicity that he had a wife and a daughter and a son and love in his life once and he had the choice to lose them forever or to leave without a goodbye. He chose to leave.
Ra's understands Felicity's anger and he understands Felicity's anger at him -- her insistence that he just didn't fight hard enough. But he knows what she does not: he knows that the cards are stacked against Team Arrow and she can choose to squander what little time she has left with Oliver or use it to tell him how much she loves him. If Ra's could have, he wouldn't have left. If he had one more night with his wife and his children, he would have taken that time to be with them. So he leaves Felicity to think about that and then Felicity acts.
She approaches Oliver in his room and the man is, of course, spiraling into another crisis of identity. But what happens next is important. What happens next is crucial. Felicity tells Oliver what he means to her. And you can see (brilliantly, might I add) the confusion and hesitation across Oliver's face as she holds his hand and says these words. Because he doesn't want to hope. He can't dare to hope again that she'll feel the way he feels about her. Every time he does, a phone rings or a person interrupts. But this time... none of that happens. This time, Felicity tells Oliver more than what she did last week. She tells him that he is a man who has literally saved lives, and figuratively saved hers. She's been changed by him. Her heart -- this broken, fragile thing -- has been changed by him and his love for her. But most important of all, it hasn't been just changed by his love for her but by HER love for HIM.
The moment Felicity confesses her love -- actually says the words -- you can literally see Oliver's entire world change (again: kudos to Stephen Amell who understands SO intimately what it means to Oliver to hear those words from her). I think one of my favorite things in the whole Oliver/Felicity sexcapade (and there is a LOT to love, of course) is the moment that Oliver tenderly removes Felicity's glasses. After she tells him that she loves him, he gently removes them and it's such a powerful, poignant, feels-inducing moment for me because this is the moment Oliver has been waiting for -- hoping for and dreaming about (literally, kinda, but definitely figuratively) and in this moment, all he wants to do is to look at her, directly and deeply in her eyes, without anything holding either of them back. He wants to memorize everything about this moment because it's going to be the thing that keeps him holding on -- this memory, this mental snapshot -- when he joins the League. You can just see how clearly Stephen Amell understands Oliver in that moment, how he knows that Oliver wants to just look at her -- this woman, this light, this love of his life -- before anything else happens.
"Love first requires looking."
And Oliver continues to look at Felicity -- look her deeply in the eyes -- for the remainder of their time together. As she undresses (and he does, too) his eyes never leave her face. It's like... it's like he's waited too long for this moment that all he wants to do is to really look at the woman he loves and take all of her beauty in. (Another fun thing to watch during the sexytimes scene are Oliver's hands -- he literally cannot hold her enough or touch her enough because I don't think a part of him believes that she's real and that THIS is real between them.)
But it is real. And it happens, a fact that Felicity adorably states later on as she saunters over to the moonlit window where Oliver is reflecting (... on the sex? Hard to say, but probably yes). They toast to each other -- to them being an "us" -- and then... Oliver falls to the floor, drugged. BECAUSE FELICITY DRUGGED HIM. As far as plans go, this wasn't her best (though she's not exactly known for her genius plans that involve blowing up buildings, etc.) and when Felicity summons Malcolm and Diggle, they basically agree. But the three (with help from Maseo) hatch a plan to escape with Oliver and flee (I wonder what the thought was beyond that because... uh, Ra's can totally find you all wherever you are) into the creepy catacombs and then are surrounded by League members. Thankfully, this wakes Oliver from his stupor and he commands them to stand down as the Heir to the Demon.
It is then that Oliver is forced to say goodbye to the people he loves most in the world, telling them that he has to stay and that they are noble for wanting to help him escape. And then, after everyone else, it comes time for Oliver and Felicity to say goodbye. I loved this scene more than the sex scene, to be honest. I loved hearing their score swell in the background (Blake Neely is a genius). I loved that it allowed us to glimpse Oliver and Felicity at their most vulnerable and emotional. They both refuse to say goodbye. And though it kills Oliver to part with Felicity -- though he wants nothing more in the world than to hold her for one more moment or kiss her again -- she is what will keep him alive in the League. As long as he knows she's out there, living her life, safe, and happy, nothing that happens in the League will ever be unbearable. Because of her.
(Can we just pause to absorb the utter beauty and complete all of the love and pain and heartache and confusion that Oliver and Felicity were experiencing in this moment and how tangible it all was? I felt so much in that scene -- I felt like I could reach out and physically touch their agony in having to say goodbye again.)
Because this girl, this unsuspecting blonde and babbling IT girl, changed Oliver's life forever. It is because of her that he's learned how to hope again. It is because of her -- just the thought of her, happy -- that he can survive hell on earth. As long as the memory of her -- his light, his happiness, his Felicity -- exists, he will be able to stay alive. Felicity doesn't want to lose him. She can't bear to lose him. And the tender promise in "The Fallen" is that she won't. They're not saying goodbye. Not this time.
So it's not a goodbye, as we end "The Fallen." These characters know they will always find one another in the end. They know they will be reunited. But a question lingers, as the chapter of Oliver Queen's life draws to a necessary close (Ra's instructs Oliver to forget his identity and embrace being Al Sah-Him from this moment forward):
"How many people can Oliver Queen lose before there is no more Oliver Queen?"
The answer is one: Oliver Queen must lose himself in order to become Al Sah-Him. And that is how "The Fallen" ends: not with a man but with an Arrow.
Observations & favorite moments:
MVP for this episode is far too close to call between these two: Stephen Amell and Emily Bett Rickards. First of all, what a powerhouse duo, let me tell you. Stephen has this amazing ability to lower his voice to a near-whisper (like he does when Team Arrow tries to convince him to not leave for Nanda Parbat) and make everything that comes next feel so heavy and full of pain and emotion. I love Stephen Amell's performance on this show. I think his acting is some of the most consistently underrated on television, period. He can switch from rage to quiet desperation to an emotional breakdown in a few seconds in a scene. We got the chance to see every part of Stephen's range in this episode -- from the beautiful, poignant nuances in his scenes with Emily Bett Rickards, to his pain upon joining the League to his grief over Oliver losing Thea. Seriously, I can't ever talk enough about how all it takes from Stephen is one whispered line and I immediately feel emotionally invested in his pain. Bravo. The second MVP is, of course, Emily Bett Rickards. "The Fallen" was a tour de force for her as we had the chance to witness every facet of Felicity's personality. She's stubborn and strong and compassionate and loving and determined and supportive and everything, honestly, that draws people to Felicity Smoak is at play in this episode. Emily has such an unabashed rawness and realness to the portrayal of her character that it invites you in, causes you to feel empathy, and begs you to love her. Emily is extremely honest in her portrayal of Felicity, taking a character that should have literally only been in one scene and turning her into one of the most layered, complex, inviting characters on television. So brava, lady. Brava.
Look, can we put a pin in the Hong Kong stuff for the rest of the season? Because I took the time during those portions of this episode to eat a cupcake. I DO NOT CARE ABOUT HONG KONG.
The scene in the hospital between Stephen Amell and John Barrowman was SO well-acted and very emotional. Exceptional job to both.
"Lazarus as in from the Bible, Lazarus?"
"I hope something awful... stops being awful."
"I wanted to make you think you had grown a little as a person." HAAAA FELICITY.
So I haven't mentioned Diggle much in this review, but there was an important conversation which I fear bodes for some foreshadowing: he and Maseo have a confrontation about what the League is and what it does and how Dig believes it represents not strength, but cowardice. It is full of men who are running away from their pain or their problems and seeking solace in something that doesn't help -- that's just an escape. Maseo tells Dig that he doesn't know his pain -- doesn't know the pain of watching your child die in your arms and telling them it'll be okay. Dig apologizes and then uses Maseo's son's memory (really? I thought we all were better than this) to ask Maseo if what he's doing would honor his son. Maseo eventually tries to help Dig, Oliver, Malcolm, Thea, and Felicity escape so clearly Dig's words meant something. Still. I don't like the fact that there was some heavy-handed foreshadowing in that moment. #keepbabySarasafe2k15
"Me and John and -- God help me -- Malcolm." HAAAA AGAIN FELICITY.
"You need to tell Oliver goodbye. Tell him how much you love him. Tell him whatever your heart needs to express. And do it now."
"So. That happened."
"Thank you for trying. I love you all the more for it." You guys, how cute was that? AND HOW CUTE IS IT NOW THAT THEY CAN SAY THEY LOVE EACH OTHER?
"Whatever happens, you're my brother." #brotp
"The only way I am gonna survive this is if I know you're out there, living your life... happy."
"Well, let's not say goodbye this time."
The arrow that is branded on Oliver/hangs around his neck/represents his name is also the arrow in this year's opening credits.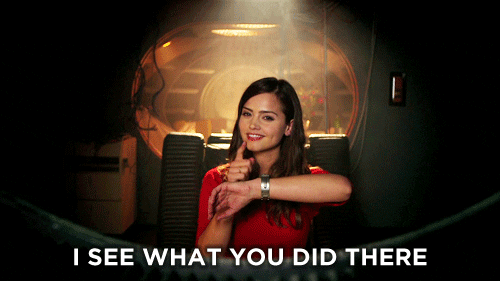 The sass is so strong in the Malcolm/Thea scene. "Well, at least you're feeling a little more like yourself again."
The Laurel/Felicity scene was beautiful and wonderful and perfect. Laurel and Felicity had a really touching moment in "Canaries" that was Felicity supporting Laurel, and now Laurel gets to be there to hold her.
Okay, I apologize for how LONG this is. If you made it all the way through, go give yourself a pat on the back and then a cookie on my behalf. There was a lot to unpack this episode so hit up the comments with your thoughts and feelings about "The Fallen." Was the Oliver/Felicity hook-up all you expected? Did you get emotional saying goodbye to Oliver (again)? Does ANYONE care about Hong Kong? Let me know what you thought. Until then, folks! :)