"Suicidal Tendencies"
Original Airdate: March 25, 2015
I'm not married, but I'm old enough to have seen a great number of my friends and classmates tie the knot. Ironically enough, I'm also old enough that I've seen a fraction of those same couples separate and divorce. Love is weird. It's weird and it's painful and it's wonderful and it's what makes the world spin on its axis. But anyone who's married will tell you that love is difficult. It's work. It doesn't come naturally to us. Naturally, we want to be selfish. We want to think of the best thing for us. We don't want to think of other people or their wants or their needs. And when you get married, you have to. And when you have a family, you have to. You have to consciously shut down the part of you that wants to be only about you in order to compromise, sacrifice, and live for another person. Love is work but in my experience, it's always worth it.
They always say that you should marry your best friend, and I think that's true. I think you should marry (again, take this advice with a grain of salt because I'm still single) someone who is your partner and your equal -- someone who will share your burdens with you, not make you carry the weight of the world by yourself. You should marry someone who fights for you, day after day. You should marry someone who you can take on the world together with. Diggle and Lyla have that, in "Suicidal Tendencies." They don't agree on everything. They don't often agree on how a situation should be handled or what tactic or strategy is best. But the reason that they work as a couple and the reason they survive in the
Arrow
-verse where everyone is angst-ridden and brooding is because they count on each other and always have each others' backs. Oh, sure, they argue and they fight. But Lyla knows John -- she knows who he is and what he should do, even when he can't admit it. And John Diggle would do anything to protect Lyla. They'll constantly defend each other even when they don't understand each other because that's just what love is.
"Suicidal Tendencies" is a jam-packed episode of
Arrow
, so let's discuss more Diggle/Lyla stuff as well as some Oliver/Ray/Felicity shenanigans (see: drama) below!
Diggle/Lyla (+ Deadshot, Cupid)
I've always thought that out of all the members of Team Arrow, Diggle was the most consistently under-appreciated and consistently well-adjusted. I love Roy. I love Felicity. And most times, I love Oliver and enjoy Laurel. But... man, those people are messed up. Even Felicity -- a woman seemingly bubbly and fun and full of energy -- has a really broken past and a hard time navigating her life sometimes. John Diggle has always been a really stoic character and he's the foundation that this show needed from the moment he stepped on screen. While Oliver needs Felicity in a lot of ways, he also really needs Diggle in a lot more. Dig is the person who stands by, arms folded, and waits for Oliver to do what they both know he needs to or say what they both know he wants to. Dig has a soldier's mentality in a lot of ways and it provides him depth as a character -- the way he responds to certain situations and people (like wielding two guns and aiming them at Malcolm when challenged) -- is a direct result of who he was in the field and what he had to do to survive. But Diggle is more than just a soldier. He's the voice of reason. He's the one who is unafraid to yell in Oliver's face whenever the young man is being stupid. He's the character whose life isn't constantly in angst-ridden, brooding turmoil. Diggle has allowed himself to be happy. As I said when I opened this paragraph, he's well-adjusted: he has a daughter and a wife. He has a family and he fights crime. And he's happy because he's allowed himself the opportunity to be.
That's something Oliver hasn't done. He did, briefly, in "The Calm." He allowed himself a brief moment of happiness and a rocket shot right at him and Felicity. Ever since then (and really before then) Oliver has let his experiences and his past taint his present. What is so refreshing about Diggle is that he's exactly the character
Arrow
needs: he's proof that you don't HAVE to have a tumultuous, brooding, angst-ridden backstory in order to be a valuable and layered character. Diggle doesn't need to have crises of identity because he just allows himself to focus on what he wants and what makes him happy. And that's so important because in a sea of characters who are constantly fighting with each other and themselves, Diggle is the example of what these people could all have if they just stopped running from their problems long enough to face them head-on. Of course, Diggle's story is punctured by moments of sorrow, by loss and tragedy, but he doesn't let that define him and he doesn't let that stop him from growing as a person.
Instead of letting Lyla's near-death experience draw him further away from her (like Oliver let that rocket-interrupted date do to him and Felicity in "The Calm"), Diggle took the opportunity to see the beauty and the message in the near-tragedy: if life is short, he wants to spend his living. And doing that means finding the balance between love and work; between heroism and being a husband and father. That, in a nutshell, is why I love Diggle. He's one of the only characters on this show that constantly chooses to live outside of the Arrow cave and not let the work he does become the thing that drives him into isolation. Oliver Queen, you could learn a thing or two from John Diggle.
But it's not all sunshine and rainbows in "Suicidal Tendencies" (which is actually a great title for an episode, considering the fact that Deadshot likens love to "a bullet to the brain" and our characters willingly fall in love and get married, therefore committing -- in his eyes -- suicide... and also given what happens at the episode's end) when Diggle and Lyla's mission involves a conflict of interest. Dig is a soldier, but he's also extremely compassionate: he wants to save hostages. He doesn't care if it's against orders because he values what's right above what's expected. Lyla isn't that way. Lyla often takes orders and asks questions later. But the beautiful thing about Diggle is that in his vows to Lyla, he promised she would never be alone again -- that no matter what they went through, it would be just that: THEM. So when Lyla gets called away to Kasnia on a mission, Diggle goes with her without hesitation.
What's important in "Suicidal Tendencies" is the inclusion of Deadshot and Cupid into the Diggle/Lyla story. Deadshot is bitter. He's brash and cynical and cold and he wasn't always that way, as we see in the flashbacks. Starkly contrasted with him is Cupid -- naive, a bit crazy, and insanely optimistic, she provides the perfect balance to Deadshot's blunt disgruntled personality. And when Deadshot insists that love and marriage and a family are merely distractions from the work they do... Diggle and Lyla don't believe that. They believe the opposite, actually: that family and love are what make the job they do actually worthwhile.
I loved that "Suicidal Tendencies" focused as lot on Deadshot as a character. We get the chance to see who he was before he became Deadshot -- we see him struggle to return home to his wife and child, to adjust to a life where his daughter thinks he's a stranger and is scared of him and his wife cannot understand the pain he went though. What this episode does right is the A-story: it beautifully illuminates Deadshot's past and progresses his character in the present. When it seems like there is no way for Dig and Lyla (and Cupid) out of a mission without dying, Lyla begins to break down and accept their fate. But it is Deadshot who tells her -- PROMISES her -- that she and Diggle will return home to their baby girl. It's clear that, from all he does in this episode for Diggle and Lyla, that Deadshot believes in love and hope. He believes in the joy of family. He believes that family is worth fighting for and that it truly is the one thing that keeps you grounded and human and whole.
So Deadshot sacrifices himself (apparently, but we can't know for sure if he's actually dead) for the opportunity to see Diggle and Lyla return home and raise their child together. His sacrifice rattles the newly re-married couple so much that both decide to quit their crime-fighting in favor of raising their baby girl. I'm still a bit confused as to whether or not the two have actually given up on fighting crime (because Diggle doesn't tell Oliver of his decision yet), but I really think it poignant that it happened because of Deadshot. And that's why Diggle toasted to him at the end of the episode.
A man once considered to be a criminal and a murderer gave his life so that Diggle and Lyla could live and love in theirs. The least they could do is try to stay alive long enough in their lifetimes to try and return that immeasurable gift.
Oliver/Ray (+ Ray/Felicity)
If you've been around this site long enough, you know how I feel about Ray Palmer. He began the season as this obnoxiously aggressive suitor of Felicity's and then turned into her sort-of-boyfriend. The problems that I have with Ray are numerous, really (and they exponentially increased in this episode, funnily enough). But the one thing that I will never get over is the fact that he pinged Felicity's phone (although, okay, someone did point out that a few weeks ago, Oliver placed a tracker on Laurel so really... not much better in this instance) in order to talk to her. That's ten thousand different kinds of wrong (for both men). But I've also realized that one of my problems with Ray is just his personality. He has a God complex that's clearly at play in "Suicidal Tendencies." And in a way, part of this complex is understandable because of losing Anna. He wants to make sure he never feels weak again and that he never has to feel powerless again. However, the way that Ray conducts his daily life is with an air of superiority and a whiff of arrogance. The way he views the world is through a lens of strict black-and-white predetermined by him. I realized that I know people like Ray, too: people who are always "on." People who are always moving and always thinking and constantly full of so much energy that it exhausts you to just be in the same room as them. Ray Palmer has very rarely slowed down on this series. It's his mind that drives him and his mind that propels him and his desire to be the hero everyone needs because of who he couldn't be for Anna that causes him to become The Atom.
That's really what Ray's personality boils down to: he is The Atom because he needs to be a hero for everyone because he couldn't be the hero for Anna. Oliver Queen's journey to heroism was much different and tinged -- nay, plastered -- with loss and pain. And it's important that "Suicidal Tendencies" falls on the heels of "The Offer" where Felicity asked Oliver to think about why he is still doing what he does. He claimed he didn't know; she asked him to figure it out. And he did. Oliver isn't a hero because he wants a thank-you. He isn't a hero because it makes himself feel better (which is precisely what, I think, is driving a lot of Ray's decisions). Oliver is a hero because he is the bridge between people and their happy endings. (I watched too much
Once Upon A Time
this week, apologies.) He stands in the gap for people between certain death and being reunited with loved ones. Oliver takes on pain so that others don't have to, which is what makes him so brooding and so guilt-ridden and so hesitant to accept a happy ending for himself.
Apart from Oliver and Ray's personality differences, there's also the glaringly obvious bright gold thread that connects them: Felicity. And even though I'm not a fan of how Ray pursued Felicity, we mentioned in the comments last week on my review that Ray does a good job of treating Felicity with respect and admiration. He takes her opinions into consideration and actually pretty much lives and dies by them. He communicates openly with her. There are no real secrets between them: Ray's made it known how he feels and what he wants. That, I will give Ray Palmer, is the one nugget of truth that he speaks in this episode. When he's hurt that Felicity lied to him and never told him about working on Team Arrow, he tells her that he has always been upfront and honest with her. He's always seen her as a partner. Again: true. He's not wrong. But then he essentially takes back her membership in Team Atom (RUN AWAY FROM THAT TEAM, FELICITY) and tells her that he can no longer trust her.
Everything that was good (of which there were very few things, but a few things no less) about Ray/Felicity is pretty much all shot in this episode when Ray discovers that Oliver Queen is The Arrow and decides to embark on his one-man-machine mission to save Starling City. Ray is like every new crime-fighter -- overeager, driven purely by emotion, and entirely reckless (see: Laurel, Roy). In fact, Ray is so blinded by his jealousy of Oliver (isn't it fun to have a man be jealous in a show instead of a woman) and his stubborn belief that Oliver is a criminal and a lowlife that he knocks aside Felicity, tells her that he was wrong to trust her (accusing her of her feelings for Oliver clouding the judgement of the kind of man he really is). I just have one thing to say to you, Ray Palmer: you don't deserve Felicity Meghan Smoak, then.
My problem with the Ray/Felicity resolution is the reason I've had problems with Danny Castellano all season of
The Mindy Project
: instead of learning something for himself -- instead of becoming a better person by treating Mindy better -- Danny ALWAYS has to learn lessons through other characters telling him what to do. His Ma has to tell him to go after Mindy. Tamra's cousin Sheena has to tell Danny how to treat Mindy during a fragile time in her self-esteem. Danny can never just learn a lesson on his own. He always has to be told by other people how to treat the woman he cares about, supposedly. In "Suicidal Tendencies," Oliver has to tell Ray Palmer to trust Felicity. And then... Ray decides to trust her. Not because he realized, on his own, how selfish and egotistical he was being. Not because he realized he was being a tool to Felicity, hurting her for having a relationship with a man that existed while he was still happily with Anna. No, he decides to trust Felicity in the end because the man in the hood told him that he should. Solid, right?
Ray is, quite simply, far too high-and-mighty in this episode. Because he's been a superhero for about five minutes, he believes he knows what is best. His entire perception of Felicity changes because -- as he accuses her of -- HIS perceptions of Oliver blind him to the truth. He's arrogant and narrow-minded and if you didn't dislike Ray before this episode, you probably did after viewing. Or maybe that's just me.
Oliver/Felicity
There's another conflict at work, too, in the Oliver/Ray dynamic and it's the idea that Oliver has convinced himself he can't be with Felicity because of the life he leads. And then there's this guy who comes along and is rich and handsome and successful... and also gets the girl. I think that "Suicidal Tendencies" is the episode in which Oliver really starts to think about what he's been doing with Felicity. There's a brilliant conversation between them in the lair in which Oliver tells Felicity that her new boyfriend is reckless. And Oliver isn't wrong. Felicity is upset with herself for you know, helping to create that super suit and being caught in this web of chaos that caused her boyfriend to turn on her best friend/love of her life. So she's frustrated. She's mad at Oliver, mad at Ray, mad at herself. And really, what Felicity truly needs is to head off to Central City for a spa day with Caitlin and Iris. And she needs to stay there and have sleepovers with them where they discuss their warped and complicated love lives and she needs to eat junk food and watch romantic comedies and spend as much time away from superheroes as possible (minus Barry because we love Barry). Felicity needs time to back away from both men and discover who she really is and what she wants out of life as a human being. I really believe that.
Because in the beginning of the episode, Oliver was content with seeing Felicity date Ray. I mean, it made him uncomfortable because he clearly loves her still more than anything in the world. But the reason he was content? Felicity is safe. She's with a normal guy who leads a perfectly ordinary life and that makes her happy. She deserves to be safe and secure. But once Oliver realizes who Ray truly is and what he plans to do -- take on Maseo and the other League members who are killing criminals under Arrow-like hoods -- he grows irate. Felicity understandably misplaces his anger in the same way that Diggle misplaced her jealousy in "Time of Death" over Oliver/Sara. She believes he doesn't really mean what he said, earlier. It's cliched, right? It's cliched to tell a person you used to love (or still love) that you're happy for them. I can promise you that I've said those words before to a guy I was in love with as he dated someone else. I told him that I was happy, but I wasn't. I was just surviving.
But Oliver really WAS happy. Now he's angry. Why? It's not because he's jealous. I think Oliver's moved past a lot of his jealousy. No, it's because the one thing he thought he couldn't give Felicity -- a safe, normal life -- is the one thing Ray isn't going to give her either. All he wants is for Felicity to be loved and cared for and Ray, he claims, is still too young in this heroism business to know that it's impossible to have it all. It's impossible to be the superhero and get the girl without that girl possibly getting hurt. Or worse. THAT is what makes Oliver furious. It's not that Ray has Felicity and he doesn't; it's that now Ray is endangering Felicity and he cannot stand by and watch him do that. But Felicity makes it abundantly clear what Oliver's real problem is in this episode: he doesn't believe he can be happy AND fight crime. And Felicity tells him totally and completely that she needs to be with someone who isn't afraid to be happy. And... isn't that Oliver's greatest problem? Hasn't it been his biggest stumbling block since "The Calm"? Mr. Brooding McBroodpants has refused to allow himself any single moment of happiness because he believes it is weakness. He believes love gets you killed and while he's not entirely wrong, he's also not entirely right. And he pushes his cynicism and angst onto Ray when he tells Felicity that since Ray is new at the superhero business, he hasn't learned yet that being happy and in love and being a crime-fighter are mutually exclusive. But he will.
(Sidebar: Can Oliver Queen please stop giving people advice? He's really bad at it.)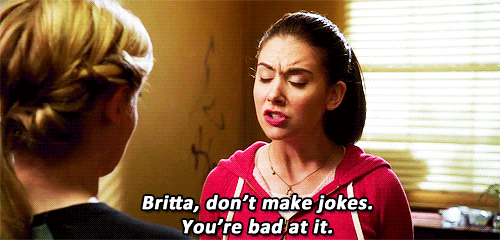 Oliver pushing his broody agenda on others and telling people what they deserve crosses the line for Felicity, as she essentially tells him that he can't tell her who or what she deserves or that Ray should or shouldn't behave a certain way. And while I agree with Oliver -- the superhero business is more taxing than Ray Palmer can even fathom -- I also think that Oliver is missing the larger point. He's a lot more damaged than most people are and he expects them to behave the same way that he does. So he should probably stop giving advice based on his own experiences because they're unique. Also: Oliver should probably just stop believing he is incapable of being happy.
Look, I'm going to be honest here: love triangles bore me, really, and they're trite to begin with. The only way to make a love triangle work is for it to be full of a conflict more substantial than just: "Girl A is caught in between Boy B and Boy C's affections." For the most part, that is not what the purpose of Oliver/Felicity/Ray is. (Though the scene between Ray and Felicity at Palmer Technologies where he accuses her of having feelings for Oliver felt very trite and tired and made me roll my eyes.)
But Felicity isn't caught between her affections for two men in this episode. Not really. She made it clear last week that if it had been up to her? There would be no Ray. (#sorrynotsorry buddy). No, this love triangle is founded on the same theme that everything has been built around this season: identity. The love triangle is a symptom of crises of identity, not the cause of it. The triangle, in this episode, is focused on the fact that Oliver and Felicity have a very rich history together that Ray does not have any real knowledge of. Ray views Oliver as a threat, but not a romantic rival. He believes that Felicity sees what she wants to see in Oliver (how insulting to Felicity's intelligence and discretion, amirite?) -- that because she's blinded by her affection for him, she cannot see him as a murderer like Ray does. Ray believes he can see Oliver clearly, but he is so blinded by jealousy that -- spoiler alert! -- he cannot.
What's really refreshing about the Oliver/Felicity in this episode is Oliver himself. HE is the one constantly fighting for Felicity. He's the one who tells Ray that Felicity is worth trusting, that her judgement is solid, and that he has nothing to prove to her. Oliver and Felicity know each other inside out. She knows him better than most people in the world. She's not blinded by his flaws. It's actually what makes their dynamic SO great. She refuses to see him with rose-colored glasses and consistently calls him out on his crap. Ray doesn't see that, of course, and in a moment of amazing truth-delivering, Oliver tells Ray: "I have nothing to prove to her. But you do." Even in her relationship, OLIVER is the one fighting for Felicity. And he will never stop fighting for her happy ending.
Ever.
Isn't that what "Suicidal Tendencies" is really about? Fighting for love? Fighting to hold onto it, to keep it safe, to keep it alive? Love, as Taylor Swift so aptly puts it, can be forever. Or it can go down in flames. But the choice, always, remains ours.
Observations & favorite moments:
MVP for this episode is, without a doubt, Michael Rowe. I always love the cynicism and dark humor that he brings to Floyd Lawton/Deadshot, but what absolutely astounded me was how deeply we were able to delve into his story. It was so wonderful and painful to see him return home to his wife and daughter in the flashbacks and watch him slowly unravel and spiral because of all he had been forced to do while in the service. Michael brought such raw vulnerability to those scenes in the flashbacks. It was chilling and sad and beautiful to see Floyd's life crumble and for him to turn into Deadshot. In the present, I absolutely loved that we saw the progression from cynic to determined soldier and father. Deadshot remembered what it felt like to have his wife and daughter and he fought until the very end for Diggle and Lyla to make it home to their little girl. Everything -- every little sarcastic joke or heartfelt scene -- was so well done and so well-acted by Michael Rowe. Bravo. Truly.
I missed Deadshot and Cupid a lot. Like, a lot. Also I may or may not sort of, kind of, perhaps ship them. They're both crazy and they're both hilarious. I dig it. Or, well, dug it, since Deadshot may be dead. But as I said on Twitter, Arrow likes to utilize what I call the "Doctor Who Effect": no one is really dead until proven without a shadow of a doubt.
"You hurt her, they'll never find your body." DIGGLE FOR THE WIN.
"You really wanna do this?" "Hell yes." Best vows ever or best vows ever?
Roy and Thea dancing together in the background of the wedding scene was adorable and perfect. Also everyone's attire for the wedding was perfect. I have serious dress envy for Felicity's little red number and then I found it online and realized how much it actually costs.
"I kind of... caught it?" "Well done." Look, I'm 1000000% here for more Laurel/Felicity. I love the girl appreciation directed to the person who catches the bouquet because men, you do not even KNOW how much of a war-zone that truly is.
Apparently all of Team Arrow has the Starling City news on demand on their phones. I mean, I suppose that's smart but probably also annoying at some point, too, right?
"Yeah, I wasn't always me either." We got Deadshot flashbacks this week from before he was Deadshot and they're a thousand times better than Hong Kong flashbacks.
Felicity has totally worn that crop top/skirt combination before in "The Secret Origin of Felicity Smoak" and I absolutely love it. *grabby hands*
"Ray built a super suit? That's kind of awesome... and reckless." There was not enough Roy Harper in this episode, you guys.
Laurel Lance vs. Ray Palmer is seriously everything I never knew I wanted. I loved seeing her threaten Ray with the law because Laurel is SO GOOD AT HER JOB. Honestly, it was the only non-Suicide Squad scene that made me extremely happy in this episode. (Can you tell that I didn't care for much about this episode?)
"... Okay, I take it back. I do want to die."
"Arrow." "Super suit." HAHAHAHAHAHAHAHAHA. The sass was strong in that scene.
I got really mad when Ray dared to talk about the island. DO NOT TALK ABOUT OLIVER'S PAIN LIKE YOU KNOW HIM, YOU SMUG JERK.
"... Oh." Well, Oliver, what did you think would happen if you shot your arrow AT A METAL SUIT OF ARMOR? *facepalm* Amell's delivery of that line WAS hilarious though.
I didn't like the Ray/Felicity resolution but I also don't like Ray. So there's that.
MASEO DON'T YOU DARE SHOOT FELICITY.
Well, folks, there you have it! I didn't like this episode nearly enough, clearly, because I included a lot of snark and a GIF (that's how you know I'm beginning to get fed up). Hopefully next week we return to form with about 75% less Ray Palmer and about 100% more Roy, Thea, and -- yes, I was missing him this week THAT IS HOW BAD IT WAS -- Malcolm. Hit up the comments below with your thoughts, dear readers. Until then! :)