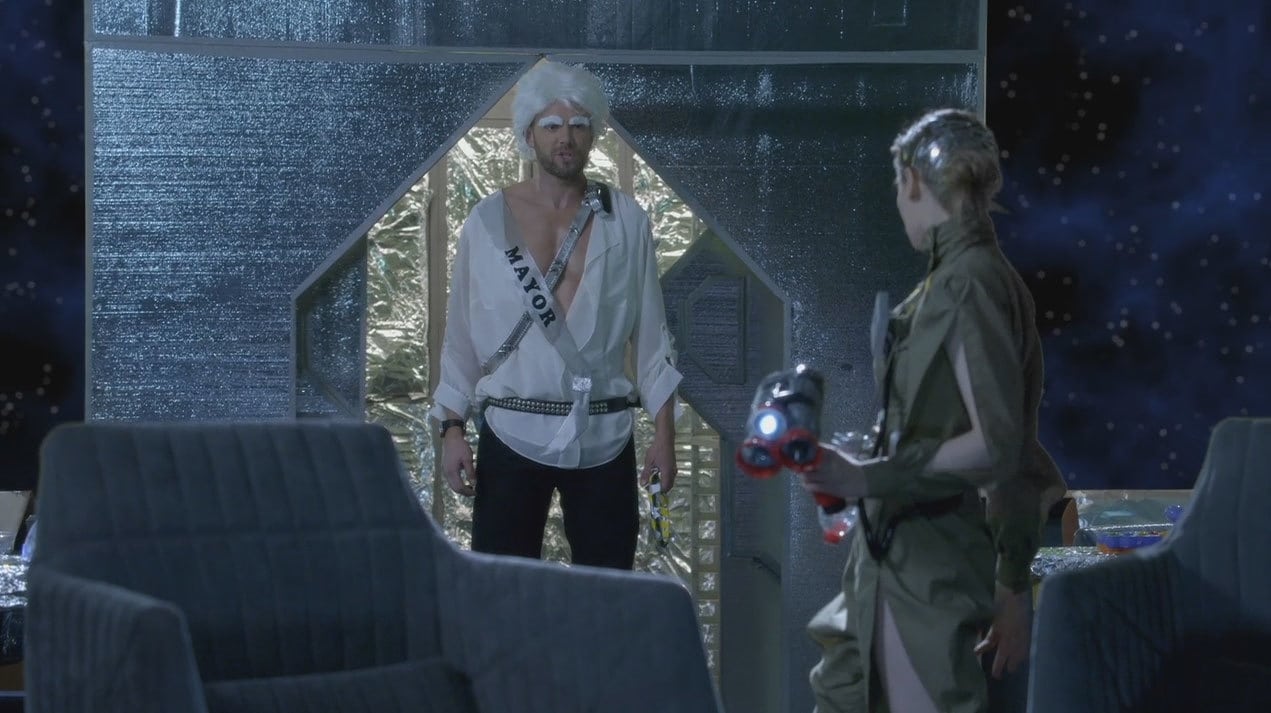 "Intro to Recycled Cinema"
Original Airdate: April 28, 2015
There comes a point in time in your life where you realize that you're standing still and other people are moving on around you. Your friends are moving into houses and you're paying rent on your apartment. You keep getting invitations to wedding after wedding and you haven't found a decent person to date. Your friends are starting families of their own and you're still trying to avoid spending time with yours. No one tells you this, when you become an adult. No one tells you that eventually you're going to feel like you're stuck in life, wading through quicksand that just keeps feeling harder and harder to trudge through. There was a
Buzzfeed article
that I read yesterday featuring "a compendium of invented words" that are used to describe emotions you never realized anyone else actually felt too. Here's one of my favorites that ties in directly with what I stated above and also the theme of this week's
Community
:
In "Intro to Recycled Cinema," we learn a little bit more about Jeff Winger than we did before. Realizations that occur between Jeff and Abed are usually more poignant than most and this episode was no exception. So let's talk a little bit more about science-fiction, Chris Pratt, and Annie's boobs (not the monkey), shall we?
Episodes like "Critical Film Studies" and "Advanced Introduction to Finality" introduced us to heartfelt moments between Jeff Winger and Abed Nadir. These are two characters who should have more heartfelt moments between them in the series, given the fact that Abed was the first character Jeff really met at Greendale. Over the years, Jeff has done his part to try and protect Abed and defend him, even when he doesn't understand him. And that's something that's more evident now than ever -- not many people understand Abed. They tolerate him. They humor him. But they don't GET him. "Intro to Recycled Cinema" was a departure from that, really. This was an episode where Abed's point-of-view was easy to understand and justify and where Jeff's (and the rest of the group's) was not.
Before we get to the heart of the episode, let's talk about the basic plot: Chang has made it big in Hollywood and as a result, has left Greendale and the group. They're all really baffled by this and a little bit offended, too. Okay, they're a LOT offended. Out of all the people to make it out of Greendale and become successful, Chang was the one that shouldn't have. He's the crazy, weird, probably actually insane former Spanish teacher turned security guard turned evil dictator turned... well, whatever Chang was supposed to be categorized as this season. But the group realizes something thanks to Abed -- Chang helped him film a part in a movie. If they can finish the movie and use the footage, they can sell the film and make Greendale a boatload of money.
Abed is on board so long as the movie passes his approval. He's an artist and he doesn't want to put out a product that's just satisfactory. But since the movie needs to get finished by Monday, no one else really cares HOW it turns out just that it gets finished. I related to Abed a lot in this episode (I know, it was a shocker for me, too) since he was the most level-headed one. I love when Abed isn't made to be the butt of jokes. I love that unlike his previous movie-making ventures ("Introduction to Film," "Messianic Myths and Ancient Peoples," the documentary trilogy, etc.), "Intro to Recycled Cinema" didn't find Abed going over the top. It didn't find him obsessive and controlling, unable to separate himself from his movie.
No, this episode actually saw Abed just... doing his job. He wanted to create a good movie and he was forced, by his friends, to lower his standards in order to finish on time. Abed wasn't being obsessive -- he was just doing his job. Abed Nadir has grown since the pilot episode. He's gone from someone being obsessed with viewing life as a television show to simply wanting to create a good product for others to consume. When he begins to recommend making changes, the group stops him. Specifically, Jeff stops him and tells him that Abed needs to let go of editing and changing the movie and instead, embrace the larger picture: it doesn't matter what kind of movie they make or how good it is or isn't. All that matters is that they finish in enough time to give it to Frankie's friend (guest star Steve Guttenberg), who can then turn around and sell it for a lot of money.
So Abed agrees, begrudgingly, which impresses me. If someone told me that I had to turn in a sub-par first draft of a novel because it didn't really matter what the quality was and the end goal was just to finish quickly and make money, I'd be offended. Like, REALLY offended. I'd want the product I put out to be quality, not just... crap that could sell. But Abed refuses to continue to give notes and even though he isn't trying to make it decent -- even though he wants to make it better -- everyone finds that the movie actually isn't THAT terrible for how quickly they shot it and what they had to work with. Even Frankie's friend is immensely impressed with the product, some of the plot twists that were thrown in, and notes that he's excited to sell it if Abed can cut the film down by six minutes.
The entire group is impressed with how the film turned out, including Jeff... whose character has a death scene in the film and is the perfect length to cut. This is when Jeff does what he always does -- he tries to get others to sacrifice instead of him. His natural pattern of behavior is to fall into selfishness, to initially protest something and then get extremely wrapped up in it ("Documentary Filmmaking: Redux"). So when everyone agrees that Jeff's scene will be cut, he literally steals Abed's computer and locks himself away, trying to figure out how to prevent the movie from being edited. It's insane behavior for the person who's supposed to be the leader of the group. But then again, in "Horror Fiction in Seven Spooky Steps," we realized ABED was the most sane of the entire group.
Community
is great when it reminds us that the characters we thought were the most stable and normal are actually the ones who are most problematic. Abed has grown (depending on the episode you watch, some more than others) and in "Intro to Recycled Cinema," tries to do exactly what Jeff instructed he do: edit the movie, send it in, and get the school money. Instead of Abed acting insane, it's Jeff who does and Jeff who fights Abed and Jeff who ACTUALLY STARTS TO CHOKE ABED to prevent the film from being edited.
That last part horrifies both men (as an aside: Danny Pudi consistently nails the tics of Abed, but this episode he did an amazing job demonstrating the real emotional nuances of Abed -- eye-rolling, sarcasm, fear, excitement, etc. and making Abed a more softer, well-rounded version of his generally stoic character) and then Jeff makes a confession which is really striking: he's come to the realization that he'll be the last one of the group to be forced to stay at Greendale. Troy managed to leave and find his own way. Shirley forged her path into the unknown. Even Pierce got out of the purgatory of Greendale by dying. Jeff then admits that he knows everyone else will leave and become better people -- that Annie will eventually be President (that was unexpectedly sweet and wonderful of him to say, exemplifying how much he believes in her) -- and that he'll be the last one there. In a twist of events just like "Advanced Introduction to Finality," it's Abed who prepares a Winger speech to deliver to Jeff.
Remember how a few episodes ago, Abed insisted that emotional vulnerability wasn't really in Jeff's wheelhouse? Remember how Jeff then mocked Abed and essentially called him a robot? Well, this scene is the scene that breaks down those preconceived stereotypes of each character. Jeff finds it easy to be vulnerable around Abed because there's no fear there -- he's not afraid of being judged or of being seen as weak. Jeff and Britta have some emotional moments together but they're both so stubborn and prideful that they don't usually allow each other in. Jeff can't be completely vulnerable around her because then it means she "wins" and he "loses" (remember how competitive these two can become with each other? See: "Anthropology 101"). Jeff doesn't know Frankie or Elroy enough to be really vulnerable with them -- they still see him as the leader and he can't exemplify weakness. With Annie, I think Jeff always wants to be strong around her and support HER. So he's afraid of letting himself be vulnerable because I think he believes it would make her think less of him and he never wants her to think less of him. He always wants to be her hero. Or, in the very least, someone she can admire.
With Abed, it's always been different. Abed and Jeff understand each other better than pretty much anyone else and Abed isn't afraid to call Jeff out on his crap. Jeff isn't afraid to be vulnerable with Abed. Why? There's trust built up there. And there's understanding. They're both broken and Abed knows that whatever conversations he and Jeff have... they'll be theirs alone. Theirs is the sort of trust built from and in chaos and it makes it that much easier for Jeff to listen to Abed and realize he's right. Essentially, Abed's speech to Jeff is that yeah, sometimes life sucks and is pointless and feels like a giant, swirling mess of crap. Sometimes it feels absolutely out of your control.
But then... something unexpected happens in that mess that makes you realize that your life is being orchestrated in a crazy, amazing way and those are the things you hold onto. (In the case of this episode, sometimes -- Abed says -- Annie reaches into her boobs and pulls out a laser bomb to throw in the movie. That wasn't scripted. That happened because of HER.) It's the little things that filter through the crap that we need to hold onto and look forward to. Because sometimes life is a mess, but sometimes Annie reaches into her boobs and throws a laser bomb at a bunch of robots.
This is exactly what Jeff needed -- he needed Abed to remind him that there are tethers in life, no matter how crazy or out of control Jeff feels. When he feels like everyone is slipping away from him, he needs to hold on tightly to the moments that are unscripted and unexpected. It's a great little speech that ends with Abed offering his hand to Jeff and Jeff allowing Abed to help him up (SYMBOLISM, SYMBOLISM). And it ends with perhaps what is the sweetest, most genuine, unexpected hug on this series:
Again: kudos to Joel McHale (look at his face and the way he just collapses into Danny's shoulder) and Danny Pudi (his face of utter surprise and how tightly he holds onto the hug) for this scene. It's such a beautiful hug and moment between the two.
As much as I did love "Intro to Recycled Cinema," I can't help but wish every episode this season had been like this one. Over half-way through the sixth year at Greendale, I feel like I've waded through quicksand and mud, trying to mine meaning and plot from episodes that have felt frantic, occasionally fun, and sometimes very frustrating. (Deb might back be up on this one.) If each of the characters on the series are truly pulling away from Jeff, slowly, and from Greendale, I would like to
feel
that more than just being
told
it in one scattered episode in the middle of the season.
Nevertheless, this episode of
Community
reminded us that sometimes we have to hold onto the moments we have with people and sometimes we have to let go and learn to move forward or accept where we are if we can ever hope to become better.
Additional de-lovely aspects about the episode include:
So if you follow me on Twitter you know that I've been desperate for a 3 Men And A Baby remake starring Joel McHale, Nathan Fillion, and Adam Scott. It gave me immense pleasure to see Steve Guttenberg (one of the original stars of the film) in this episode. Thanks, universe, for that one.
I liked this episode a lot more than the last one I reviewed, if you can't tell by the lack of rage GIFs. Sadly though, this is the first episode all season that I've really enjoyed and we're over half-way through. I think it's also the first episode I really laughed at.
"You either get out of Greendale or you get me in your corner. You don't get both."
"I don't think police should be heroes." "Britta, PAY YOUR RENT."
So let's talk about one of the disappointments in this episode which I didn't mention above: Britta and Annie at odds. Again. Understandably, Annie is upset that Britta hasn't paid her rent. I mean, it seems like ANNIE is the one supporting the entire apartment. But what really continues to irk me is how the show pits these two women against each other, specifically how Britta shames Annie multiple times in the episode for wearing clothes that accentuate her assets. It was like watching "The Psychology of Letting Go" all over again and I hated it. I hated the fact that Britta accused Annie of essentially setting women back by the way she was dressed. I hate that this show insists on making the two women enemies. These women had so much potential for friendship and the show squandered it for the sake of a love triangle. SIGH.
"They like dinosaurs. They like aliens. And anything else Chris Pratt can join forces with."
"Let's crap out this piece of crap." "That attitude concerns me."
"Let me use a metaphor I can understand... every day I work out." "REALLY?"
"Improvise pockets." "Pay your rent or SHUT UP."
"Uh, I love you?" "I love you." Okay, let's talk about this for a second -- Tumblr made the astute observation that Jeff and Annie always tell each other that they love one another ("saying I love youuuuu!" "I only did it because I love you") under pretenses and guises. But maybe that's the only way they feel secure in doing so. Because it's funny -- Annie improvises that line and it was a question, but Jeff improvised it and it was a STATEMENT. The show is going nowhere fast with Jeff/Annie and has been for years, which makes me sad. Other shows would kill to have the chemistry Alison Brie and Joel McHale have together. But Community has so much potential with these two characters and repeatedly chooses to do absolutely nothing with that potential. It makes me sad. It makes me Changry.
"I'm huge and I have ZERO BLOOD SUGAR. I WILL KILL YOU IN THESE FRISBEES." That's basically me when I get hungry though.
"I watched Parks and Rec. I watched it." This makes me sad because it means Parks is a fictional world in Community and I kind of want to live in a world where Annie Edison and Leslie Knope are real-life besties.
All right, friends. What did you think of "Intro to Recycled Cinema"? Did you enjoy it or hate it? (Or did you fall somewhere in the middle?) Hit up the comments with your thoughts. Deb will be back next week for "Grifting 101" so until then. :)