On any given day, I'll open my social media feeds in the morning and read through some terrible news — a comment made dehumanizing a particular ethnicity or people group. A mass shooting. A death of a beloved celebrity. News of someone's crimes against the marginalized.
With all of the things in the world that can weigh us down, it can be easy to sink. We can find ourselves in a media overload, with whirlpools swirling around us. As hard as we kick, we might feel totally helpless and hopeless by the things we see and read. I believe it's important to be informed and alert — to vote, to do what you can with your voice and your feet and your wallets and your whole selves to protect the people you can and treat everyone as a human. I believe we all need to look around us and ask, "What can I do to help?"
But even after you've practically done what you can to help others, you might still feel utterly helpless. You might even feel guilty for going to the movies, for enjoying a cheesy television series, or laughing at a stand-up show because of all of the things happening around you that you can't control. I think that's kind of the point — today's world allows us the chance to be so intimately connected to everything that we often hold on tightly to things outside of our control. It makes us feel powerless and occasionally guilty for enjoying things in life meant to be enjoyed because we deem them "insignificant" in the scope of life.
I, however, ascribe to the belief that until you care for yourself, you can't be your best self for others. It's why an airline attendant will tell you to secure your oxygen mask first before helping the child or person next to you. It's not out of selfishness that we put on our masks first — it's because until we're relaxed, secured, and supplied, we cannot be of assistance for the people around us.
So in an era where our political, economic, religious, and social justice climate feels like a weight crushing down on us, it's even more integral for us to practice self-care. Thank goodness there are content creators out there who've recognized the necessity for feel-good media! This listicle will help give you an idea of some feel-good television shows and films you can watch the next time you feel overwhelmed by things in your life.
So pull up your comfiest couch, a soft blanket, and your drinks and snacks of choice. Let's get started with my recommendations!
One Day At A Time
(A slight disclaimer: This show is so well-written and well-acted that it will also make you sob into a pile of tissues. Not like, those cute little tears either. The kind of crying that is just snotty and gross. Just an FYI.)
One Day At A Time
is such a delightful, family-centric Netflix series. The story goes as follows: Penelope Alvarez is a recently-single Army vet who's raising her two children with her mother's help. They're a Cuban-American family trying to navigate life, in all of its best and worst moments. It features an incredible cast, stellar writing, and beautiful messages.
One Day At A Time
's draw is that it discusses relevant and difficult topics (like immigration, PTSD, depression, sexuality, etc.) without being overt or trite. There's a character who's a woman, a POC, and a part of the LGBTQ+ community. The show is inclusive and sweet, heartwarming and humbling. Rita Moreno is an absolute wonder, as you'd expect her to be. And Justina Machado is a force to be reckoned with. She can have you laughing one moment and overtly weeping the next.
The best part about the series (and there are so many things to love about it) is that it truly is about love — the love that these family members have for each other. The love they have for the work they do, and the people in their lives who are friends-turned-family. It's a feel-good series that reminds us to find joy in the relationships that can be hard, to stand strong and be who we are, and to always remember that it's okay to admit that you're not okay. We need each other, and
One Day At A Time
reminds us of the beauty in that.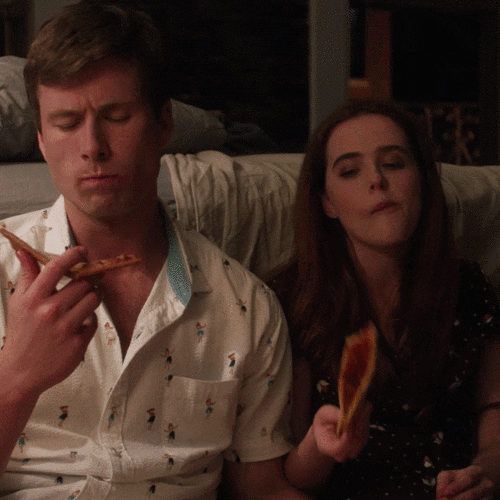 Set It Up
I might have watched this Netflix rom-com twice over the course of a week. That's how cute and endearing it is. I'm always hesitant to try out romantic comedies because the writing is often hit-or-miss, and if the chemistry between lead actors isn't there, the whole thing can fall apart. But
Set It Up
isn't just genuinely funny and endearing — it's a great reminder for even the most cynical among us that the rom-com genre isn't quite dead yet. The film centers around two burnt-out assistants named Charlie and Harper who decide to pull a
Parent Trap
on their bosses. If they manage to do it right and set them up, they just might be able to find time to have lives. Of course, things don't go as planned.
There are plenty of cute moments throughout the film, but if you're a sucker for a slow-dancing trope or "schmoopy eyes" like I am, you'll fall in love with
Set It Up
(and Glen Powell — who plays the snarky, ambitious Charlie — in particular). Taye Diggs and Lucy Liu are fantastic as the tough-as-nails bosses that Charlie and Harper work for and bring their own brand of staccato humor to their roles. And Zoey Deutch is absolutely perfect Harper who is a slightly-awkward but sweet person who dreams of someday having time to actually be a writer. As you might imagine, the connection between Harper and Charlie is a driving force of the film and the Glen/Zoey dynamic throughout is truly what carries
Set It Up
, allowing it to shine as a rom-com. Men of future rom-coms, take lessons from Glen Powell about how to perfect that "I'm in love with you" look because he's got it down.
Grab a bottle of wine and a bowl of popcorn tonight and settle in for
Set It Up
!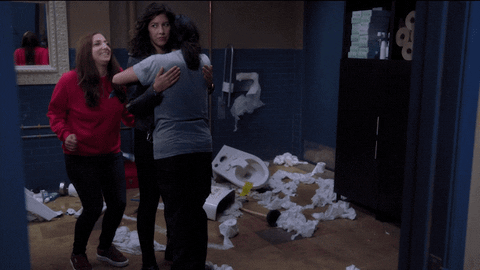 Any and every Mike Schur comedy (Brooklyn Nine-Nine, The Good Place, and Parks and Recreation specifically)
Mike Schur is the showrunner whose comedies are defined as comedies of optimism. Whether you choose
Parks and Recreation
,
Brooklyn Nine-Nine
, or
The Good Place
, you'll find bright, diverse shows where the characters genuinely love each other, defend each other, and strive toward becoming better people. While I do love
The Office
(and will always binge-watch it), that comedy usually skewed itself toward cringe-humor and numerous plot points were rooted in the idea that characters disliked each other.
But in
Brooklyn Nine-Nine
, there are characters who banter and fight but who stand up for each other. They're a squad, through and through. There are so many amazing things about the series that I could write — how the topics are poignant and character-rooted the stories are, how funny the series is, how heartwarming it is to see relationships evolve — but I'll let you guys watch the show and see for yourselves.
Additionally, if you have yet to binge-watch
The Good Place
, please do so ASAP! This is another bright (quite literally, because of the way the show is lit), hilarious comedy that not only provides excellent meta commentary, pop culture references, and pop-up guest performers from the Schur Universe, but it also is a show about people realizing they're not great, but wanting to be better — for themselves and for the people around them.
(And if you've never actually watched
Parks and Recreation
, I will kindly wait here while you binge-watch the entire, beautiful little series.)
The Decoy Bride
Yes, this is another rom-com that you should watch. It's cheesy and predictable, but that's usually how I like my feel-good media to be. The film stars Kelly Macdonald (also known as
Brave
's Merida) as a Katie, a young woman who returns to her hometown on a remote Scottish island after her failed engagement. Realizing that she's basically the last single person on the island of Hegg, she devotes herself to writing a guidebook about the island itself. Meanwhile, shenanigans ensue when a writer named James (David Tennant) and his fiance Lara (Alice Eve) arrive on the island to escape paparazzi and get secretly married. Obviously shenanigans ensue, leading to James and Katie falling in love.
Are you a fan of every rom-com trope in the book? Then
The Decoy Bride
is the perfect film for you! It's sweet and endearing (and actually one of the few PG rom-com films I've watched maybe ever that I actually have enjoyed), and the reason I keep coming back to it whenever I need a pick-me-up is because while I eye roll and complain about tropes in rom-coms, I also have come to rely on them. These things still make me smile, and it's a comfort akin to your favorite cozy blanket.
Plus... David Tennant.
Young & Hungry
I don't even know how I started binge-watching this or why, but I did and I absolutely adore how utterly corny it can be. Someone in an article I read essentially described it as a more adult version of a Disney Channel or Nickelodeon series, which might explain why I enjoy it (considering I grew up on those channels as a kid). The Freeform series stars actual Disney alum Emily Osment as Gabi, a personal chef who works for a young tech entrepreneur (who eventually becomes her love interest, naturally).
While the laugh track on the series occasionally feels over-the-top, if you're looking for some fluffy fun that's reminiscent of
The Nanny
in slapstick shenanigans, then you're in the right place and
Young & Hungry
is the series for you.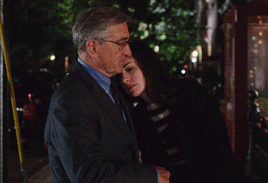 The Intern
A few months ago,
The Intern
was on TBS and I decided to watch it, as I'm one of the few people who's always adored Anne Hathaway (
Ella Enchanted
should also be on your list of feel-good movies, to be honest). If you're looking for a non rom-com that is sweet, positive, and features an all-star cast, then
The Intern
is for you. The plot is this: A man named Ben (Robert De Niro) in his 70s decides that he needs to fill his days with something meaningful, especially now that he's a widower and so many of his friends are gone. He applies for an internship with an online fashion site, founded by Jules (Anne Hathaway). The rest of the story is how Ben learns to adjust to a technologically-driven workplace, but how he's able to bestow his wisdom to his young co-workers — including his boss, Jules.
Robert De Niro and Anne Hathaway's chemistry in the film is perfect. Ben serves as a father-figure to Jules, encouraging her, providing her with advice, and learning from her. One of the best parts about the film is that it doesn't paint either age demographic in a bad light. Jules is genuinely appreciative of Ben's experience and old-fashioned ways of doing things; Ben shows nothing but respect to his younger co-workers and approaches his work with humility. He even tells Jules how much he admires her and her work.
The Intern
is such a cute, feel-good film that will make you probably wish you had someone like Robert De Niro to work with every day.
The Bold Type
Looking for a show that's female-positive, fun, filled with incredible music, and also tackles workplace and romantic relationships?
The Bold Type
is the show for you! This Freeform series features a young female cast whose characters work for a magazine called Scarlet. Kat (Aisha Dee) is the social media editor, Jane (Katie Stevens) is a budding writer trying to find her big shot, and Sutton (Meghann Fahy) is an assistant with a passion for fashion. The women work for Jacqueline (Melora Hardin) who runs her magazine with the belief that women should be empowered. She's a tough woman but what I love about
The Bold Type
is that this is not
The Devil Wears Prada
— Jacqueline gives pep talks to her staff. These young women look up to her as their boss and she's aware of that responsibility. So you'll see episodes where Jacqueline and Jane sit down and talk to one another honestly.
The Bold Type
is the feel-good, fun show you need to add to your queue — especially because it's still airing! Catch up and watch the current season with us.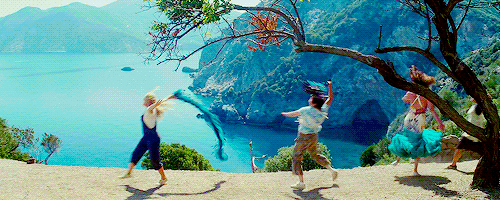 Mama Mia!
Honestly, if you haven't yet watched this movie, I highly recommend you do so. It features an all-star cast including Meryl Streep, Amanda Seyfried, Colin Firth, Pierce Brosnan, and more. The story follows one young woman, Sophie (Seyfried), who is about to get married and wants to invite her father to her wedding. The only problem? Her mother (Streep) never told her who her father was. So Sophie sends out three letters to the three men who could be her father and all three show up. The rest is a musical journey featuring ABBA songs as Sophie learns about family and love from the three men, her mother, and her mother's best friends.
Mama Mia!
is just so much fun. I'm a sucker for musicals, obviously, and so the soundtrack for this film is delightful. If you don't end your viewing by humming "Dancing Queen," then you might be a robot. The story itself is a fun little guessing-game, rooted primarily in the love that Donna has for her daughter. The most important relationship by the end of the film isn't a romantic one — it's the familial bond between a mother and daughter. And I love that.
Splitting Up Together
Okay, I know that you might be wondering why a show about divorce makes my "feel-good" media list, but hear me out because I was skeptical too: This ABC sitcom is entirely endearing and realistic in its portrayal of adult relationships, marriage, parenting, and moving on. It's developed by Emily Kapnek (of
Suburgatory
and
Selfie
fame), whose shows were more or less focused on the idea that people are good, but even people who love each other make mistakes.
Splitting Up Together
is centered on a couple: Martin (Oliver Hudson) and Lena (Jenna Fischer) who have decided that they can no longer make their marriage work, but don't want to split up their family in that process. So they decide to continue living together, each taking shifts — the "on" parent lives in the house, and the "off" parent lives in the attached garage apartment.
Oliver and Lena's family and friends are skeptical about this arrangement. And though it initially feels awkward and odd (especially when both adults move back into the dating world), it works. And what results is a heartwarming show about what it means to love and lose, and the complexities of relationships that go south. I love that
Splitting Up Together
allows the chance to explore separation and divorce while developing both Oliver and Lena's understanding of themselves and each other in the process.
Catch up on this ABC series. Jenna Fischer is absolutely wonderful, as you'd expect her to be, and Oliver Hudson surprised me with his delightful portrayal of Martin. Their chemistry is an integral part of the series and it works.
Regardless of which shows or films you deem to be feel-good, be sure to spend time this week (and month, and year) taking care of yourself. Sound off in the comments below and let us know what some of your favorite fluffy, feel-good TV shows/films are!