When you ask me who my favorite actor is, I will usually say "Joel McHale" without even missing a beat. That's partially due to the fact that I met him in person after years of pestering him to come to Orlando and do a stand-up show, but it's mostly because Joel McHale is weirdly one of the most constant television presences in my life to this day. When I began watching The Soup, I was in high school, sitting in my pink-walled and carpeted (yes, you read that correctly) bedroom, laughing at the inappropriate jokes he would make or the sassy retorts he would deliver via the teleprompter.
Joel is a hilarious human being, and the eleven years he spent on The Soup as its host and face will not be soon forgotten. When I heard the news that the show had been cancelled (on the heels of Community's slump toward the finish line earlier this year), I was a lot more disappointed and saddened than I thought I would be. I knew that Community would probably (see: always) be cancelled on whatever network it aired, but I thought that I had a few more years with Joel's not-so-skinny ties, Mankini, Lou, and Kelly's "so meaty" dialogue. But since we don't have a few more years, or any more years at all, I thought I would gather some of the staff who have been fans of The Soup for a long time and talk about why this show is so special to us and why we'll be sad to see it go.
So pull up a chair and a flameless candle, because we're about to try and articulate eleven years' worth of hysterical segments, really bad television clips, and unforgettable characters.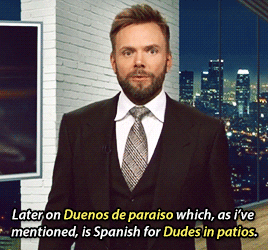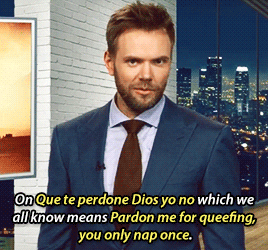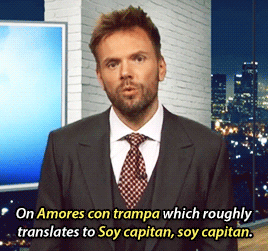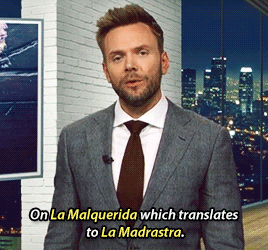 JENN:
Where do I even begin? I started watching The Soup in high school (so around 2007 or so) and it became a weekly tradition of mine to sit down and enjoy Joel McHale making fun of pop culture. Flash-forward a few years when my friend Jaime encouraged me to watch Community. I did so because it had "that guy from The Soup" and "that woman from Drake and Josh" in it. The Soup combines everything that I love — clips of outrageous and absurd television, recurring gags and sketches, and Joel McHale.
I've watched this show long enough to remember when still-burgeoning Disney stars made their appearances to promote their shows. I remember when the show used to air on Wednesdays. Then on Fridays. Then... Wednesdays and Fridays again. I remember when it had its old green screen and backdrop. I remember when the show traveled to New York and Atlanta, and the first time it did a show live on both coasts. I've seen Miley Cyrus stories, more Ryan Seacrest height jokes than I could ever count, and the evolution of Joel's ties from skinny to normal-sized.
The thing that always made me care about The Soup though was Joel himself. Snarky and endearing, he's one of my favorite human beings on the planet. His comedic timing, wit, and tendency to tower over his guests (Joel is tall, you guys) never ceased to bring me laughter. And the thing about Joel is that he's actually extremely genuine. He can fire off one-liners and deliver snappy and occasionally offensive jokes, but some of the moments I have loved most throughout the years on the show are the ones in which he set aside that in order to do something quiet, like honor Cory Monteith and Robin Williams.
I can't properly express what this show has meant to me. It's been my constant companion, from the time I was a teenage girl laughing in her bedroom at a smattering of Kardashian jokes, to now: a twenty-six year old woman, laughing in her bedroom at a smattering of Kardashian jokes. The writers on this show have worked tirelessly over the years to create sketches, characters, and jokes and watch hours and hours of horrible television in the process. I'll miss watching Joel monologue angrily about Finding Bigfoot, I'll miss the way he says "aaaaanyway," and I'll miss all of the bad accents he tries to do.
I'll miss Spaghetti Cat, Mankini, jokes about Community's cancellation, Greg Kelly, and all of the wonderful and weird clips that are on television that week. Just know that whenever I see a particularly bad telenovela, watch an infomercial for flameless candles, or hear anyone utter the word "Kardashian," I'll be thinking of you, The Soup.
Jenn's favorite clips and moments:
Joel's goodbye to Cory Monteith — because it was a serious moment and the decision to set aside time to honor his memory was a conscious one.
Any and every time that the cast of Community was on The Soup. But especially this one.
The time that Larry King came on the show, and Joel could not stop giggling.
Two words: Greg. Kelly.
TALES. FROM. HOME. .... .... ....
RAAAAAAAWR with Brian Williams.
Before the show shot live and they taped, which meant that the show had bloopers upon bloopers from its guests.
.... SHOPPING.
DEBORAH:
Even though I caught a few episodes here and there early in its run (I know about your early bad hair, Joel McHale), I didn't start watching this show regularly until around 2007. Still, there is a huge quantity of Soup-related memories and jokes currently crammed inside of my head that will never, ever leave. And I don't want them to, because sometimes all I have to do to get a little laugh out of myself is think about Joel McHale in front of the still image of that... apartment? Empty office building? What even was that backdrop, The Soup? Eh, whatever it was — the fact remains that The Soup was a highlight of my week for over eight years and I'm going to be unbelievably sad to see it go. It was smart, hilarious, and a wonderful way to end the week (except for that period of time when it was on Wednesdays, in which it was a wonderful way to... take an intermission from the week, I guess.)
So, thank you The Soup, for years of entertainment. I'm going to miss your Spaghetti Cats and your Mankinis and your Unlikely Voices of Reason. I'm going to miss that chroma-keyed backdrop I don't understand, and when things went wrong but you made it funny anyway, and those occasional awkward seconds after the show was technically done but before the credits rolled and Joel had to think up something to fill in time. How am I supposed to find and laugh at the weirdest things on TV without you there to guide me through it all? It's not like I'm going to actually sit down the watch the horrible stuff you guys did! So where am I supposed to go for perfectly edited clips of ridiculous things? The Internet?
(Side note: Hey, Joel, could you just... host the Internet? All the funny things on the Internet? I'd be okay with no Soup if you could.)
Deb's favorite clips and moments: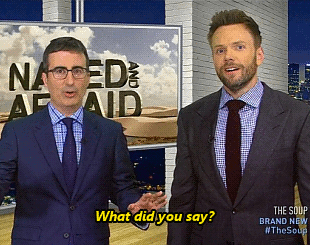 LAURA:
I was late to the game, in that I didn't start watching
The Soup
until after seeing Joel on
Community
and immediately connecting with his snarky sense of humor. It quickly became an entertainment highlight of my week with the added benefit of making me feel pretty fantastic about my life (not that there's anything wrong with spending your life hunting Bigfoot).
So of course, when I moved to Los Angeles and found myself living within walking distance of where they filmed, I made it a priority to go watch them film every chance I could get (which had to end up being at least ten times in the span of six months). It was an absolute pleasure getting to watch this show film — from Tom the camera-man's energy and enthusiasm, to the same intro K.P. gave every time before Joel came out which somehow never grew old. A lot of the true magic happened during commercial breaks, when Joel would goof off and joke around with the audience and the crew. Not only was the content they produced hilarious but it was clear that they all truly had a passion for making fun of terrible reality television and that will be greatly missed.
Also, one of the highlights of my life was
introducing Reality Show Clip Time
on
The Soup
and I'll always be grateful for that opportunity.
Laura's favorite clips and moments: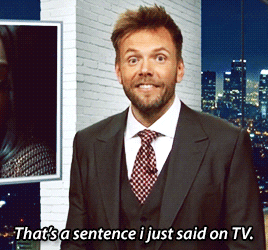 MEREDITH:
Some of my favorite moments have involved whenever Joel gets to make fun of Greg Kelly and
Good Day L.A
., as well as the forever iconic "stay out of it, Nick Lachey" clip. Also remember the
worst iced tea refill
from
One Tree Hill
? Because I do.
MADDIE:
Pretty much everyone here has expressed everything I love about this absurd and wonderful show. It was the perfect blend of sarcasm, fun, and pop culture references. Going to a taping of the show was still one of the most fun experiences ever. If you hear a sound akin to an asthmatic velociraptor in an episode from January 2013 — that was me laughing hysterically in the audience. There is no doubt that I will miss
The Soup
immensely. I still make references to it all the time. I thank this show for introducing me to the lovable comedic brilliance that is Joel McHale, and consequently
Community
. Without fail, this show was a pure delight and delivered excellent comedy every episode. I'm seriously so sad this show is leaving us. To the folks at E!... WHY CAN'T I HAVE THE THINGS THAT I WANT?
But I digress... instead I'll focus on the good times we've had.
Maddie and Joel at The Soup taping.
Maddie's favorite clips and moments:
Before Jane the Virgin, La Madrastra/ Triunfo Del Amor was my exposure to the fantastically outrageous world of telenovelas. Joel's significant glances are everything.
Any time Patrick Warburton guest-starred on the show. This clip in particular is classic. Joel and Patrick's repartee is wonderful, and is the perfect example of what was so great out of the show: mining comedy gold from the absurd and inane world of current pop culture.
To all of the writing staff and cast of
The Soup
(including, but not limited to Kelly Levy, Dominic DeLeo, K.P. Anderson, Lee Farber, Matthew Carney, et. al), thank you for giving us so many great memories. Thank you for watching countless hours of crappy television so that we didn't have to. Thank you for making us laugh about stupid things for years and years on end. Thanks for never allowing us to think about
Gold Rush Alaska
, the Home Shopping Network, or
Inside Edition
ever again. To Joel McHale — thanks for leading the charge and making this show so fun and memorable for us and countless others for all of the years that you have hosted it. We all love and appreciate you more than words can say.
We'll always remember you,
The Soup
, and look forward to watching a lot of bad television with your sharp and witty jokes in our heads the entire time.