With the world in an upheaval because of coronavirus, a lot of companies have decided to have their employees work remotely to prevent the spread of the virus. People are practicing social distancing — staying away from crowds and public spaces in order to protect themselves and others from the spread of the virus. But with social distancing can come loneliness. Even introverts are used to leaving their homes and taking quick trips to grocery stores, gyms, shopping malls, movie theaters, or theme parks every once in a while.
With all of your free time confined to an apartment or house, you might be looking for something to binge-watch and pass the next two or more weeks' worth of time. I have 20 different shows that might just do the trick for you. They're varying lengths and available to watch on different streaming platforms, but all are shows that I've found to be fun and might brighten your spirits during your isolation.
20. Galavant (Netflix)
Of all of the shows on this list,
Galavant
is perhaps the most underrated. This short-lived ABC meta musical comedy only got two seasons but it made the most of its time on the air. It's a show set in medieval times with references to present pop culture and hilariously subtle jokes. The music is wonderful (composer Alan Menken and Christopher Lennertz produced the music), the guest stars are fantastic (JOHN STAMOS APPEARS), and the stories are unexpected in the best way. You'll be able to finish this one pretty quickly so I recommend moving right into the next show on our list!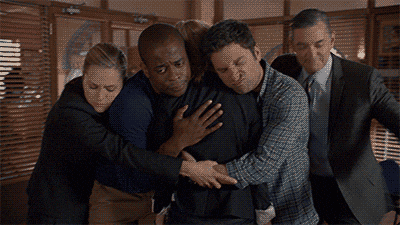 19. Psych (Amazon Prime)
Psych
is one of my absolute favorite shows. Not only is it hilariously meta, but it's also such a good example of a show that mixed comedy, drama, and procedural into one. James Roday and Dule Hill are absolute stars. They have the chance to do really hilarious physical comedy, deliver snappy one-liners, and also really punch you in the heart with feels. The rest of the cast is just as stellar: Timothy Omundson is also in this show as Detective Lassiter, and Detective Juliet O'Hara is played beautifully by Maggie Lawson.
Psych
is just such a wonderful, charming, engaging series that proves you can do character development, comedy, and romance well while also still having "case of the week"-style episodes.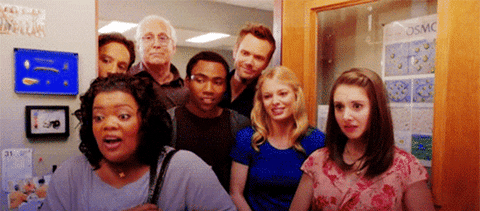 18. Community (Hulu)
I love this show so much that I
started a podcast
about it! Though
Community
has been off the air for years now, the show is actually going to be moving to Netflix soon (and hopefully fulfilling the in-show prophesy of "six seasons and a movie").
Community
is a series about a group of lovable misfits who attend Greendale Community College and form a Spanish study group. But one thing this former NBC sitcom was known for is its risk-taking. This series features claymation episodes, homages to famous films, and even a few musical episodes. It's a series that, at its best, could turn itself into anything and still ultimately make sense. The ensemble is led by the always-charismatic and snarky Joel McHale, and if you haven't watched this show yet, you certainly should. I doubt you'll regret it!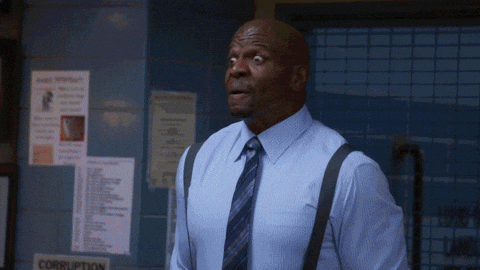 17. Brooklyn Nine-Nine (Hulu)
I chose a bunch of shows from the Mike Schur universe to include in this list because they're all incredible!
Brooklyn Nine-Nine
took a few tries to hook me, but once it did, I never looked back. Centered around the 99th precinct in New York, this cop-centric ensemble comedy is an absolute gem. The characters all have the chance to get fleshed out over the seasons, and recurring jokes are a part of this show's DNA. It's hard to put into words exactly what makes
Brooklyn Nine-Nine
special, but I'll say this: it's genuine. It's got a wonderful heart and soul and it doesn't waver from that for the sake of an easy joke. It's authentic and it's fun. And you need to start watching it ASAP if you have not already.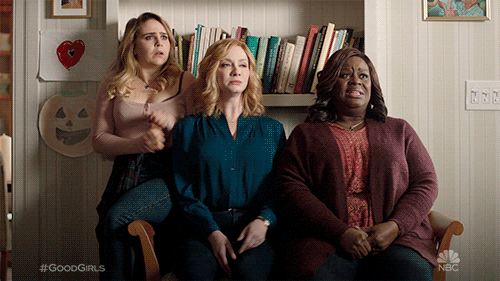 16. Good Girls (Netflix/NBC)
This might be the darkest show I've recommended, but I think you'll find it as addicting as I did. I could not watch a next episode fast enough.
Good Girls
features a wonderful trio of women: Christina Hendricks, Retta, and Mae Whitman. Each brings their own brand of dark humor and intensity to their roles. And at its core,
Good Girls
is about the relationship between these women and the question: "How far would you go?" How far would you go to provide for your family? What would you do if you got hooked and couldn't stop? Can you justify bad behavior for a worthy cause? And when is the cause suddenly not even a factor anymore? This NBC series is still on the air so you can use Netflix and Hulu to watch the show's first few seasons and most recent episodes. Just a warning: this stuff does get a bit dark. Maybe break it up with some cheesy fun shows!
15. Single Parents (Hulu/ABC)
I've
talked extensively
about
Single Parents
, and I could do so for the next few years. But for those of you who haven't heard my loving pitch yet: this is a show from women who worked on
New Girl
(creator Liz Meriwether and EP J.J. Philbin helm this show) and writers who also worked on the show. So if you enjoyed
New Girl
,
Single Parents
has a very similar feel in tone and storytelling. It's a show about a group of, you guessed it, single parents (played by Taran Killam, Leighton Meester, Kimrie Lewis, Brad Garrett, and Jake Choi) raising young kids. Shenanigans ensue, of course, but this beautiful ensemble comedy doesn't relegate kids to the background — they are integral to the stories! And they're FUNNY! There's a sweetness to this show that not many network comedies have, so please check it out. It's endearing and fun and wonderfully delightful.
14. Happy Endings (Hulu)
When people discuss unjust cancellations of television shows,
Happy Endings
typically makes it onto lists. I love this series (and might do my yearly rewatch in the next few weeks...) and think it's one of the silliest, most meta, fun comedies out there. The show focuses on a group of six friends (Eliza Coupe, Damon Wayans, Jr., Adam Pally, Elisha Cuthbert, Zachary Knighton, and Casey Wilson) that are splintered in the pilot because one of the women leaves one of the guys at the altar. I assumed that
Happy Endings
was just going to be a re-imagining of
Friends
, but it's not. This show is wonderfully unexpected because the humor and comedy is often so zany. I love it. And I think you're going to love it too.
13. GLOW (Netflix)
GLOW
is a show about women. That's the selling point (or at least it should be). It focused over the years on things like female empowerment, motherhood, love, purpose and connection, race, etc. Though the show is primarily about wrestling, one of the most important things the show focuses is on is women's complexities. People aren't black-and-white heroes or villains. They're not defined by one thing or characteristic or choice. People are complex, especially women. And what's incredibly refreshing (in addition to the fact that
GLOW
features examples of diversity and representation) is that the show doesn't attempt to reduce any of its female characters to just one thing. Ruth (Alison Brie) could easily be perceived as the villain given the choices she makes. Betty Gilpin's Debbie could easily be victimized or demonized but she's not. While
GLOW
has its ups and downs over the seasons, it's definitely worth checking out!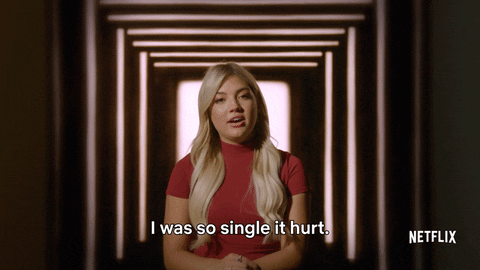 12. Love is Blind (Netflix)
Let me tell you a story: on Valentine's Day, my roommate and I got addicted to Netflix's reality dating show,
Love is Blind
. It's the very definition of addicting television. The premise is this: women and men are separated from one another and sent to "pods" — essentially rooms connected by doors so participants can hear each other but not see one another. The hypothesis of the experiment is the show's title: "Is love really blind?" The participants choose who they want to be with, without ever seeing them. They propose, and then spend the next few weeks before their weddings (!!!), seeing whether their physical connection in the outside world matches the emotional one they formed in the pods. Not everyone makes it down the aisle, and even if they do, not everyone chooses to marry the person they chose in the pod. Mix a few cute couples you can genuinely root for with a whole lot of hot messes and you have a recipe for the best binge-watch during your social distancing. Be warned: you'll probably yell at the television multiple times.
11. Superstore (Hulu/NBC)
Are you a fan of wacky workplace comedies? Then
Superstore
is the show for you! Anchored (for now, as she's set to depart next season) by the lovely and talented America Ferrera, this is a show about a fictional workplace called Cloud 9 and its employees. Of course, shenanigans ensue all the time. There are genuinely sweet and heartbreaking moments as the series progresses, and we get the chance to know these workers as more than just employees. We see them evolve, fall in love, fight, and suffer. It's a perfect show for you to binge-watch!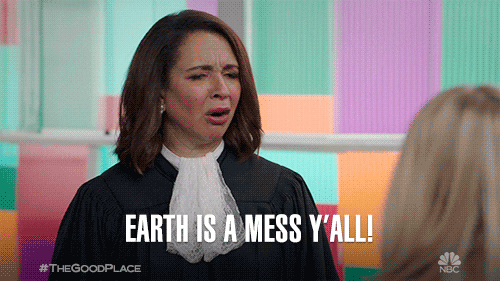 10. The Good Place (Netflix)
If you haven't checked out
The Good Place
yet, you need to do so as soon as possible! Not only is this a show that manages to make you laugh and cry, but it does so while focusing on a lot of really deep topics like philosophy, morality, and what it means to love each other well.
The Good Place
is also one of the only shows on television that manages to consistently reinvent itself in the best ways. By the end of the first season, you'll be ready to hit "play" on season two. In addition to the tight writing, extensive callbacks, and jokes, the cast is astounding. Ted Danson, Kristen Bell, D'Arcy Carden, Manny Jacinto, William Jackson Harper, and Jameela Jamil are stellar. They will make you laugh until you cry and cry until you cry harder.
9. Dollface (Hulu)
I
wrote a bit
about why this new Hulu original is worth your time! It's a quick watch (I finished season one faster than I thought I would) and absolutely adored it. It has three fantastic women: Kat Dennings, Shay Mitchell, and Brenda Song. The premise is that a woman who's been in a long-term relationship (Dennings) suddenly finds herself broken up with, and realizes she distanced herself for years from her female friends because she had a boyfriend. The show is a look into female friendships and millennial women. It has silly, absurd comedy mixed in with genuinely real topics and conversations that women have. It featured a brilliant
Wizard of Oz
homage too! And it's a show I think you all will enjoy if you add it to your queue.
8. mixedish (Hulu/ABC)
I'd recommend that you also watch
blackish
because it's a fantastic show. The currently-airing
mixedish
(which is a spin-off of the other ABC series) has a sweetness to it that is fresh and fun. It follows narrator Rainbow Johnson (Tracee Ellis Ross) as she recounts her life growing up in the 1980s as a mixed-race child. Arica Hammel plays the young Rainbow (or "Bow") who is absolutely endearing and sweet. The rest of the kids in the cast — Ethan William and Mykal-Michelle Harris — are equally as enjoyable. Rounding out the cast are the fantastic Tika Sumpter and Mark-Paul Gosselaar, plus Gary Cole.
mixedish
is the kind of show that makes you feel warm and fuzzy; it teaches you moral lessons without being so overt about them, and it focuses on its characters over plot. It's a sweet coming-of-age comedy that you should catch up on.
7. The Bold Type (Hulu/Freeform)
The Bold Type
is your
Sex and the City
-esque fix without having to watch
Sex and the City
. It's a Freeform series which means that it's focused on a younger generation of women trying to make it through life, love, and their careers at a magazine.
The Bold Type
is the kind of show that features some fun, fluffy storylines alongside some really deep and meaningful ones (like about Kat struggling with her racial identity or Jane dealing with medical issues). Plus it stars the talented Melora Hardin as a strong, powerful, sensitive, caring boss. She gets to shine in a lot of stories, but none more powerful than "Carry the Weight": an episode that will make you emotional. Check out the show!
6. Schitt's Creek (Netflix/POP TV)
What could possibly be said about
Schitt's Creek
that hasn't already been written (or that I
haven't already written
)? The show is a wonderful example of an ensemble comedy that's character-driven. From season one to the current season, characters experience so much growth and development. The storylines are funny, iconic, Tweetable, but they're also just real. They're funny because of the amazing cast (Eugene Levy, Daniel Levy, Catherine O'Hara, Annie Murphy, and Emily Hampshire) and the tight writing. If you're looking for a show that's surprising in how quiet but enjoyable it is, check this one out. It's a critical darling for a reason!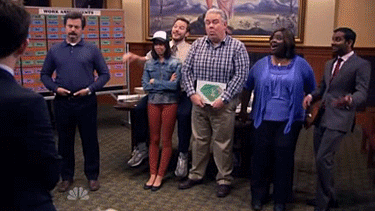 5. Parks and Recreation (Netflix)
If you haven't watched
Parks and Recreation
up until this point, I have a lot of questions. First off: "Why not?!"
Parks and Rec
is one of the most heartwarming shows — about politicians and government figures no less. It's where a number of pop culture references come from (#treatyoself), but most importantly, the writing and acting in the show is so solid. There's a reason that Leslie Knope has become a hero among so many of us, and it's because she's a character who exemplifies love, leadership, honesty and integrity, and a sense of humor. The characters on this show love each other so deeply and so well. They learn from each other and grow.
Parks and Rec
is also a rare show in which once the writers decided to commit to romantic couples, they didn't look back. A lot of shows continue to draw out tension or relationships, but not
Parks and Rec
. It's a show about friendship and joy, and I'll probably rewatch it. Again.
4. The Mandalorian (Disney+)
Okay this is probably one you've already watched. But even if you're not into
Star Wars
lore,
The Mandalorian
is a fun romp into the universe without asking much from you in return. It features an array of amazing diverse writers and directors, and it's self-contained so you don't need to know a whole lot about
Star Wars
to understand it. But let's be real here: the true reason you should watch it is because of baby Yoda (or "The Child" if you want to get specific to the show). Just watch for the adorableness alone and sooner or later, you'll forget that you've been social distancing for a week.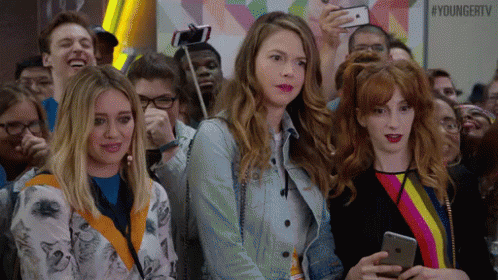 3. Younger (Hulu/TV Land)
In the same vein of
The Bold Type
,
Younger
is another
Sex and the City
-esque series focusing on young women in the book publishing industry (New York-set television shows sure do love their publishing jobs). Liza (played by the talented Sutton Foster) is a 40-something woman who decides to pose as a millennial in order to get hired at a publishing company. Of course, the longer the series goes on, the more people discover Liza's secret (she has an ex-husband and a college-age daughter after all). But the most fun is Liza's interaction with her coworker Kelsey (Hilary Duff).
Younger
is an addicting romp through some soapy comedy, so check it out!
2. One Day At A Time (Netflix/POP TV)
I can't promote this show enough. It's smart, heartbreaking at times, incredibly poignant and relevant, funny, and just so dang likable.
One Day At A Time
boasts a fabulous cast: Rita Moreno and Justina Machado are absolute stars. The comedy follows the Alvarez family during all of their ups and downs. The storylines cover everything from depression to addiction to immigration to coming out and family conflicts. It's a show about family and found family. It is beautiful. It is important. It is so very special. And it is more than worth your time. Please watch it as soon as possible!
1. Crazy Ex-Girlfriend (Netflix)
Crazy Ex-Girlfriend
is one of my favorite shows. It is so smartly written, the humor is on point, and the musical numbers are perfection. This is a show that somehow manages to tackle things as dark and difficult as suicide and mental health without being "Very Special Episode" about it. Rachel Bloom is absolutely worthy of all the awards as the incredibly complex Rebecca Bunch. You won't always root for Rebecca. In fact, there's a very meta song early in the show's run that is all about how Rebecca realizes she may, in fact, be the villain in her own story. But she is worth your time and development. And the supporting cast in this show is just as important as Rebecca (especially the relationships between the female characters on the show). Honestly this CW comedy is one of the most thought-provoking shows in the last few years, so give it a shot. You won't regret it.
Even while you're practicing social distancing, take some breaks from television and step outside onto your front porch or take a lap around the neighborhood. Remind yourself of the goodness and beauty in life. Take a break from your screens! But when you decide to binge-watch shows, be sure to keep the ones on this list in mind!