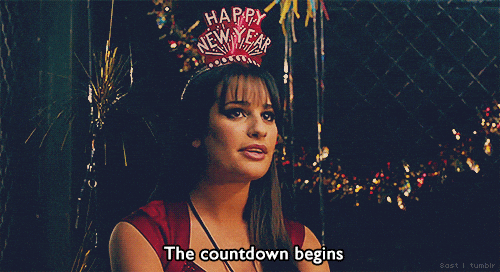 In an era of peak television, I've often found it easier to flip open my Netflix account and re-watch
The Office
or
Friends
or
Parks and Recreation
for the millionth time. Why is that, I wonder? Perhaps because getting invested in television has burned us all in the past. We've fallen in love with shows, only to watch them brutally cancelled after a season. So we flock to what is familiar, what we know, because it's safe and comfortable. In spite of the fact that I did spend a lot of 2018 falling asleep to my favorite comedies of TV years past, there were also a lot of amazing shows that debuted or continued this year.
It's time to honor what made me laugh (and occasionally cry) this year, so in no particular order, here are my favorite ten TV comedies of 2018!
New Girl
God bless this little gem of a sitcom. 2018 has been and felt so long that it took me a while to remember that this series actually concluded this year. And it went out exactly how it needed to — with a few last recurring gags, sentimental storylines, a few well-placed time jumps, and one final game of True American (that made all of us ugly cry. Just me?).
The thing about
New Girl
? It was always going to end with these weird, wonderful friends figuring out life together — it was a series about them making mistakes, making fun of one another, falling in love, falling into crazy antics, and ultimately becoming better people because they'd done all of those things. Over the series, we got the chance to watch each character evolve and grow into who they were always supposed to become. Jess learned how to be honest with herself and others, to fall in love, and to find her purpose. Schmidt became a better, more well-rounded person. Cece found her life's purpose, and Nick finally finished that book. Winston got the love story he always wanted and deserved.
The final few episodes of the series this year made me laugh and cry, and I was reminded exactly how much I was going to miss Apartment 4D.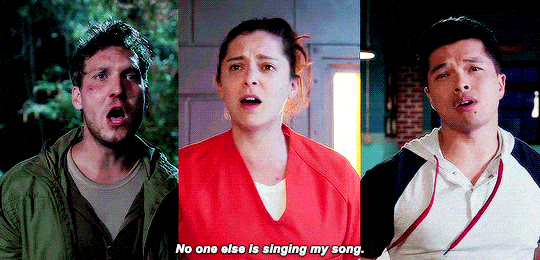 Crazy Ex-Girlfriend
Crazy Ex-Girlfriend
is still firing on all cylinders in its final season. While there have been a few slower episodes here and there, the show continues to prove exactly why it's always been critically acclaimed. It's smart, sharp, witty, and the musical numbers continue to be something incredible to witness. I love that in its final curtain call, this CW series is exploring what it looks like to own our stories — mistakes and all — and become better people.
Rebecca Bunch is truly learning where she's gone wrong in her life and is willing to accept the consequences for her actions. But the final season has been more than just that: it's focused on what it looks like for all of us to grow up and move on. Each character's arc has followed the same path, where they've learned from their mistakes and have grown up.
The fall finale was genius with the show's introduction of "new" Greg, and I'm sorry but if a series can manage to entirely recast a main character, make it incredibly meta, write a song about it but also tie it so well into the overall story arc/theme of growth and change... I'm sold. That is why this show continues to deserve accolades.
One Day At A Time
YES THIS SHOW ALSO AIRED IN 2018. Granted, it was in January, so it's understandable if you — like me — forgot that its second season debuted this year, let's take time to honor this comedy. I keep trying to convince people to watch it, and my pitch is: "This show will make you belly laugh and ugly cry." The second season is no different. It follows a Cuban family who's just trying to navigate life — the struggles and successes of it. It's a show filled with incredibly nuanced, well-written women and representation across all forms.
One Day At A Time
is sweet, without being cheesy, and poignant without being over-the-top or heavy-handed (which a lot of shows tend to skew toward when attempting to tackle controversial and/or serious subjects). One of the best, most emotional episodes of 2018 is arguably "Hello, Penelope" which features frank discussions about medicine and features a character's realistic withdrawal when she stops her antidepressants. If you haven't yet watched this incredibly moving and hilarious show... what are you waiting for?!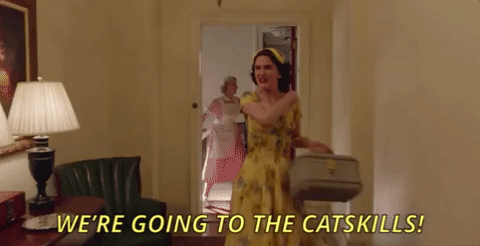 The Marvelous Mrs. Maisel
I was never a fan of
Gilmore Girls
(you can yell at me in the comments) because I found it difficult to connect with Lorelai and Rory since they talked so quickly and were constantly witty and honestly who can do that in real life? And while
The Marvelous Mrs. Maisel
is essentially the same in terms of rapid-fire dialogue, it seems to work better in an over-exaggerated, bright, bold world and paired alongside Midge's personality.
Maisel
is a show that mostly draws you in with its dialogue, colorful wardrobes, and witty banter. The relationship between Midge and her family (as well as her internal and external struggles with her not-quite-ex-husband) is the focal point of much of the first season, but the true heart of this show is the arc of Midge learning to become who she was meant to be. She breaks free of certain traditional molds by embarking in a career in stand-up comedy. But a lot of the show's emphasis is on the fact that Midge is very privileged. So while she's got her struggles and personal issues, she also has a lot of support in her life. How does she reconcile those two things? And how does she put herself first and take risks when her whole life has been safe?
The Marvelous Mrs. Maisel
is an incredibly binge-worthy show on Amazon Prime, and if you're looking for a period piece with good writing and great acting (Rachel Brosnahan shines), then look no further than this one!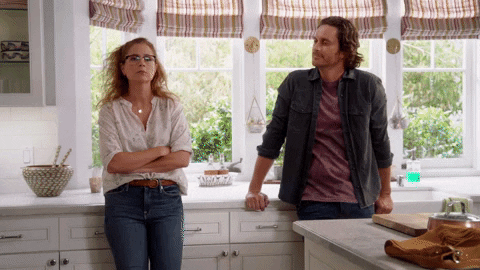 Splitting Up Together
I'm honestly surprised by how much I've enjoyed
Splitting Up Together
. I thought it was going to be a show about a couple going through a... well, uncoupling, and while it is a show about a marriage that splits up, what it's really about is how complex families really are. But how all of us are complex, and that's what makes us humans.
This show makes the point that broken families aren't bad families; in the midseason finale, Martin (Oliver Hudson) calls Lena (Jenna Fischer) to thank her for the way that she's been such a great mom. He knows their arrangement is weird to a lot of people, but he actually wouldn't have it any other way. It's a sweet, subtle gesture rooted in Martin's own realization of how messed up other parents actually are. As much as Oliver and Lena's relationship is tumultuous, the show really focuses on the fact that their love and devotion to their family is unwavering.
Splitting Up Together
is perfect if you've loved any other Emily Kapnek shows (
Selfie
,
Suburgatory
, etc.) because the humor is relatable, and ultimately sweet. Jenna Fischer absolutely shines in this role and if you haven't watched it yet, check out
Splitting Up Together
!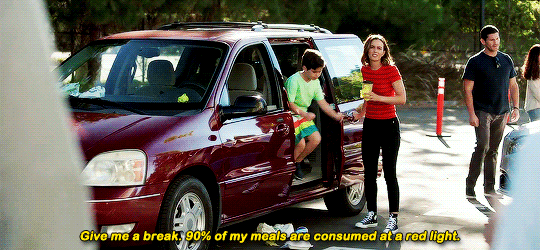 Single Parents
I'm not even remotely surprised that I'm in love with a show that is created by Elizabeth Meriwether and J.J. Philbin and also features a slew of
New Girl
writers. If you loved
New Girl
and haven't yet started
Single Parents
, please do. It's a delightful little series about a group of single parents, each of whom has at least one child and their own set of quirks. Leighton Meester and Taran Killam are exceptional (and I get major Nick/Jess vibes from them in terms of their chemistry and characters' friendship), but so are the other cast members. Brad Garrett, Kimrie Lewis-Davis, and Jake Choi are exceptional. But truly the kids are the stars of this show and have impeccable comedic timing.
What really makes
Single Parents
special is a lot of what made
New Girl
special — the way the series manages to balance slapstick humor, recurring references, flashbacks, and witty dialogue with immense heart (I genuinely teared up during the midseason finale).
The show might begin with the group of single parents trying to pick on Will (Taran Killam), but after the pilot, these people become a family. And the humor is fixated not on them being mean-spirited toward one another, but attempting to just navigate the quirky, weird qualities they each have. If you need something sweet that is genuinely funny,
Single Parents
is your perfect next show to binge!
The Good Place
THIS SHOW, YOU GUYS. Mike Schur and company consistently manage to surprise us with the twists and turns they throw. What I've always admired about
The Good Place
though is that it never gives us a plot twist just for sheer shock value. Each step of the journey in this show is perfectly planned out, and I love that we got to watch the characters really grow and settle into their moral journeys this season. You can tell the cast really enjoys working together, and it shines through in their performances.
The Good Place
deftly has managed to combine humor, heart, and also impeccable attention to detail. The writing of the series is so tight that while plot twists throw us, we immediately want to re-watch the episodes and pick up all the tiny clues we missed along the way.
Character growth in this series has always been believable. One of my favorite episodes this season featured Michael and Eleanor on a journey by themselves in which they had the opportunity to explore the concept of free will. Ted Danson and Kristen Bell were tour de forces, and everything in the episode felt true to their characters. The performers are top-notch, truly (D'Arcy Carden deserves an Emmy for that finale), and each brings incredibly nuanced and yet hilarious skills to the table. Jameela Jamil and Manny Jacinto often have to deliver lines that would sound absurd coming from everyone else, and William Jackson Harper got the chance to do some really fun physical comedy in 2018.
I'm already itching to see what happens to Michael, Janet, and the humans in 2019. How about you?
GLOW
Ironically one of the reasons I really loved
GLOW
this year was because it got more serious. Sure, the series was still funny and I appreciate all of the dry wit that episodes bring. But the fact that it pushed itself outside of the confines of the first season truly made it special. "The Good Twin" was an ambitious episode that really paid off, and Alison Brie and Betty Gilpin deserve all of the awards possible for their confrontation in "Nothing Shattered." The whole cast truly is special and I loved that we got the opportunity to see more of them shine this year. There were deeper storylines for them (please tell me everyone else appreciated the emotional story Tammé had with her son), and we actually got the chance to not just watch them and their wrestling alter egos in the ring, but explore more about why they're choosing wrestling and how it impacts the rest of their lives, for better or worse.
GLOW
is one of those fun, easy-to-binge shows because the content and format lend itself to watching one more episode, and then one more episode. I love that 2018 brought us more of a series with nearly all women stars and allowed us all the chance to get to know more complex, diverse women on television.
Brooklyn Nine-Nine
What a gem of a comed this one is, you guys.
Brooklyn Nine-Nine
thankfully got picked up by NBC after its cancellation at FOX, and I for one am grateful. I'm not sure exactly when this series became a favorite of mine (because it took me three attempts to even start watching it in the first place), but it did. I'm a sucker for ensemble comedies, if you haven't noticed that pattern yet, and this show is the best current example of a workplace ensemble comedy.
But what I've always appreciated — apart from the commitment to recurring jokes, callbacks (shout-out to all the writers who remember all the things), and flashbacks — about
Brooklyn Nine-Nine
is that when it chooses to be series, it does so purposefully. "Moo Moo" (though it aired in 2017) and "Show Me Going" are two recent examples of the fact that when the show focuses on the fact that it's not just a workplace comedy but a workplace comedy about a police station, it shines. "Show Me Going" was the perfect balance of intensity and humor, and that's the balance Brooklyn Nine-Nine has locked down.
I already saw the first two episodes of the upcoming season and let me tell you... they're excellent. Catch up on the series if you haven't yet, and dive into all the romance, humor, silliness, and joy that
Brooklyn Nine-Nine
holds.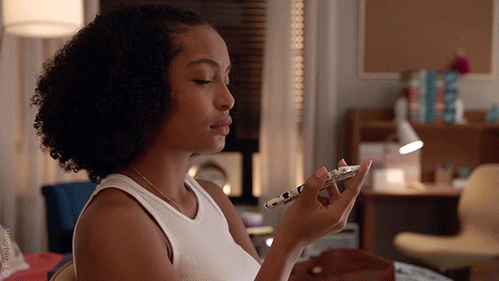 grown-ish
Ironically I began watching
grown-ish
before I watched
black-ish
. The Freeform series is fun and features the same kind of narration that
black-ish
does. But
grown-ish
takes the narration a step further, frequently breaking the fourth wall and having Zoey directly address cameras. (In the season two premiere, she literally tells the audience to stay put while she goes and does something.) What I really enjoyed about
grown-ish
this year was the fact that it featured a stellar and diverse cast and though it's more suited for college students and young adults — like a lot of Freeform's content — it's appealing to a wider audience. This isn't just a series about college students partying, or Zoey trying to find her place in the world. It's about friendships, arguments, love, identity and purpose — all things that everyone can relate to.
While watching
black-ish
definitely will help you understand Zoey's personality better (I started watching
black-ish
frequently this year and love it too), it's not necessarily a requirement to watch
grown-ish
. You'll be able to jump right into this fun comedy series and hopefully enjoy it as much as I did. Catch up before season two returns in a few weeks!
What were some of your favorite comedies this year? Did 2018 feel simultaneously as long and short to you guys as it did me? Sound off in the comments below!