"Wedding Videography"
Original Airdate: May 26, 2015
Do you know why the third season of New Girl was problematic?
It wasn't, as many people surmised, because the romantic pairing of Nick and Jess sunk the show – that their will-they-won't-they was more entertaining and engaging than the they-did. No, as I re-watched a majority of the third season recently, I realized that there were two main problems in that particular season of the FOX series. First, the story for Schmidt fell completely apart and turned him from an endearingly unlikable character to a borderline villain. He became abrasive and unbearable at points. The second problem was that in pairing Nick and Jess together so often in stories, the writers isolated them from the rest of the group, making episodes seem scattered and disjointed.
So in the fourth season, New Girl readjusted its trajectory and fixed the problems that originated the year prior. As a result, the series was one of the most consistently hilarious, heartwarming, and character-driven shows on the air last primetime television season. I admire Liz, Brett, Dave, and their team of writers not just for acknowledging that their show had missteps and problems that needed to be fixed, but also being willing to remedy those issues and knowing HOW they needed to be remedied. The producers and writers realized that the show needed to return to its origin: a group of messed up individuals who surround themselves with one another so that they can become better. The writers recognized the redemption in Schmidt's arc and extracted every little bit of humanity and pathos that they could. This allowed Schmidt to become a fully-realized character who grew throughout the fourth season. His growth was real. It was earned, as was the rest of the growth exhibited in the characters (especially Coach and Winston) this year.
But what would have happened if New Girl hadn't been willing to correct the issues that their characters had in the fourth season? Those characters, quite simply, would have regressed even further than they already had. This diatribe, as you might be able to surmise, brings us to Community's penultimate episode of season six titled: "Wedding Videography." I'm not going to be shy in this review (as if you all doubted I would be) and state that there was very little I enjoyed about the episode. In fact, I enjoyed the Glee re-run I watched this weekend more than this episode.
Yeah.
It was that bad.
It's one thing to tell you that I thought an episode was bad. But it's another to be able to articulate WHY it was bad. Let me take the rest of this post to explain what went horribly awry this season on Community and how – it's very likely – nothing that the show does from here forward will be able to redeem it.
I mentioned a few episode reviews ago that Glee and Community have similar problems – they both want to make the episodes they want with the limited characters they have, no matter whether or not that makes any sense for the show. It's a fact that as a result of that pattern of behavior from the writers (and a seeming lack of overarching theme of the season) that the study group has become worse and worse collectively over the course of this year. Remember when Community was a show about a group of people who supported one another? Remember when they each had lives outside of the group? Remember when they actually cared about each other? In season four, "Alternative History of the German Invasion" did a great job of portraying the study group as a villain. But at the end of that episode, they realized that it was wrong that they hurt the rest of their Greendale classmates. They corrected their errors by cleaning up the other study rooms around campus that those individuals frequented. They made Greendale better.
By season six, the study group is making Greendale worse. They're making themselves worse, too. They show up in the middle of Garrett's wedding because they spent hours beforehand making fun of him and his bride-to-be. Let me reiterate that: they were extremely late to the ceremony because they spent time laughing at and making fun of Garrett. Making fun of other people isn't anything really new for the study group. They forget that other people attend the school and they don't care nearly enough about them to learn all of their names ("Asian Population Studies") or that they have lives outside of Greendale ("Biology 101"). The study group as a unit has become more and more destructive, codependent, and selfish as they've progressed throughout Greendale and it's… well, it's really sad.
Because that means that the characters that make up the group have regressed as well. "Wedding Videography" made that last part abundantly clear. So here's the deal: Garrett is getting married and the group is invited. Abed – for reasons that make no sense whatsoever (and are vocalized by Frankie, the only decent part of this episode) – is filming the entire thing so it's shot much like all of our other mockumentary episodes were shot. The episode was awkward in parts and downright cringeworthy in so many others, mainly due to the fact that the study group treats Garrett's wedding like one giant joke. They show up late and cause a ruckus. They laugh when Garrett and Stacy are pronounced husband and wife. They make a mockery of the wedding and union which is not only extremely calloused and cruel but also disrespectful. Where were the people who gleefully threw a study room wedding for Shirley? Where were THOSE people? The ones who, even if they didn't agree with what she was doing, supported her because they were a human being and they treated her with some shreds of respect.
I don't like the people we've been spending time with in season six. At all. I think they're horrible human beings who are selfish and only care about making themselves feel better about being stuck at Greendale. So they make mockeries of other students and their accomplishments. They hurt other people because they can – because it's easy. It's convenient. Even people like Annie, who used to be caring, turned cold this episode. She is among those laughing at Garrett's wedding. It hurts me.
Speaking of things hurting me, let's talk about the abundant character regression. We'll start with Jeff Winger. As Deborah so accurately pointed out to me on Twitter, it's rare to find a scene this season in which Jeff isn't holding a glass of scotch. He has a drinking problem. It's a problem that has only been addressed in-show by Frankie, though, in an offhanded remark at the beginning of the season. Since then, no one has confronted Jeff about this. In fact, in "Wedding Videography," others are enabling him. Only Frankie seems to recognize the pattern of behavior as codependency and – therefore – ultimately destructive. But back to the enabling part: Annie is the person who brings Jeff his drink. He then calls her his "helper" and the entire exchange made me glad I wasn't strong enough to flip my Ikea dresser or else I would have.
Dear readers, does anyone remember what Annie Edison used to be? That's right – an addict. Does anyone remember how she behaved in "Accounting For Lawyers"? That's right – she was afraid that Jeff would get sucked back into Alan's world and become addicted to it again. How does she know what addiction feels like? Right. Because she was an addict. Does anyone remember what "Origins of Vampire Mythology" was about? That's right – Annie keeping Britta away from Blade because she recognized that Britta's pattern of behavior followed that of an addict's. She even wrote: "You are a lying junkie" on a banana and gave it to the blonde.
So there are three reasons that the moment Annie gives Jeff a drink so willingly and gleefully offend me:
The writers don't think Jeff has a problem and therefore are choosing not to have the characters acknowledge this. If this is the reason Annie willingly hands him a drink, I'm… well, offended. After six years of knowing an individual, is this group so blinded that they literally refuse to acknowledge Jeff's problems or else so self-centered that they cannot see his problems?
The writers chose to regress Annie's character for no reason, erasing all of those aforementioned moments of addict-pinpointing behavior for the sake of this episode/scene/season. If that's the case, then I'm extremely offended. Shouldn't Annie be the person who REFUSES to hand Jeff a drink because she recognizes a pattern of behavior? She's been spending enough time with him this year to pick up on the fact that Jeff's drinking a lot and he used to only do so on occasion.
The third option is the one that infuriates me the most because I think it's closest to the truth: the writers see Annie as a giggly (see: how she was in this scene) girl when it comes to pleasing Jeff and making him happy, so they regressed her because she's infatuated with him and therefore willfully ignorant of his problems.
Please take a moment to pause because I'll be throwing some things around the room.
Okay, I'm back.
Out of all of the people on this show, Annie should be the most observant and watchful when it comes to troubling behavior. She's done it with Abed before. She's done it with Britta before. She's called out wrong or destructive patterns in other people and yet… I'm expected to believe that she just doesn't with Jeff? That doesn't just anger me – it OFFENDS me. Because it dumbs down Annie's character and renders all the stuff she went through over the past six years pretty moot. Any way you interpret that scene is offensive, really, and if someone would like to venture into the comments and try to defend it or the writers, I would gladly debate you. It'll probably end with me throwing (very soft) items at you though, so be forewarned.
There's another moment in terms of Annie's characterization that's diametrically opposed to something that happened in the third season ("Virtual Systems Analysis"), fourth season (to a lesser extent – "Conventions of Space and Time"), and the fifth season ("Basic Sandwich") and occurs in this episode: Annie becomes fixated on the idea of fixing and controlling other people. We've drawn from this same well of characterization multiple times in the episodes I noted above, but at the wedding with Frankie, the women are discussing Jeff. And they both laugh about how messed up Jeff is. And then… Annie pauses. And this is what happens:
There are few facets of Annie's personality that are fixated on more than her age and her desire to control people and circumstances. Yes, Annie is a controlling person. She plans. She likes order and spreadsheets and that's how she makes sense of the world. She also used to see people as projects – as things to be fixed, made more like her, more like her ideals. So imagine how jarring I found it when in season six, Annie returned to that intense and neurotic desire to control someone else as a project. Frankie thankfully stops Annie before she follows through with her desire to "fix" Jeff. (Because Annie is, of course, a reminder to Frankie of how she used to be.)
And before you say: "But Jenn, if Annie had followed through, wouldn't that mean she's addressing exactly what you had problems with above? That she would fix Jeff's drinking problem?" No, I don't think that's accurate for two reasons: 1) it's clear Annie doesn't think Jeff has a problem or is naïve in admitting it to herself or others, 2) Annie's desires to control often have little to do with fixing actual problems and more to do with fixing perceived flaws to turn a person or people into whoever Annie believes they should be. Which is why I'm baffled as to this regression in Annie's characterization. We haven't really seen her vocalize a desire to control Jeff since "Virtual Systems Analysis." And, correct me if I'm wrong, but I presumed the episode ended with Annie accepting that she cannot control Jeff or their relationship and explaining this concept to Abed. In "Conventions of Space and Time," we saw shades of Annie's controlling behavior but we learned where, exactly, her made-up Mrs. Winger persona stemmed from: her frustration with and sadness over the fact that Jeff didn't care about their friendship enough to spend time with her and – at the first opportunity he had – ditched her for another woman.
But most recently, we saw very clearly how much Annie let go of control when it comes to Jeff. Does anyone remember her spiel in the bunker? "We have to let each other want what we want," she says, looking directly at Jeff and addressing him. Annie began to loosen control in that moment. It was a step for her. And yet, for whatever reason, we've returned to the "Annie controls other people" well and it's dry, but the writers insist on digging up any sort of remnants of conflict that they can find there.
I think the thing that bugs me most of all is that the writers have somehow turned a show that used to be about hope and friendship and optimism among broken, weird, messy people and turned it into a cynical, dark, biting parody of itself. It's unattractive. In fact, it's pretty sad. It's sad that the writers have managed to make these characters such dark, jaded, terrible versions of themselves to the point where the Jeff Winger who entered Greendale isn't much better than the Jeff Winger in "Wedding Videography." In fact, he's kind of worse when you think about it because the Jeff who entered Greendale didn't have the six years of friendship and growth that this Jeff Winger should have.
So what was the point of "Wedding Videography," then, apart from the incest? And general terribleness of the study group? Was the point that Frankie is the only one with a normal perspective? Was the point that when Chang gives the Winger speech, you know you've hit a new low? Was the point that Community will do whatever it takes to not address any sort of moral or point anymore? Because I'll be honest, here: I've been wracking my brain trying to think of what the purpose or theme of this entire season is. I've been contemplating WHY Jeff is acting the way he is (manic one moment, in the apartment; depressed the next, in a classroom). Seriously, does anyone know what the point of anything in this show is anymore? Does anyone know why these characters are regressing? Why they seem to be floating aimlessly around the school? Why there's very little humanity left in the group? Why the show seems to be bitter and jaded and cynical and not remotely about hope?
In "Wedding Videography," Garrett got married in this episode and no one learned a thing. No one became any better. The tag was horrible. The episode was unbearable. The moral was nonexistent. The characters learned nothing and regressed. As we head toward the season and potential series finale, I'm just sitting here thinking about "Remedial Chaos Theory" and "Modern Warfare" and "Pascal's Triangle Revisited" and "Abed's Uncontrollable Christmas." They were all episodes with meta humor, character growth and development, hilarious jokes, and – most important of all – heart. Soul. A message. A lesson.
Now? Well, now I'm just left with one question as I gaze upon my once-beloved sitcom: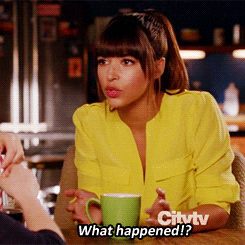 Additional de-lovely aspects about this episode include:
Since next week is the season finale of Community and both Deborah and I are now dreading it, we've decided to tag-team the review as some of us occasionally do at this site. So you'll get the chance to hear both of our thoughts at once! Also, there will be wine involved, so be sure to join our party.
"Aren't you still smelling hair to tell Frankie from Annie?" Yeah, I don't even want to touch this conversation with a ten-foot pole but the fact that Abed apparently still cannot tell who Annie is after six years and three of them living with her? It's fine. I'm fine. Everything is fine. This is definitely acceptable in terms of character growth and development.
Also things I don't want to touch with a ten-foot pole: the fact that Britta and Annie spent the entire episode at each others' throats. Again. Enough already, geez. We get it: Annie likes traditional girly things and Britta likes to be sour and darker. We don't need to see them making faces at each other, bickering, or needling one another every. single. week.
One positive from the episode: Joel McHale looked mighty fine in that suit and tie combination. Migh-ty fiiiiiiiine.
"Annie, the world will still need you after you finish that cake."
Elroy singing was pretty great.
"Britta, we're ALL the worst right now. Take a day off." I lament that we did not get more Dean Pelton/Britta.
I... don't even know what else to say, you guys. How many of you liked that episode? Hated it? Felt indifferent? Did you make any sense of my review? I'm not sure that I even managed to do that. Hit up the comments below and let us know your thoughts. Until then!