I always looked forward to summertime as a kid and a teenager. I counted down the days that were left in school and anticipated embracing those days of summer where I could sleep in, roll out of bed, and play outside all afternoon – the days where you smelled like sunscreen and chlorine and sat on the back porch, cooking out with your family and friends. I remember the days of riding bikes down the street and then going to bed that night, excited that I got the chance to do the same thing over again the following day. Now, as a twenty-five year old in the working world, I don't get the chance to have a real summer. I can go on small vacations here and there throughout the year and maybe spend an extended weekend at the beach, but my office doesn't shut down from May to July because it's summertime.
The best part about summer when you're an avid television watcher such as me is that you get a break from your favorite television shows. Don't get me wrong: I love the series that I watch throughout the normal TV year, but it's nice to have a few months where I don't have to frantically fit shows into my schedule or salvage DVR space for them. There are fewer shows that air new episodes of a series during the summer (mostly cable shows like Suits on USA), but for the most part, summertime is a time to catch up on all of those series that you've been meaning to watch during the normal season.
In the spirit of summer, I've decided to list some of the shows I am diving into over the next few months. Here, folks, is what I am watching while my favorite shows are on hiatus!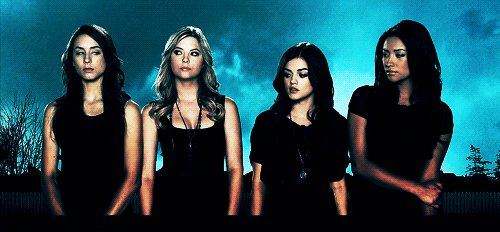 1) Pretty Little Liars
I began watching Pretty Little Liars because my sister was persistent in asking me to. And when my sister decides to needle me by texting me every day about starting the series, I cave. PLL is an ABC family murder-mystery-drama-comedy that focuses on four main characters – Spencer Hastings, Hanna Marin, Aria Montgomery, and Emily Fields – in the wake of their best friend Alison's disappearance and murder. Each girl has a complex backstory, tumultuous family life, and scandalous love life. Oh, and they're all being targeted by a mysterious person named "A" who exploits their secrets and lies in order to get whatever he or she wants. If it sounds like a show that's a bit of a mixed bag and wild ride, you'd be correct. So why do I enjoy PLL? Why have I started to actually become invested in these characters and their stories?
Well, it's not because the writing is Emmy-worthy, though it isn't too bad for an ABC Family series. No, it's not because the stories always make sense (if you poke enough, you'll find the holes and some are more glaringly obvious than others), but because the actresses are phenomenal. It's because the mystery of "A" and now Red Coat is convoluted but also mesmerizing. It's a highly addictive series that genuinely scares you sometimes, but also makes you laugh. There are a lot of characters to keep up with and as you become more invested, you'll learn that the subtitle of the show is pretty much "Trust No One. Literally, No One."
Pretty Little Liars is a fun, zany, twist-filled ride. It's not an intense drama that will leave you emotionally distraught, but it IS a good series to binge-watch over the summer. It just keeps getting crazier and crazier so if teenage dramas tinged with romance, Nancy Drew-like escapades, and unanswered questions are your thing, then PLL is right up your alley. The first three seasons are available on Netflix to binge on, so enjoy! (And don't worry – the theme song will get stuck in your head, too.)
2) Psych
Okay, I now understand why everyone was so obsessed with Psych. It's a delightful show. I've laughed out loud more than once per episode and it's because the humor – this witty, sharp, quick humor – is exactly the kind that I look for in a show. Not only is the cast phenomenal and humor delightful, but the show manages to mingle comedy and drama without undercutting either of the two elements. The bromance/BFF between Shawn and Gus and complex relationship between Shawn and his father really ground the series; I absolutely adore these elements. Furthermore, characters like Lassiter ("Lassie!") and Juliet ("Jules!") are seamlessly integrated. They're not just background characters – they're actual, real, amusing and wonderful characters with unique personalities and quirks.
What I really enjoy about the series, too, is that it strayed away (for the most part) from the thematic thread that parallels it to its USA drama counterpart, Suits. Suits is a drama centered around a guy pretending to be a lawyer and every episode is an episode where he could easily get caught in his lie and punished for it. Shawn Spencer isn't a psychic. Few people know that, but I think it's important that Psych doesn't hinge on this "will-he-won't-he" of Shawn getting caught in his lie. That's all well and good for a while, but it gets rather tedious after a few years. Instead, it's a show about how Shawn manages to use his gift of heightened observational skills in order to masquerade as a psychic. Shawn is a great leading character because he's likeable and fallible, but he's redeemable. You feel empathy for him and if you don't feel empathy for a character that is essentially spending the entire series lying to the people around him, you won't LIKE him. The relationship between Shawn and Gus is wonderful, as the latter grounds the former's zany antics. But the relationship between Shawn and his father Henry is what really struck me in the pilot and throughout the first few seasons. We are able to see, through flashbacks, why Shawn behaves the way that he does as an adult – his relationship with his father was complex and often antagonistic. But it's wonderful to see how Henry and Shawn's relationship develops. Even though they pick on each other, Henry genuinely loves his son. This doesn't negate the way he often treats him and it doesn't diminish the reality of that love. Both of these characters are broken people, after all. James Roday, additionally, is not just a fantastic comedic actor (his snark and wit rival anyone's) but an EXCEPTIONAL dramatic actor. The scene between Shawn and his mother in "Ghosts" was particularly beautiful and caused me to tear up. I am totally and utterly enamored with Shawn Spencer now and I blame (see: thank) you all for that.
Psych is such a gem of a show that it's a shame I didn't become invested in it sooner. Nevertheless, it has filled my summer with laughter and intrigue and more laughter. And for that, I am thankful. (P.S.: Once I finish the entire series, you can expect to see a character appreciation post around here!)
3) The New Adventures of Peter + Wendy
I'm not going to lie to you – I've been disappointed in the few web series I have tried to watch over the last few months. I haven't become invested in them, as the writing has disappointed me and the acting has been so-so at best. So it was with hesitance that I decided to start watching The New Adventures of Peter + Wendy, a web series that features Welcome to Sanditon's Kyle Walters as a modern version of Peter Pan. And, thus far, I have found myself to be surprisingly delighted by the series. The cast is all entertaining and exceptionally funny. I love that I already know what motivates each character on the series. I love the modernized version of Peter Pan as a slacker who stays as he is because he would rather remain without responsibilities and never leave Neverland than face the terrifying world of adulthood. I love the two styles in which the webseries is shot: one, when we are with Peter Pan is shot from the perspective of Tinkerbell and when Wendy is in front of the camera, it is Lizzie Bennet Diaries-esque in that she addresses the audience while administering advice for her column.
All in all, I'm quite pleased with my discovery of
The New Adventures of Peter + Wendy
. There's humor and real substance already and the actors are delightful. I'll definitely be sticking around Neverland for a while.
4) Say Yes to the Dress/I've Found the Gown/Every Bridal Show TLC Ever Made
I'm a sucker for wedding shows and I'll be the first to admit it. TLC is the mecca for these shows (
Say Yes to the Dress; I Found the Gown; Something Borrowed, Something New
) and gosh darnit if I don't eat up every single show they have on there related to weddings. So during the summertime, I found myself drawn on a free Friday night to this channel where I can watch women spend an inordinate amount of money on their wedding gown. And yes, there are actually some pretty great stories on
Say Yes to the Dress
and
Something Borrowed, Something New
. I love the consultants and the creative minds and basically I just love looking at really sparkly things. I'm the core audience for TLC and when it comes to binge-watching episodes of any of these series over the summer months, I'm not even a little ashamed.
5) Suits
Suits
is the ONLY scripted series that I watch consistently that does makes its return during the summer months (I need to catch up on
Graceland
, the sister show of
Suits
on USA because I fell behind last season and my friend Matt worked on this season in south Florida!). The cable structure of television series and their subsequent hiatuses kind of throws me off because of the long gap between the halves of the seasons. And in spite of its plot holes and share of annoying characters, Suits' fourth season is really piquing my interest. It's a show that has always centered around Mike Ross's secret and what would happen if anyone were to find out that he did not really attend Harvard and was not really a lawyer. As the circle of people who knew this information grew, so did the chances that Mike would be exposed. And though the constant "will anyone ever find out?" game grew laborious over the past season, the show managed to shuffle the cards and provided us with an out: Mike no longer works at Pearson Specter and now is off the radar. Or so we think. What his new position entails will provide for some interesting tension between Mike and his former colleagues (especially mentor and closest ally, Harvey Specter). It was a nice way to extend the series without having Mike get caught in his lie in the process. But it DOES beg the question as to whether or not Mike's lies will eventually catch up to him, no matter what position he holds or how far he distances himself from the firm.
I really enjoy
Suits
because it is a show that gives me something to look forward to during the summer months. I miss live-tweeting shows, so this is a way to extend that joy into the summer months. Plus,
Suits
is an enjoyable – if not occasionally messy – ride and it's the perfect way to keep entertained before the new crop of network television steals all the attention.
6) Whose Line Is It Anyway?
When I was a kid, I remember, very vividly, climbing the stairs at my Nana's house and sitting down on her old, creaky wooden floor with my cousin Carly. With a soda in each of our hands, we fumbled around for the remote to my Nana's television set. Joelle and Daniel (her sister and my brother, respectively) would inevitably try to sneak up to the second story and join us and we'd shut the door to kick them out. What were we doing? Well, occasionally we were raiding our grandmother's closet for hats or jewelry to wear around the house like we were grown-ups. But most often, we were watching
Whose Line is it Anyway?
together.
We loved that show and I love that I have such vivid memories of it. So when the improv/sketch comedy was revived on The CW recently, I was ecstatic. Wayne Brady was back. Ryan and Colin are back and Aisha Tyler is the new host. Honestly, the show is just as funny as I remember it. I always hated improv in high school when I was an actor because (duh-doy) I'm a type-A personality who likes control and order and NOT thinking on her feet. I admired the improv troupe we had at school and I admire the actors on
Whose Line
because they are genuinely firing on all cylinders ALL the time. That's not easy, but it sure makes for great entertainment. And when I'm home for a Friday night, I like to pair
Whose Line
with the TLC shows noted above because I clearly have no life.
7) Arrow
You all have convinced me that I need to start (if not start and finish)
Arrow
this summer, so I'll do it.
It has absolutely nothing to do with Oliver/Felicity or Stephen Amell's arms.
Absolutely nothing. Not at all. Nope.
8) The Soup
I love that
The Soup
pretty much airs year-round. I love that the show will be taping live every Wednesday in June, after the success of their live 500th episode. I love that there is so much pop culture-related stupidity in the world that this show has gone on for so long and it STILL doesn't have time to cover every absurd piece of news or entertainment that occurred that week. I love the guest stars that frequent the show and I love that they're often the same people Joel made fun of the week before. I love that Joel gets the opportunity to be snarky against a green screen once a week, still. I love that I loved this show before I loved
Community
. I love that it makes me laugh and isn't disgusting like
Tosh.0
(#sorrynotsorry). I love Joel's skinny (or, as of late, not-so-skinny) ties and his ranting monologues.
Basically, I love everything about
The Soup
and I'll continue watching it until Joel McHale runs out of Kardashian jokes.
(So basically never.)
Now that you know what I'm watching this summer, let's hear YOUR summer binge-watch agenda. Are you catching up on
Scandal
or marathoning a show like
Psych
that has already ended? Do you prefer to fill your summer with reality television like Keeping Up With the Kardashians or ABC's absurd (but really addicting – I may or may not be watching the second season when it's released) faux murder-mystery
Whodunnit
? Sound off in the comments and let me know what you're watching this summer.
And don't forget:
#SummerRewatch
is in full swing with a series re-watch of the way-too-short-lived comedy
The Crazy Ones
. Until then, folks! :)