My darling friend
Julieta
tweeted something recently that really made me think. She wrote: "I don't understand why TV writers in general are so scared of having their characters fall in love and then be in long-term, committed relationships." Rather than, as Julieta noted, have characters fall in love and be in committed relationships, most comedies fall into the largest pothole in the world (reminiscent of
this one
): the hole of the "will-they-won't-they" relationship.
Now, these relationships have both merits and drawbacks. A good television series won't drag out the "will-they-won't-they" for seasons upon seasons without any seeming conclusion, be it good or bad. A good television series will recognize the fact that this relationship is a tool and a powerful one at that: it provides the show with an added layer of tension that lures audience members in and promises them romance and intrigue. A good television show will use this relationship to its advantage by having it GO somewhere. A good television show will realize that there is a precise and delicately balanced window of time in which their characters need to act on their romantic tension, lest the audience feel deceived at best and downright infuriated at worst at a lack of development. A good television show cannot draw out a "will-they-won't-they" forever, because if they do, they won't be a good television show anymore.
Relationships are the hinge on which all of humanity swings, so it makes sense that it is the hinge on which television sitcoms seem to swing as well. There are friendships and families and romantic relationships on television just as there are in real life. The problem, however, is that television writers often find it so difficult to mimic real-life relationships. Why is this? Because writers are afraid that their audiences are restless and fickle and if they commit to one thing for too long – one character or one romantic pairing or one plot – that their fans will lose interest. "Will-they-won't-they" relationships are the obvious (quick) remedy to this fear of audience boredom and subsequent abandonment if, and only if, they are executed correctly.
What I thought I might do is take a look at some of the "will-they-won't-they" relationships that have piqued my interest over the years and discuss the merits and drawbacks of each as they affect the television comedy series as a whole.
Jim and Pam from The Office & Ben and Leslie from Parks and Recreation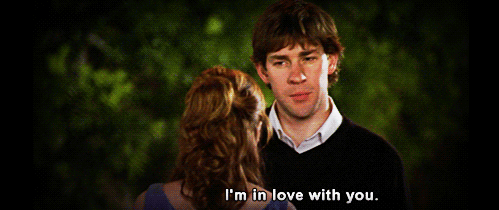 Jim and Pam are cited as this generation's definition of a "will-they-won't-they" relationship and maybe it's hindsight, but I am not sure I would continue to classify them this way. I think it was clear to the writers and producers on
The Office
that Jim Halpert and Pam Beesly would always end up together. The question wasn't a matter of "if," then, but "when"? I hold fast to the same belief when it comes to
Parks and Recreation
, a series created by one of the writers on
The Office
. Ben and Leslie always worked as a couple because there was never a question of whether or not those two lovable dorks would end up together. We always knew that they would and THEY always knew that they would. It was a matter of timing.
What
The Office
and
Parks and Recreatio
n both did superbly well was master the art of that timing – they threw us "Casino Night" and "End of the World" and while the angst was strong and the road was rocky for both of the couples on these shows, the end result was the same: they got together. If you're a good writer, you realize that there are circumstances that dictate sticking to a plan and there are circumstances that dictate throwing your hands up in the air and letting your characters call the shots. I'll talk about the latter situations momentarily, but it's important for your audience to never feel like they are being strung along in a merciless and endless cycle of "they like each other, but there are obstacles." That's all well and good for a while and I think it's necessary for characters to struggle, especially in romantic relationships, in order to be relatable and real. Heck, I think that it's even important for characters to break up sometimes if the situation calls for it.
What I think made
The Office
's romantic pairing strong and what I think makes
Parks and Rec
's so strong is the fact that Greg Daniels and Mike Schur and their team of writers realized that the game of "will-they-won't-they" has an expiration date. It's fun for a while, but then it just gets frustrating. Jim and Pam may still qualify as a "will-they-won't-they" but I was never frustrated with their relationship (except, perhaps, in the very final season but that's another story). I felt like the struggle of Jim watching Pam be engaged to a man who didn't love her like he did was REAL. I felt like Pam's confusion and hesitation over not wanting to ruin their friendship but still harboring feelings for him was REAL. I felt every single moment of "Booze Cruise" and "Casino Night" and Pam's speech on the beach in "Beach Games" echoed true to reality. Sometimes you just keep missing your chance with someone and sometimes you pine but eventually you ask that person out for a date and the rest is history. In a similar fashion, Ben and Leslie had obstacles that pulled them apart but also made them stronger as individuals. "End of the World" found Leslie longing for Ben and Ben always longed to be with her. But they needed to grow and make real, lasting decisions before they could be together permanently.
A "will-they-won't-they" with no resolution is really a "we-like-the-chemistry-but-are-too-scared-to-pull-the-trigger." Thank goodness
The Office
and
Parks and Recreation
knew this.
Jeff and Annie from Community
Speaking of the "we-like-the-chemistry-but-are-too-scared-to-pull-the-trigger,"
Community
has always been a show that has excelled in a vast number of ways. It's developed stylistically appealing homages. It's broken the mold in a lot of ways. The one rather large qualm I've always had (and still have) with this show is its absolute refusal to commit to or develop or bring closure to any romantic relationship. Jeff and Annie are, perhaps, the greatest example of how NOT to write a "will-they-won't-they" pairing because… well, it's pretty clear to me that they'll never happen. Not in this timeline, anyway. And here is why: Dan Harmon and his team believe that it is better to throw their audience members bones – that it is better to give equal weight to every romantic pairing on the series – than develop or bring closure to romance. Because here's the raw truth: not everyone would be happy if Jeff and Annie became a couple. Not everyone would be happy if Jeff and Britta did or (when) Troy and Britta did or if Abed and Annie did. The
Community
audience is so small already that I think Harmon believes that to isolate it further by developing or committing to any romantic pairing would spell demise for his sitcom.
And maybe he's right. Maybe there are factions of the fandom that would throw up a peace sign and exit if Jeff and Annie became a couple. But what is happening right now – what I feel about the show's romantic developments – is much worse than eyeballs leaving the television screen. You see, in refusing to bring closure to ANY romantic pairing on this show, Harmon is not progressing his characters. At all. They're idling in stagnation, ready to progress slightly or regress slightly depending on the episode.
Recently, this is what Harmon had to say in response to a shocking Jeff/Britta development (that we will see in tonight's episode):
"If Community's been adamant about anything, it's that relationships mean nothing," said Harmon. "Emotions mean everything, and sometimes emotions get exasperated by other people."
I wish I understood that quote, readers. I wish that I could wrap my brain around the reasoning for it. I wish I knew WHY this show was so adamant about it not being about romance. Look, I don't need
Community
to turn into
The Mindy Project
. I don't need a make-out scene or a hook-up every episode. I don't even need confessions of love. What I do need is for the writers to stop dancing around ever addressing any romantic pairing. I need them to commit to something or get out of the game entirely. I think it's this whole "
Community
is subverting the trope" notion that is hurting the show. Yes,
Community
is a cult-like show. Yes, it's not "mainstream." Yes, I feel like a hipster when I talk about it.
But why does being "quality" suddenly become mutually exclusive from "deals with romance." The show can pretend all it wants that these characters have no romantic attachments to one another or anyone outside of the group. It can try to convince me that after five years of attraction and one kiss, and at least two mentions of their relationship each season with no progression that Jeff and Annie simply exist around each other as if they were two individuals whose memories were wiped every time they entered the study room regarding their romantic past. That's my biggest problem, really: the show cannot continue to try and convince us that five years later, Jeff and Annie are the same people they were in the first season and that – moreover – their relationship is just the same. It just exists. It never progresses and never gets resolved, no matter how many times that word is inserted into dialogue and no matter how many hugs or "long looks and stolen glances" we are thrown.
To disregard romance as an integral part of a television series is to also disregard it as an important part of the human experience. Because, after all, isn't art supposed to imitate life? This is what frustrates me about that Dan Harmon quote and about
Community
in general: it preaches and boasts that it is a show about the human experience – it's a show about growth and change and relationships – and yet it negates those very sermons it preaches by refusing to give weight to romance. It is a smart show with smart writers and smart people behind the camera. Why, then, can it not seem to master the art of integrating romance without becoming cliché? What, Dan Harmon, (to quote the brilliant Anna from
Frozen
) are you so afraid of?
I guess I'll never know the real answer to the question and I'll be left wondering if this show will ever realize that its characters are adults: that adults have romantic relationships and aren't all emotionally stunted and have real, grown-up conversations that don't regress them as individuals. I guess I'll forever wonder what would have happened had the show been in the hands of someone like Greg Daniels or Mindy Kaling or Liz Meriwether or Mike Schur. I've never expected Jeff and Annie to skip off into the sunset together, holding hands and being happy forever. At this point, I'd settle for a conversation addressing their feelings and then finally – FINALLY – moving on. No more hugs. No more stolen looks. One final resolution. That's all I really want, Harmon. If you want me to believe that these relationships – these "ships" – truly mean nothing, then kill them. All. Make every character on your show asexual in regards to every other character.
And then let us live in a blissful world where we can dream up whatever ships we would like and not be jerked around on-screen by your writers. And while you're at it, tell Joel McHale and Alison Brie to stop having so much chemistry. Please and thank you.
Nick and Jess from New Girl & Danny and Mindy from The Mindy Project

I'll never understand why there seems to be this thin layer of animosity between fans of
New Girl
and fans of
The Mindy Project
. It's almost as if fans of each show have to "prove" to the other that their ship is somehow superior. Nick and Jess aren't better than Danny and Mindy, and Danny and Mindy aren't better than Nick and Jess. There! I solved all of your problems, fandom. You're welcome. (Actually, I blame you all, entertainment writers, for comparing the series and stirring dissention that way.)
New Girl
and
The Mindy Project
fans should actually be bonding – they're sister shows, really, and feed off of each other. Liz and Mindy have similar writing styles and similar ways of running their shows. As I pointed out in my recent blog post, both shows have strong roots in female writers, which I think plays a very important role (in addition to the female show runner aspect) in how both series handle romantic relationships. Both
New Girl
and
The Mindy Project
did the "will-they-won't-they" dance and I think it's very significant as to WHEN each show runner knew it was time to commit or abandon the relationship angst/anxiousness.
One of my favorite television show runner quotes is this one from Liz Meriwether in regards to her decision to have Nick and Jess kiss at the end of "Cooler." A kiss, might I add, that was not originally in the script:
"It just felt right. I mean we've sort of gotten to a place where it felt like organically in their relationship something like this could happen. I mean, we spent the season watching them get closer and closer as friends and then, the original draft of last night's episode didn't have them kissing and then we, you know, it was a really good script and we went to table as a draft of the script without them kissing and then we just all sort of looked at each other and felt like it sort of felt right. It also felt like if we didn't have them kiss, it was kind of like pulling our punches; like we were not really being true to the characters in this moment. I think we were all ready for Nick to kind of step up to the plate and have a moment of confidence, whether or not it was the trench coat or not."
I've always admired this chunk of text from Liz Meriwether and I admire it even more in light of "Mars Landing." Liz knew when it was time to get Nick and Jess together because she was in tune with her characters and audience. She says that it wouldn't be "true to the characters" in that moment if they DIDN'T kiss. That is something that is so important in regards to the progression of a will-they-won't-they relationship. Note that she didn't say "we didn't want our audience to get bored" or "we really needed a ratings boost," but that the will-they-won't-they was acted upon because it have to be at a point in which it makes sense for them to make that leap. Characterization-wise, Meriwether nailed "Cooler" and she stuck the landing throughout the rest of the second season. When you draw out a relationship too long, you run the risk of alienating and frustrating your audience. But when you pull a trigger too early, there's always the chance that your show will never recover from the fallout.
What was so difficult for Liz Meriwether to do, then, was to know the EXACT right moment for her characters to kiss. I think that it's only because she was in tune with her characters that she was able to precisely locate and pull the trigger on this moment. Similarly, Liz recently made the decision to break up Nick and Jess in "Mars Landing" for similar reasons: she felt like she wasn't being true to the characters if she kept them together, given their complex disagreement. And I completely and utterly agree with and respect Liz for her decision. It was made, once again, because she desired to be true to the characters. How can you hit the reset button and pretend to return to normal when their ideas for the future were so fundamentally different?
Liz and her team only allowed Nick and Jess' tension to be carried out for about a year and a half before it was acted upon and then committed to the couple for another year. There's no timetable, though, for when a show needs to have its characters act upon their tension. Take, for instance,
The Mindy Project
which… okay, maybe this is a bad example because the show had its characters kiss around the same episode mark as
New Girl
had. What's so different about
New Girl
and
The Mindy Project
and what Mindy Kaling herself has vocalized is this: they're completely different. They are different characters on different shows with different goals and dreams and visions and ideas of romance and relationships. Mindy and Jess aren't alike, nor are Danny and Nick. Why, then, do people attempt to constantly compare the two pairings as if they were?
Speaking of
The Mindy Project
, this is a show that has always been about romance in the life of its central character, Mindy Lahiri. And I have to praise Mindy (the show runner) for recognizing that it was time to take a leap with Danny and Mindy as a pairing and then courageously (and realistically) taking a step back and having the characters break it off episodes later. What I found so refreshing about both the
New Girl
breakup and
The Mindy Project
one was that they were true to the essence of who the characters were. Brooke's comment stung Danny and made him question whether or not he could survive losing Mindy as a friend if he inevitably broke their romantic relationship. Nick and Jess acknowledged that though they loved each other immensely, they couldn't REALLY be themselves in their relationship without clashing every single day. Each breakup made sense; they were heart-wrenching, no doubt, but they made SENSE.
You see, pulling a trigger on a relationship is frowned upon in the television industry because it's usually associated with doom or jumping the shark. But that's if a trigger is pulled too soon or executed poorly. When the trigger is pulled at the right time, it adds a whole new, delightful and complex layer to a sitcom: relationships don't destroy shows; relationships enhance them. They bring a sort of life to them that nothing else can bring. When you forgo writing romance into your sitcom because you're either afraid that you'll fail or else think that your show is somehow beyond the barriers of romance (looking at you,
Community
), then you lose something fundamentally human about your show. You lose the ability to have audience members relate to it more fully and deeply. That's what separates a good show from a great show, really.
The Mindy Project
knew that it was taking a risk in placing Danny and Mindy together, but it was the right time for the show to do it: these characters had been growing and developing and they suddenly reached a place in which both of their paths connected on a romantic level. And it just WORKED. Similar with
New Girl
, Mindy Kaling realized that she didn't want Danny and Mindy to become the "Ross and Rachel" of this generation: she wasn't interested in breaking them up and putting them back together repeatedly. She was interested in telling a true, gritty, romantic story about two messed up individuals who cared about each other but who also knew themselves and what they were capable of in a relationship. (Similar to
New Girl
, right?)
And that's why I love both of the pairings on these shows: these are REAL, rounded characters who have grown but aren't done growing; they love their significant others but they also know that they can only love them better once they grow and change more. Both the Nick/Jess and Danny/Mindy breakups were tear-inducing, but both were so true to the characters. Just, of course, as the way that each pairing began was true to the characters.
So now that I've made (some of) my peace with the "will-they-won't-they" cliché, it's time for you all to weigh in on the pairings that I listed. Feel free to discuss some others that I simply had no time to write about in the comments section, too, and keep the conversation going: do you think that romance can spell doom on a television sitcom? Do you think writers believe that once they get a pairing together that the story is over? How do YOU feel about "will-they-won't-they" pairings and the clichés often associated with them? Let me know your thoughts and feelings and have a great day! :)